Shaq Against Vax Mandates Despite Blasting Irving for Refusing Vaccine
NBA Hall of Famer Shaquille O'Neal says he is against forced vaccinations, which comes after he previously slammed the Brooklyn Nets' Kyrie Irving for refusing to get the COVID-19 vaccine.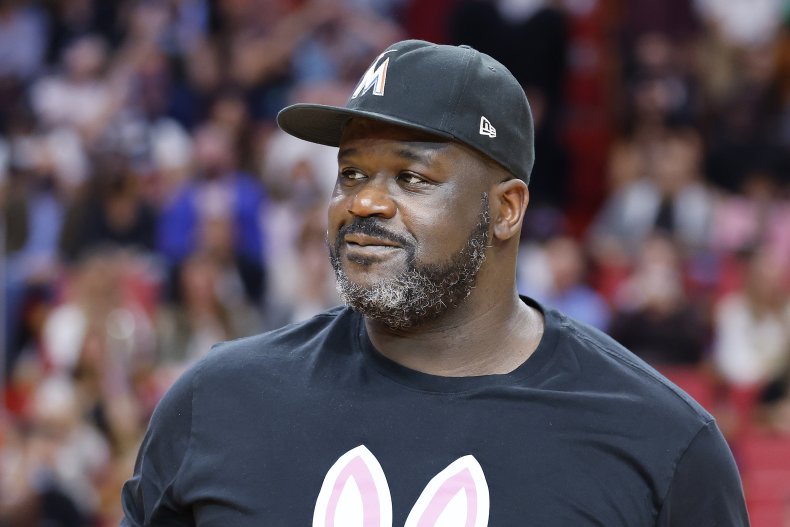 On a recent episode of The Big Podcast with Shaq, the former Los Angeles Lakers center made his aversion to forced vaccine mandates known, according to The Hill. The NBA great said that no one should be forced to choose between their job and getting the shot.
"But it's just, people don't want to take it, and you shouldn't be forced to take something you don't want."
In talking with his co-hosts, O'Neal came up with a hypothetical situation to help illustrate his position of being against forced vaccinations.
"Say Nischelle [Turner], your sound guy at [Entertainment Tonight] been working there 10 years. That [job is] all you know." "Let's just say ET puts out a new policy: If you don't get the vaccination, you're going to lose your job."
However, O'Neal did go on to encourage everyone to "be safe and "take care of your family."
In January, the four-time NBA champion took a different approach to Irving, according to Mediaite. O'Neal said he didn't understand why the Brooklyn Nets were putting up with Irving's absence due to his refusal to get the vaccine. He went on to say that if he were a teammate of Irving's he would get physical with him.
"If he was on my team I'd have to put hands on him."
At the time, O'Neal also asked if Irving was willing to sacrifice for the good of the team because opportunities and time to win championships do not last long.
"I know for a fact that these windows of winning championships you don't have them a lot. All that stuff just playing on the road, you can't get in no rhythm like that."
Also, during a question and answer session with USA Today in September, O'Neal when asked about Irving and other NBA players refusing to get the vaccine, called on them to be "selfless" and for the players to "think about more than yourself."
"In this line of work, sometimes you have to be selfless. The day I decided it wasn't all about me and it's about us is the day I started winning and really started dominating. I understand the issues and all that. But I took the vaccine because I'm not trying to get my mother sick, or my sister or my brother or people around me. I know people say, 'The vaccine came too fast and is it healthy.' To each his own. But sometimes you have to think about the overall picture and you have to think about more than yourself."
Irving, a vocal critic of the vaccine, has refused to get the shot, stating before the season that he had no intentions of getting vaccinated. He is currently unable to play in Brooklyn Nets home games due to his vaccination status. A local mandate requires all athletes playing in New York City public venues to be vaccinated, according to ESPN.
So far this season, in 10 games, Irving is averaging nearly 24 points and almost five assists while shooting better than 48 percent from the field.
Newsweek reached out to O'Neal but did not hear back before publication.