Shaquille O'Neal's Dream Will Become Reality If He Wins Bid for Sheriff in 2020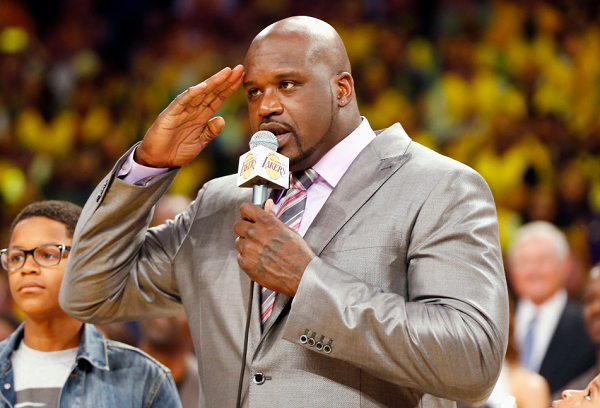 It's no secret that Shaquille O'Neal has a ton of admiration and respect for the police. In addition to advocating for police forces, the former NBA star has fought crime in movie roles and even was an honorary deputy officer for the Clayton County sheriff's office in Georgia in 2016. Now, O'Neal is looking to take his policing career to a whole new level, by running for sheriff in 2020.
The retired basketball superstar dished on his plans for the future while appearing on Atlanta's WXIA radio Friday, saying he wants to run for sheriff somewhere when voters go to the polls in 2020.
"This is not about politics. This is about bringing people closer together," he said. "You know, when I was coming up, people loved and respected the police, the deputies. And I want to be the one to bring that back, especially in the community I serve."
The 15-time All-Star said he wasn't sure where he'd run for sheriff. Although he's already affiliated with a department near Atlanta, the 45-year-old is still a Florida resident and could decide to become more involved in policing practices there.
While O'Neal doesn't necessarily have the same experience as a typical candidate for sheriff, he believes he could be an effective sheriff as long as he has the right people behind him.
"I know how to run a team. My style is going to be to surround myself with guys who have been doing it way longer than I've been doing it. Surround myself with smarter people," he said.
Despite his lack of experience, O'Neal has spent a lot of time with the police over the years. He's been spotted on ride-alongs with officers, and back when he played for the Miami Heat he was even sworn in as a reserve police officer for the Doral Police Department.
Although O'Neal first appeared on the silver screen playing a role of a basketball player, in 1994's Blue Chips—which was similar to his real life at the time as—he got his first taste of being a crime fighter when he played a former army scientist turned steel-suited hero in the 1997 flick Steel. He's had a variety of cameo appearances on the big and small screens since then, including his role as Officer Early Drayton on an episode of Southland, and most recently when he appeared in Adam Sandler's Grown Ups 2 as the hilarious Officer Fluzoo.
A father of five, O'Neal said his NBA career allowed him to foster a versatility that could help him be an effective sherif.
"I can put on a suit and have a conversation with Bill Gates," he said. "I can go in the 'hood and talk to the homies, and talk to the children."