Sharing Excess: Using College Meal Swipes to Close the Gap Between Food Waste and Food Insecurity
It all began Dec. 8, 2016. This was the day I discovered my passion.
It was the mid-point of my third year at Drexel University, and I realized I still had over 50 meal swipes left in my dining account that I knew I wouldn't be able to use before the end of the term. If I didn't use them over the next two days, they would simply disappear.
This didn't sit right and neither did leaving for winter break knowing that these meals would have gone to waste, especially when I knew very well that there were people who needed them more than I did.
So the next day, I swiped my meal card until I had nothing left, packed all of the meals in to-go boxes, put them into the back of my car, and drove to Center City to give them all out to anyone I could find who needed a meal that day.
In the span of an hour, I handed out all the meals from my car and in that same amount of time, my life changed forever.
When I returned to campus, I wanted to create a formal meal swipe donation program and after months of meetings, I convinced my university to launch a pilot program so all students could donate leftover meal swipes. But what started with meal swipes quickly evolved into something much greater when I learned about how much food was also going to waste from grocery stores and restaurants in the area.
I realized the idea of sharing excess could be applied to so much more than just meal swipes. My solution was called Sharing Excess and I quickly established it as a 501(c)(3) nonprofit. This way we could form partnerships with local grocers and restaurants and they got the tax benefit. Then, one at a time, our small team of college students created a transportation network to pick up excess food on a regular basis and deliver it to local hunger-relief organizations.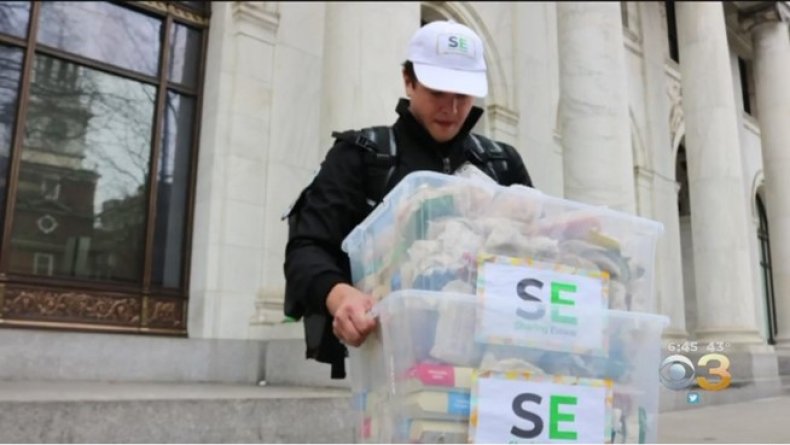 I was already part of Drexel's entrepreneurial co-op program, and that meant I could test the concept of Sharing Excess with $15,000 in funding from the program and coaching from co-op mentors. Fast forward, and in the last twelve months, our team of student "food rescue" drivers have delivered more than 75,000 pounds of food to shelters, soup kitchens and treatment facilities fighting food insecurity. Our efforts have generated enough meals to feed approximately 60,000 people to date. Since launching one year ago, Sharing Excess became deeply ingrained in the fight against hunger in one of the biggest, poorest cities in the United States.
The waste going on in America is immense. Approximately 1/3 of all food produced in the United States (126 billion pounds) is thrown in landfills each year. This waste is due to a variety of reasons like non-standardized expiration dates, aesthetic imperfections, and supply chain inefficiencies.
At the same time, 40 million Americans are suffering from food insecurity in the US, and 1 in 5 are suffering in Philadelphia. If we could capture all of the perfectly edible food that is wasted each year, we could end hunger in the United States four times over. What's missing is a bridge to connect food excess to food scarcity; that's where Sharing Excess comes in.
Sharing Excess is bridging the gap between excess and scarcity using the innovation, passion, and engagement of college students in the Philadelphia area. Having graduated in June after studying entrepreneurship for five years, I am ready to pursue Sharing Excess as my full-time job.
Now let's talk about Gen Z.
Our generation will soon be responsible for the fate of our planet, which is an equally exciting and daunting inevitability. I believe young entrepreneurs will play a major role in that transition.
More than ever, we must look closely at the problems that face our society today, and strive to imagine big ideas that can solve them. And it doesn't always have to be an app. Great ideas are rooted in their ability to connect people and create value by solving problems. So set out to be a problem solver, not a millionaire. Don't get me wrong, money is a necessity, but it should be the result of your passion, not the cause of your venture.
Strive to have a mission with a business, rather than a business with a mission.