Shark Attacks 2017: Santa Cruz Beaches Shut Down After Large Great White Shark Rips Through Kayak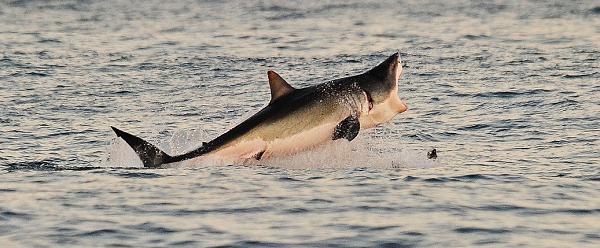 Beachgoers are prohibited from visiting a stretch of the Santa Cruz coastline in California after a kayaker was attacked by a great white shark on Tuesday. As part of the city's official "Shark Incident Action Plan," at least one mile of the coastline has been closed for the next four days, according to a statement from the Santa Cruz police.
Steve Lawson, an experienced kayaker, was paddling near a kelp bed about a quarter of a mile from famous surf location Steamer Lane when a large great white shark approached his kayak and bit the front end. Lawson told local media that he suddenly felt something bump his kayak before being thrown into the water as the shark chomped down on the small vessel.
"I saw the shark hanging on the front end of my boat," he told Santa Cruz's KSBW News. "I spent a little time in the water swimming around. I panicked, everyone panics. There's a shark in the water. But he didn't come back. He wasn't interested in me."
After using his marine radio to alert harbor patrol of the shark encounter, Lawson was rescued and safely taken to shore. He suffered no physical injuries, but his kayak was damaged by a 12-inch-wide bite mark left by the shark.
At the time of the attack, a surfing live stream showed nearly 20 surfers also were in the area riding waves as tall as 5 feet, which further prompted officers to shut down the beach.
The great white attack on Tuesday came just a few days after surfers at Santa Cruz's Pleasure Point beach spotted a 15-foot shark in the water. More than 3,000 surfers had been in the water on Sunday, all of whom were attending a memorial for famous surfer and wetsuit creator Jack O'Neill, who died in June.
Great white sightings have been occurring more regularly off both the West and East coasts recently. In May alone, 25 great white sharks were spotted in waters near Capistrano Beach in Orange County, while at least six of the big fish were spotted near Cape Cod in the same month.
However, increased great white sightings doesn't necessarily lead to increased attacks. Only 81 Eighty-one swimmers were attacked by sharks in 2016—53 of the incidents were in the U.S.—compared to 98 attacks in 2015. None of the U.S. attacks were fatal.
Most shark attack cases are considered unprovoked encounters and usually occur when the shark has mistaken a swimmer for its actual prey, like a seal.
"A silhouetted seal at the surface might look like a swimmer or vice versa, and what happens is the shark will do a test bite or attack the swimmer thinking it's a seal," Senior Fisheries Biologist Dr. Greg Skomal told ABC News in June.
In Lawson's case, he believes the shark wasn't intentionally trying to attack his kayak.
"I never saw the shark again. I'm sure it was a mistake on his part," he said.