Australian Surfer Bitten by Shark Walks 300 Meters to Ask for Help
A surfer who was badly bitten by a shark managed to swim back to shore and walked 300 meters to ask for help, in what paramedics have hailed as a "remarkable" survival story.
The man, 29, who was bitten off Kangaroo Island's D'Estrees Bay, Australia, described the incident as like being "hit by a truck". According to paramedic Michael Rushby, he was lucky to be alive after suffering from "quite a large shark bite" that left lacerations on his back, backside and leg.
In a statement written from his hospital bed, the unnamed man said: "I was sitting on my board when I felt a hit on my left side-it was like being hit by a truck.
"It bit me around my back, buttock and elbow and took a chunk out of my board. I got a glimpse of the shark as it let go and disappeared."
The man said he wanted to thank all those who had helped him get to the hospital and in particular the "awesome emergency services", medical staff, and his family and friends for their support.
He said: "I'm feeling incredibly lucky and grateful and I'm optimistic I'll make a full recovery."
Rushby, who treated the man by the side of the road before taking him to hospital, said it was remarkable he was able to swim to shore given the extent of his injuries.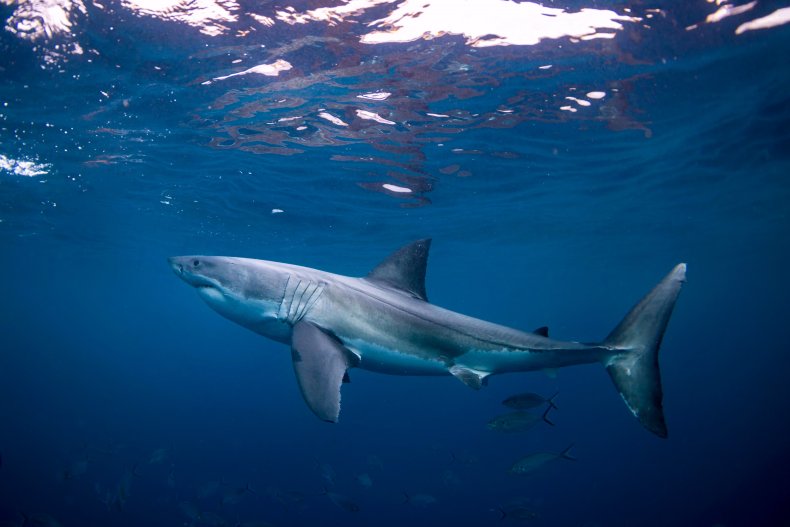 He told Australian tabloid The Advertiser: "With the extent of his injuries, this was quite remarkable and very lucky that he was able to do that." Rushby also described the man's injuries as "serious" and "catastrophic."
It comes after a man was killed by a shark on Cable Beach, Western Australia. The man had to be pulled from the water and was later pronounced dead. Cable Beach is popular with tourists despite a number of saltwater crocodile sightings and box jellyfish stings over the years.
Last month, a shark bit a teenager off the coast of Florida, in what was the 10th known attack in the area this year.
The unnamed 17-year-old had been surfing off the coast of Ormond Beach, a popular tourist spot in east-central Florida, at around 4 p.m. local time when the shark bit his right leg, said Captain Tamra Malphurs, of the Volusia County Beach Safety Ocean Rescue.
The teenager was taken to hospital where he needed stitches but his injuries were not deemed to be life-threatening.