Great White Shark Attacks Seal Near Popular Cape Cod Beach, Resulting in Closure
A great white shark sighting near a popular beach in Cape Cod led to closures on Saturday. The Atlantic White Shark Conservancy's Sharktivity app reported the fishy predator had attacked a seal in waters not far off the shores of Nauset Beach, according to WCVB-5.
The sighting caused officials to close the beach for an hour on Saturday morning, marking the fourth time this week swimmers at Nauset Beach have been prohibited from getting in the water at the famed Massachusetts destination. It's also the second time this week a great white shark has been reported attacking an animal near the beach.
Barely 24 hours before Saturday's spotting, a great white shark was reported swimming about 60 yards offshore at the beach. Authorities confirmed a spotter plane noticed the shark in direct line of the main lifeguard stand, although officials noted it was reportedly headed north into the Atlantic.
Beach closures due to shark sightings have been plentiful all across Cape Cod this year. While the summer is considered peak shark season in the East Atlantic waters, officials have documented a rise in shark spotting this year compared to others. In the town of Truro, residents have seen the beach shut down because of sharks on more than 20 occasions since early July.
The constant sightings along with two shark attacks last year—one in particular that killed a 26-year-old man—have caused coast officials to beef up their surveillance of the shoreline this year. Meanwhile, lifeguards at the Cape have new first-aid kits featuring tourniquets that help stanch bleeding as well as bright purple shark flags to signal warnings, according to the Wall Street Journal.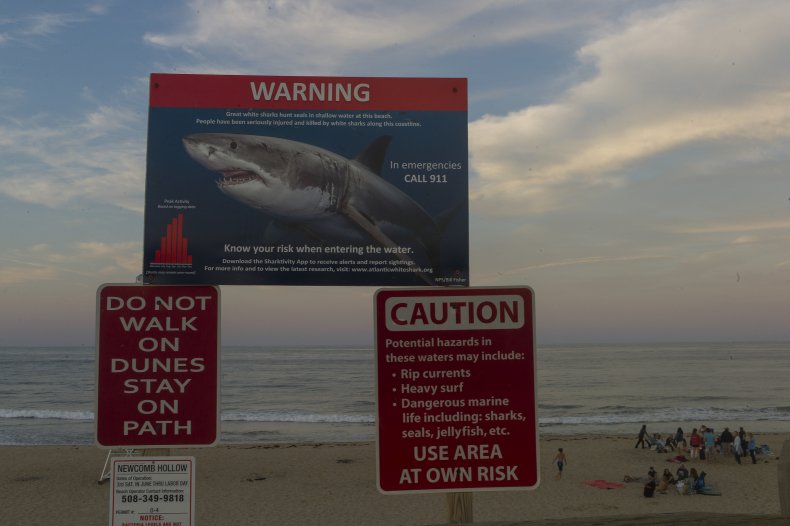 All along the sandy banks are new signs that read: "People have been seriously injured and killed by white sharks along this coastline."
Similar precautions have been taken at beaches a little further south down the Atlantic near North Carolina where shark sightings have also been rampant this summer.
Visitors at Myrtle Beach were treated to quite the spectacle when a gang of sharks enjoyed a feeding frenzy of fish in early July. Footage of the carnage was captured by one woman, who shared a video of about five sharks jumping out of the water to catch fish. The sharks were predicted to be between four and six feet long, although local authorities were unable to identify the species.
While Cape Cod has mostly seen shark attacks on other animals, people have endured a few scary encounters with sharks in North Carolina's shores this season.
In the month of June, three swimmers were bitten by sharks. While individuals in two instances only suffered minor injuries from the attacks, a 17-year-old girl lost most of her left leg and two fingers after being pulled underwater by a shark at Fort Macon State Park on June 2.