Shark Attack Deaths Surged in 2020, But the Number of Attacks Declined
Global shark attacks surged in 2020, marking the highest level that the world has recorded in seven years, but overall shark attacks declined for the third consecutive year.
The University of Florida released its annual Shark Attack File on Monday, showing a significant uptick in shark attack deaths while the number of humans attacked by sharks dropped over the last year. Last year saw 10 fatalities due to shark bites, the same level recorded in 2013. However, that's a notable spike compared with 2019 when just two shark attack deaths were reported.
"It's a dramatic spike, but it's not yet cause for alarm," Gavin Naylor, director of the Florida Museum of Natural History's shark research program said in a statement emailed to Newsweek. "We expect some year-to-year variability in bite numbers and fatalities. One year does not make a trend. 2020's total bite count is extremely low, and long-term data show the number of fatal bites is decreasing over time."
The research documented 57 total unprovoked shark attacks in 2020, down slightly from 64 in 2019. In 2018, there were 66 attacks and four deaths due to shark bites.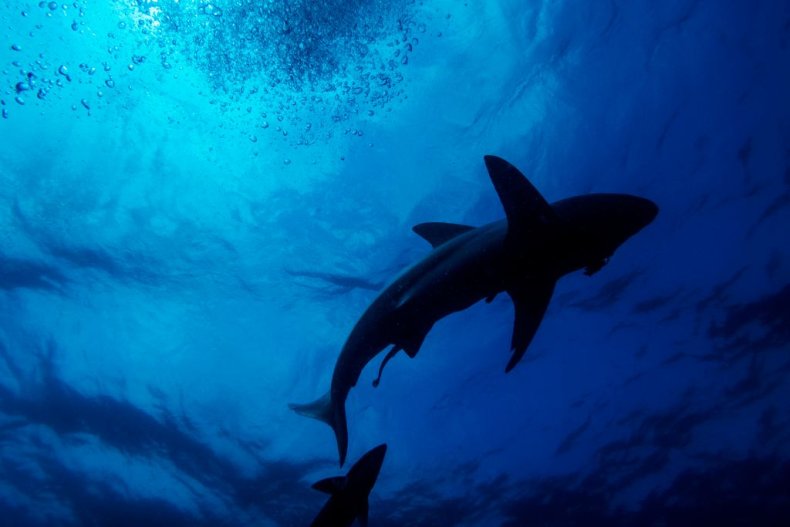 Australia had the highest number of shark attack deaths last year, recording six in total. The U.S. reported three shark attack deaths while one was reported off the coast of the Caribbean island of St. Martin.
While many people are fearful of sharks, attacks and deaths are extremely rare—especially when one considers that millions of people around the world enter the ocean on a daily basis without being attacked or bitten. There are more than 1,000 species of sharks around the world and not all species present a serious threat to humans.
White, tiger and bull sharks are considered the dangerous "Big Three," as they are the most likely to attack and seriously harm humans for a variety of reasons. "They are large species that are capable of inflicting serious injuries to a victim, are commonly found in areas where humans enter the water, and have teeth designed to shear rather than hold," the Florida Museum's website explains.
The most common state for shark attacks in the U.S. in 2020 was Florida, with 48 percent (or 16 attacks) of the total U.S. attacks. However, that's only about half of the Southern state's five-year annual average of 30 attacks. After Florida, Hawaii reported five shark attacks followed by California with four and North Carolina with three. Alabama, Maine, Delaware, South Carolina and Oregon all reported one attack each.