A horrific shark attack near Sydney, Australia has sparked a hunt for the huge great white shark responsible, amid wider calls for a shark cull in the area.
A friend of the victim identified him as Simon Nellist, 35, a British man who had been training for an ocean swimming contest when he was attacked by the great white at Little Bay Beach on the afternoon of February 16.
New South Wales police found his remains a couple hours after arriving at the scene of the attack. One witness described the attack, saying the shark came out of the water vertically and that there was "blood everywhere."
Despite Australian waters teeming with sharks this time of year, attacks are rare because protection and nets are set up at most beaches. The BBC said authorities are trying to determine how the great white, estimated to be 14 feet long, got past the barriers. It is the first fatal shark attack in Australia in 60 years.
Shark culling is legal in Australia and is a state government policy referring to the deliberate capture and killing of sharks in order to maintain a safe environment for swimmers.
Disturbing footage posted online by witnesses shows the attack as it happened. It has outraged social media users with many supporting the capture and kill of the shark.
One tweet said: "Cull these predators Human lives do Matter."
Another said: "Just LMAO at people defending wild vicious animals. Just shows how soft we all have become. Humanity evolved by eradicating threats to our own species. They should kill the shark and then wipe out any found near Sydney waters."
"Find n kill that shark," another said.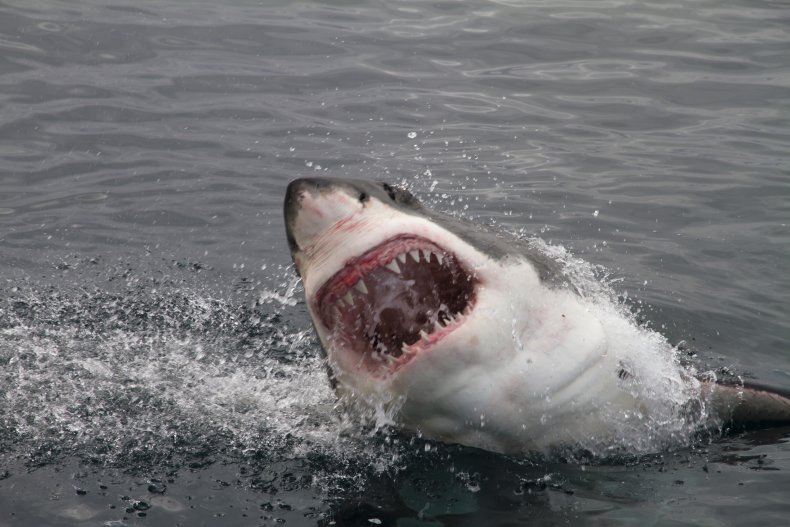 The authorities are out hunting for the shark, but have not commented on what they will do with it once they find it, the BBC reported. They have set out baited strings in order to catch the animal.
The great white shark is a vulnerable species. It is hunted for its fins and teeth, and is often a trophy for sport fishing. The white shark is also caught as bycatch by commercial fisheries and can also become entangled in meshes that protect beaches. It is a long-lived animal that only starts breeding in their teens or 20s, meaning reproduction rates are low.
Dr Leonardo Guida, shark scientist at the Australian Marine Conservation Society, told Newsweek that shark bites are traumatic accidents, and while rare, they require thoughtful "evidence based" action by governments and communities. But a shark cull is not the right course of action.
"It's an emotionally charged event for local communities and the feeling of anger is perfectly understandable. Whilst a shark cull might feel good today, tomorrow or next week, it won't achieve the ultimate goal of what we all want—improving people's safety," he said.
Guida said using shark nets and baited hooks can actually attract more sharks to the area, as they will inevitably catch other dead animals. The use of drones and warning systems, combined with community education, are the best ways to improve beach safety for both humans and wildlife, he said.
"Sharks are crucial to ecosystem health, keeping food webs in check and their removal can potentially destabilize food chains, in turn impacting fishing and tourism," he said.
"Ultimately we're venturing into a big, blue wilderness and it's important to respect it as such, even if it's just a 'city' beach. We have the tools and know-how to modernize and improve beach safety standards that benefit humans and wildlife alike."