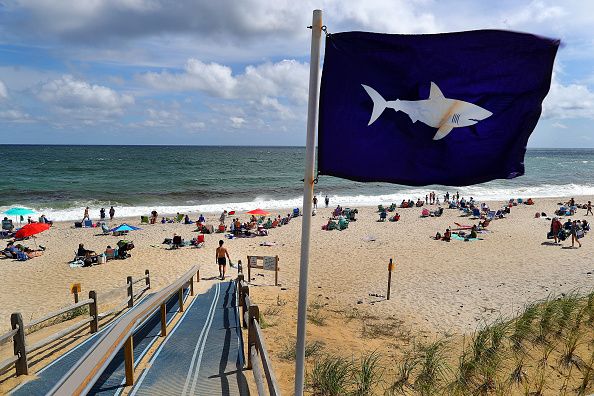 A man has died following a shark attack off the coast of Cape Cod in Massachusetts, police say.
The attack happened around 12:30 p.m. on Saturday, the Cape Cod National Park Service said. The scene unfolded just 300 yards south of Newcomb Hollow Beach in Wellfleet, Massachusetts. U.S. park rangers and Wellfleet Police are investigating.
First responders and police tried to perform CPR on the victim on the beach after the shark bite, Leslie Reynolds told the Cape Cod Times. Reynolds is the chief ranger at the Cape Cod National Seashore. She added that the victim was still alive when he was rushed to the hospital.
Wellfleet Police Lieutenant Michael Hurley told the Associated Press that the victim succumbed to his injuries and has died. Hurley identified the man to be in his mid-20s.
The beach has a sign that immediately warns visitors to "Be Shark Smart." The sign then advises swimmers to avoid being near seals, to stay close to the shore and to always swim in groups. Since the attack, the beach has been closed to swimming.
Saturday marks the second shark attack in Cape Cod this summer. In mid-August a New York neurologist was bitten by a great white shark off the coast of Long Nook Beach in Truro, Massachusetts. The 61-year-old man was seriously injured but did survive the attack.
Before that attack in August, the most recent shark bite in the area occurred in 2017, according to the Global Shark Attack File. In that incident, a great white shark bit a boogie board of one surfer off of Marconi Beach in Wellfleet. The surfer escaped the attack unharmed.
According to Shark Attack Data, there have been only three fatal shark attacks in Massachusetts history. One of the attacks was in 1936 and the other two happened in the 1800s. In the United States over 90 percent of shark attacks are unprovoked and not fatal, according to the site.
One beachgoer saw first responders tending to the man and posted a video on Twitter, writing: "Pretty sad day at the beach today. Amazing effort by everyone who jumped into action to help this young man out. Prayers to him and his family."