Shark Attacks Man on California's Moonlight Beach in Encinitas Two Days After Reopening
A man was attacked by a shark near California's Moonlight Beach on Wednesday, leading authorities to temporarily close the beach two days after it was reopened.
The encounter took place at around 5:45 p.m. in the waters close to C Street and Moonlight Lane in Encinitas, a beach city north of San Diego, it has been reported.
The man had been surfing or bodyboarding when he noticed a shark was circling him. According to NBC 7 San Diego, he told authorities on the journey to the hospital it had been acting "semi aggressively" and that he may have kicked or bumped into the shark.
"I would call it more of a bump, or an aggressive act," Encinitas lifeguard Capt. Larry Giles said, describing the encounter, The San Diego Union-Tribune reports. He added: "It didn't bite."
In response, officials closed the area one mile north and south of where the incident took place, and have placed advisory signs warning beachgoers there has been a shark sighting.
The man was taken to Scripps Memorial Hospital Encinitas for treatment of minor injuries.
There has been no further information as to the type of shark implicated in the attack but a number of species are found in the area including mako sharks, leopard sharks and, on occassion, white sharks.
According to the International Shark Attack File, California had the third highest number of unprovoked shark attacks of any U.S. state in 2019 with 3 attacks—behind Hawaii with 9 and Florida with 21.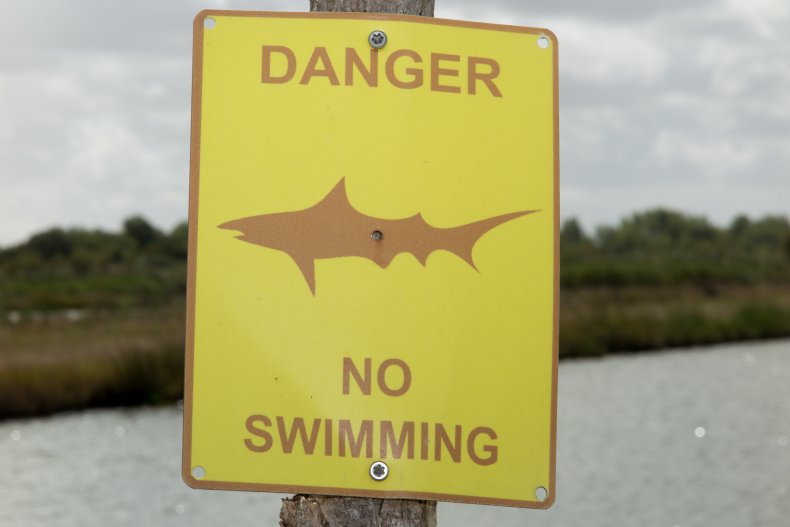 The shark encounter took place two days after the beach was reopened for certain activities, following a month-long lockdown in response to the COVID-19 outbreak.
Since the re-opening, residents have been able to surf and swim, and take part in other in-water activities at Moonlight Beach and some others in the San Diego area. Beachgoers are expected to abide by social distancing guidelines and are not permitted to gather in groups. Stopping, standing, sitting and lying down are also banned.
The reopening has been popular and Giles told NBC 7 San Diego crowds on Monday resembled Opening Day for Del Mar Racing.
It has coincided with a particularly strong showing of bioluminescence on the San Diego County coastline, The San Diego Union-Tribune reports. California's dramatic light displays are the result of a phenomenon called a red tide.
Red tides are formed by dinoflagellates—a type of algae that bloom in warm weather and appear red or golden when produced in large numbers. At night they can produce bioluminescence similar to fireflies, resulting in the sights being observed in South California right now.