Shark Attack Wetsuit That Reduces Blood Loss and Injury Tested on Great Whites
A "shark-proof" wetsuit made from a newly-developed lightweight material could help save lives by reducing blood loss and other injuries caused by shark bites, say researchers writing in Plos One.
The probability of being bitten by a shark is incredibly low and the chances of dying from a shark attack is even lower—according to the International Shark File, you are 47 times as likely to die from a lightning strike than you are a shark bite.
But the numbers are increasing.
In Australia, for example, the annual incidence of shark bites has increased from one to three in the 1980s to more than 10 in the 2010s. Worldwide, the global rate of fatalities has increased from six in 1982 to 14 in 2011.
Surfers, snorkelers and scuba divers are the most at risk, and were the victims of 16, 33 and 35 percent of shark bites in Australia between 1982 and 2011. In South Africa and Reunion Island, surfers account for an even larger percentage of shark attack victims—54 and 86 percent, respectively.
Some suggest this could be caused by sharks mistaking surfers for prey. It is also likely that the increased amount of time surfers spend in the water—particularly time spent in the early morning and late evening—and the location of surf spots contributes to these casualties.
The problems with shark-proof wetsuits at the moment is their bulk and weight. Chain mail suits designed in the 1980s have little practical use except for shark feedings. However, recent innovations in tech allow for lighter, tougher fabrics that could prove more useful.
Researchers at Flinders University, Australia, have tested nine variants of two fabrics that blend ultra-high molecular weight polyethylene fibres (UHMWPE)—a material that has been described as 10 times stronger than steel and 1.5 times stronger than Kevlar—onto neoprene, a synthetic rubber used to make wetsuits.
Researchers tested the material by puncturing and lacerating it the lab using 3D models, as well as field experiments using real-life white sharks and wooden dummies.
Great white sharks were chosen as the test subjects as they account for 41 percent of unprovoked shark bites and 34 percent of shark-related fatalities in Australia—more than any other species.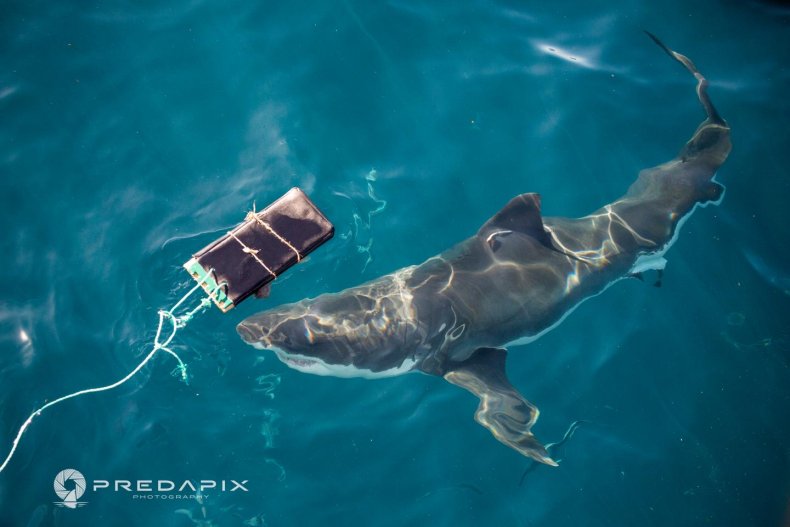 "We found that the new fabrics were more resistant to puncture, laceration, and bites from white sharks than standard neoprene," Charlie Huveneers, an associate professor from the Southern Shark Ecology Group at Flinders, said in a statement.
"More force was required to puncture the new fabrics compared to control fabrics (laboratory-based tests), and cuts made to the new fabrics were smaller and shallower than those on standard neoprene from both types of test, i.e. laboratory and field tests."
But while the fabric might do a good job at reducing blood loss, the researchers say more research is needed to see how protective the material is against damage to human tissue and other injuries.
"Our results showed that both fabrics tested may provide some protection against shark bite and could be used as part of a shark bite mitigation strategy," Huveneers said.
The graph below, provided by Statista, shows the number of shark attacks that have been confirmed since 1580 (as of June 2019).