Off-duty Medics Save Shark Attack Victims' Lives by Making Tourniquet Using Ropes and Towels: 'We Didn't Have Time to Prepare'
The quick thinking of two off-duty medics saved the lives of two men who were attacked by a shark off Australia's Queensland coast while on a snorkeling trip.
Swedish couple Emma Andersson and Billy Ludvigsson happened to be on the day cruise in the Whitsunday Islands when they heard screams from the British backpackers on Tuesday.
The couple hurried up the ladder from the water into the boat where they saw Alistair Raddon, and Danny Maggs, lying seriously injured.
Raddon, 28, from Southampton, had his right foot bitten off and Maggs, 22, suffered a deep wound to his calf.
Get your unlimited Newsweek trial >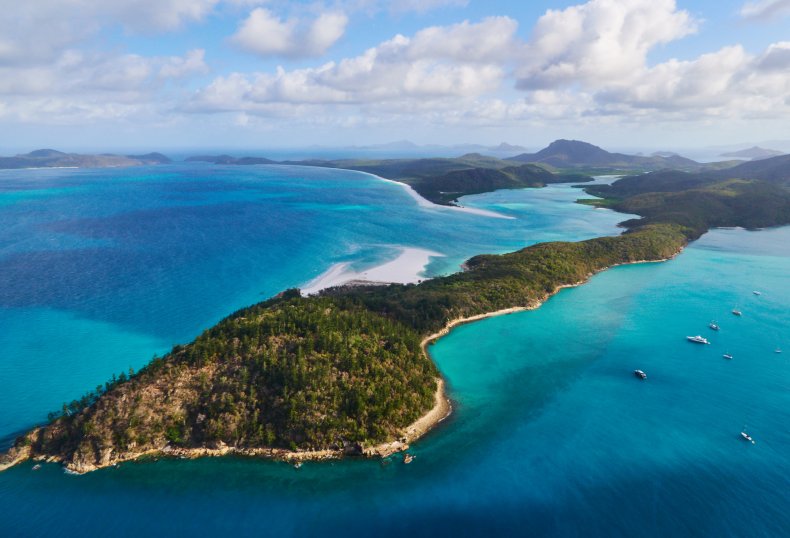 Ludvigsson told reporters that Raddon's condition was the priority and it took about five minutes to stop the blood flow.
He said: "We had to make a makeshift tourniquet with ropes and towels to stop the bleeding.
"I think we might have actually saved his life, he was bleeding so badly, it was a long boat ride back to shore, if he had continued to bleed that much all the way to shore I'm not sure if he would've made it," Australia's 9 News reported.
Get your unlimited Newsweek trial >
Andersson, an emergency room nurse, said: "We didn't have time to prepare. We started with the man who was worse first. The other man's leg didn't look so bad."
After the couple treated the men, the boat was brought seven miles to shore to the town of Airlie Beach on the Australian mainland where paramedics were waiting and they were airlifted to hospital.
Maggs spent four hours on the operating table, and his grandfather, Terry Maggs, told the Daily Mail: "He could have been killed. We're all feeling relieved that it wasn't any worse."
The victims issued a statement which said: "We would like to sincerely thank everyone involved in our care, from the people on the boat to the ambulance, CQ Rescue helicopter and Mackay Base Hospital.
"Everyone dealt with our situation well and remained calm and we are very grateful for your help."
There have been a number of shark attacks at the Whitsunday Islands located near the Great Barrier Reef.
Tuseday's latest attack took place at Hook Passage, around six miles from where Daniel Christidis, 33, from Victoria, was fatally bitten by a shark last November after he was attacked by a shark at Cid Harbour.
Whitsunday lawmaker Jason Costigan said it was both state and federal governments' responsibility to make the area safer for tourists and called for increasing the number of drum lines to catch sharks, which are opposed by environmentalists.
"We are going to have more and more of this happening until governments put public safety as their number one priority," he said, according to 9 News.
Shark attacks are still relatively rare in Australia, where 27 attacks were recorded in 2018, according to AFP.
Off-duty Medics Save Shark Attack Victims' Lives by Making Tourniquet Using Ropes and Towels: 'We Didn't Have Time to Prepare' | World