Shark Attacks, Kills Drunk Man Urinating in Brazilian Sea
A man was fatally attacked by a shark Saturday off of the coast of Brazil's eastern tip.
Marcelo Rocha Santos, 51, was wading in the water with a friend at Piedade Beach in Jaboãtao dos Guararapes when the sea became choppy and cloudy. Santos and his friends were reportedly drinking on the beach before they entered the water, the Toronto Sun reported.
"It was a friend of mine who was in the sea with the person who was attacked," bystander Endriano Gomes told local reporters. "Suddenly, he saw the man struggling. There was a lot of blood in the water."
The Santos and friend Ademir Sebastiao da Silva reportedly could not see much in the sea due to water conditions. They went into the water up to their waists around 2 p.m. to relieve themselves.
"As the beach has no bathroom, I went into the sea to pee," da Silva said. "I was beside him [in] the water."
The shark bit off Santos's hand and took a large bite out of his thigh. Santos fell unconscious as his friends dragged him back to shore. He was taken to a hospital in Recife where he was pronounced dead.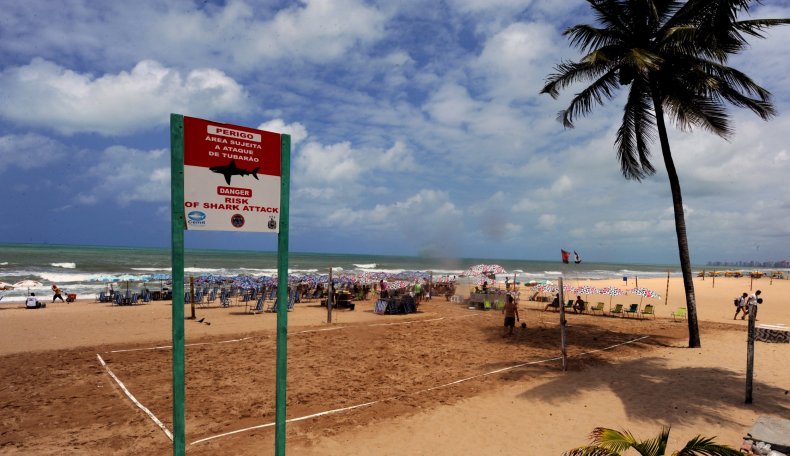 A person at the beach who witnessed the aftermath of the attack took a video of Santos lying in the sand. Blood was streaming from his leg and from where his hand was bitten off.
Da Silva was unharmed in the attack.
"It could be me," da Silva said. "It was God's deliverance. If I had been diving or lingered in the water, I could have been attacked."
Signage around the Brazilian beach warns swimmers of possible sharks in the area. There were 12 previous shark attacks in the area, according to the Toronto Sun.
A lifeguard was also on duty at the time of the attack, but he did not call the swimmers back to shore because they were not out very far, according to local reports.
The shark is thought to be a bull or tiger shark by officials, but it is undetermined at this point in time. Shark attacks in Pernambuco, the Brazilian state where the beach is located, totaled 62 in the last three decades—25 of which were deadly.
"I've been working on this beach for 25 years and during this time I have witnessed a number of ferocious attacks," a local vendor told surf blog BeachGrit. "It was horrible to see. Each time it is very frightening and sad."