Shark Attacks Woman In Florida During Family Vacation
A shark attacked a woman who jumped into the water off the coast of Florida during a family vacation.
Texas-based Lindsay Bruns, 35, had been out on a boat with her family in Sawyer Key on June 29 when the attack occurred, according to a GoFundMe page, set up by a friend.
Bruns had entered the water for a swim when her husband suddenly saw "nothing but blood in the water," WFAA reported.
Her husband, Luke, managed to get her aboard the boat to find her leg "mangled," the GoFundMe page said.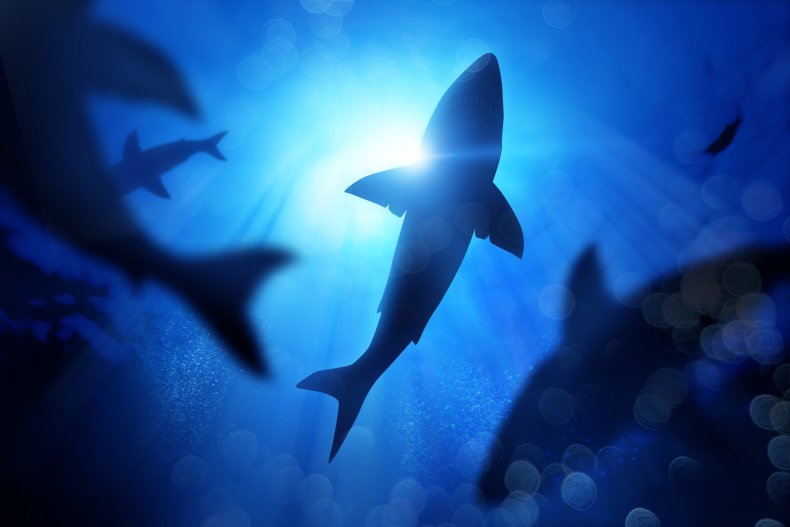 Once Bruns was safely out of the shark's grasp, her husband applied pressure to the wound to prevent more bleeding. They began the 20-minute boat ride back to shore where they met emergency services.
Monroe County Fire Rescue responded to the incident and said in a statement that Bruns had a "large laceration" on her leg.
Bryan received a blood transfusion while being transported to the hospital which helped in "critical moments."
"The Miami hospital confirmed that the patient was bitten by a shark based on the laceration," the Monroe County Fire Rescue said in a statement.
Her husband, Luke Bruns, told WPLG that their daughters "were bawling," while witnessing the attack.
"They were screaming, they saw it all. It was very traumatic," he told the news outlet. "Once we got on the boat going, I told them 'girls, you need to pray for momma."
Bruns is expected to make a full recovery, WPLG reported.
"It's a miracle. It's crazy that things like that happen," her husband told the news outlet. "It really puts things into perspective for you."
It is not clear what species of shark attacked Bruns, but Florida waters are home to a variety, including bull sharks, lemon sharks, giant hammerhead and tiger sharks. Great white sharks occasionally venture into the area. However, at this time of year, they are usually further north.
Bull sharks and tiger sharks in particular, have a reputation for being aggressive, although attacks are rarely unprovoked.
Florida has more recorded more shark bites than any other state, and since 1837 there have been 896 shark confirmed attacks there.
And it is not the only shark attack to occur in Florida recently.
A 17-year-old Florida teen was attacked by a shark just a day later, on 30 June, while swimming off Keaton Beach.
Addison Bethea told Miami's CBS affiliate that she felt a tug on her leg and looked down to see a 9-foot shark attempting to drag her deeper into the water. Bethea faces getting her leg amputated following the attack.