Surfer Bitten in Possible Shark Attack in North Carolina
A surfer in North Carolina has been injured with a possible shark bite, according to local officials.
The unnamed 26-year-old surfer from Manteo "received a non-life threatening injury, possibly from a shark," according to a post on the official Facebook page of the Cape Hatteras National Seashore National Park Service.
The incident took place off Cape Hatteras National Seashore near Sudie Payne Road in Rodanthe, a local community forming part of the Outer Banks, a series of small barrier islands off the coast of North Carolina.
The victim was reported to have not seen what may have bitten him, according to the National Park Service.
Dispatchers received a call reporting the incident at 2:33 p.m. (local time) and the surfer was transported to the Outer Banks Hospital by Dare County Emergency Medical Services. No further details are available, the National Park Service said.
Shark attacks in North Carolina in the middle of winter are not uncommon, the North Carolina Sea Grant of North Carolina State University reported.
Juvenile dusky sharks, which can be up to 12 feet long and are among the largest of coastal sharks, can be found off Cape Hatteras during winter, while adult dusky sharks can be found offshore all year round. Juvenile thresher sharks, which range in length from 4.5 feet to 6 feet, can also be seen near Cape Hatteras over winter, according to the North Carolina Sea Grant.
While attacks are said to be extremely rare, many of the shark species on the ocean side of the barrier islands are large and can be dangerous to humans. Caution is advised while traveling in this area, the North Carolina Sea Grant noted.
North Carolina was also ranked fifth among states for shark attacks reported in the last decade, according to a study by Safewise.
The survey revealed North Carolina reported a total of 58 shark attacks from 2000 to 2019. Florida was the top-ranking state, with nearly 500 shark attacks reported in the last decade, followed by Hawaii, California and South Carolina.
From 1935 to the present, 64 unprovoked shark attacks have been confirmed in North Carolina, according to the International Shark Attack File of the Florida Museum of Natural History.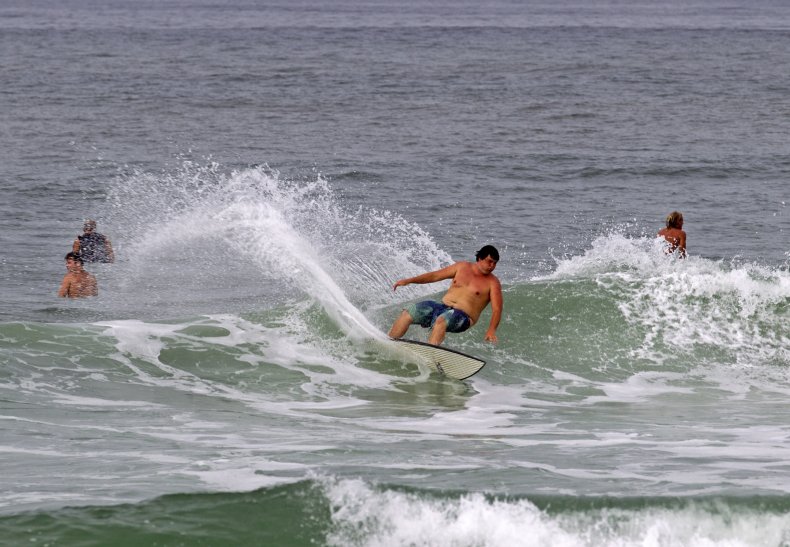 "Worldwide there are probably 70-100 shark attacks annually resulting in about 5 deaths," the museum notes.
"Actual numbers of shark attacks certainly are going up each decade because of increasing numbers of bathers in the water, but there is no indication that there is any change in the per capita rate of attack," the museum explains.
"Most attacks occur in nearshore waters, typically inshore of a sandbar or between sandbars where sharks feed and can become trapped at low tide. Areas with steep drop-offs are also likely attack sites
"While the chance that you will be bitten by a shark is very small, you can take steps to minimize your risk," the museum notes, such as staying close to shore and avoiding wearing jewelry and swimming at dawn or dusk."