Shark Bites Woman Spearfishing in Bahamas: 'The Shark Came From Nowhere'
An American woman vacationing in the Bahamas was attacked by a shark while spearfishing last weekend, authorities confirmed.
Abaco Crash Fire Rescue received a call of a shark attack at around 1:42 p.m. on Sunday to Treasure Cay, Great Abaco Island, in the Bahamas, Fire Chief Colin Albury said, according to WCVB. A 32-year-old woman from Massachusetts was found with "severe trauma" to her left hand.
Albury said that the woman was bitten by a blacktip shark as she held a fish underwater and swam back to a boat. The woman, an experienced spearfisher, told rescuers that the shark shredded some of her fingers.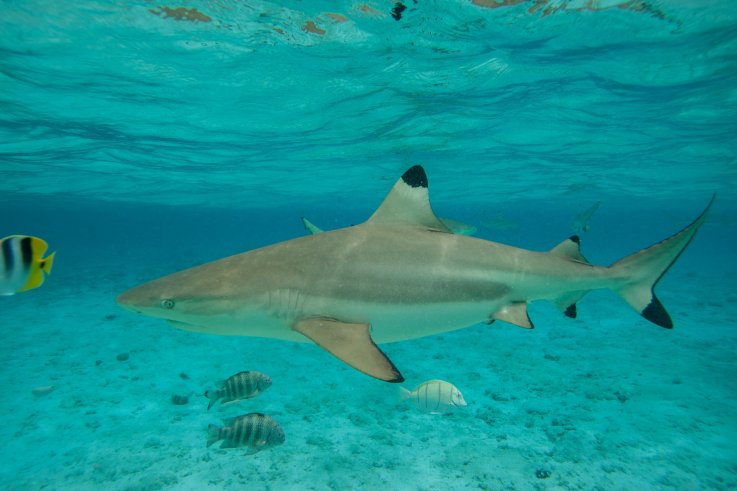 The three other people with the woman were not injured, ABC News reported.
"It's just unfortunate," Albury told WPLG. "It's just one of those things where she was spearfishing and the shark came from nowhere."
Albury added, "A lot of people don't realize when you're spearfishing grouper, hogfish, they give off a sound when they are injured, and that sound is like ringing the dinner bell for the sharks."
The woman, who asked not to be identified, was transported to Fort Lauderdale, Florida, by Trinity Air Ambulance. She was being treated at Memorial Regional Hospital in Hollywood, Florida, by a trauma surgeon, WCVB reported.
Hospital officials said she was in stable condition and her injuries were not life-threatening.
This was the first shark attack in Treasure Cay this year, Albury told ABC News.
Earlier in September, a shark killed a 26-year-old man at a Cape Cod beach in Wellfleet, Massachusetts. Arthur Medici was boogie-boarding about 30 yards off the beach when he was attacked by a shark.
Medici's friend managed to drag him to shore, where Medici received emergency CPR. But he died from his injuries at a nearby hospital.
A total of 53 people were bitten by sharks in the U.S. in 2017, according to the International Shark Attack File. Those attacks represented 60.2 percent of the attacks worldwide. None of the attacks in the U.S., most of which occurred in Florida, were deadly.
Attacks are even less common in the Bahamas. The International Shark Attack File's data reported 29 confirmed unprovoked attacks in the Bahamas between 1749 and the present. Just two unprovoked shark attacks were reported in the islands last year.
Shark Bites Woman Spearfishing in Bahamas: 'The Shark Came From Nowhere' | U.S.