Shark Filmed Eating Seal in 'Horrific' Footage Captured by Family
A shark was filmed eating a seal in "horrific" footage captured by a family over the July 4 weekend.
The video, taken by Massachusetts resident Kim Reilly and posted to her Facebook page, was filmed off the coast of Cape Cod near Nauset Outer Beach in Orleans.
A shark can be seen frantically thrashing about in bloodied water.
"Oh my god!" a woman can be heard saying in the video, as the attack continues. "Oh this is sad!"
The seal can be seen floating undisturbed for a few seconds, before the shark lunges for it again.
"You guys are not going in the water," someone can be heard saying.
The seal, still alive, emerges from the water slightly, before the shark drags it back under. The scene then goes quiet, as the shark succeeds in its attack.
Reilly said on Facebook that she was "totally crying" throughout the ordeal.
"It was HORRIFIC to watch but couldn't turn away!!! Slowest death ever I'm scarred for life..." she said.
It is not clear from the footage what species of shark carried out the attack. However, great white sharks are known to swarm the local waters at this time of year, as the weather warms up.
Several confirmed sightings of the predators were reported at the beginning of June through the Atlantic White Shark Conservancy, which allows visitors to the area to log sightings through an app. However, the bulk of the population doesn't usually arrive until July.
North Atlantic sharks visit Cape Cod annually over the summer to feast on the abundant harbour seal population.
The shark in the video appears to be attacking its prey fairly close to the shore.
Previous studies from the state Division of Marine Fisheries have determined that sharks visiting the area spend nearly half their time in the shallows.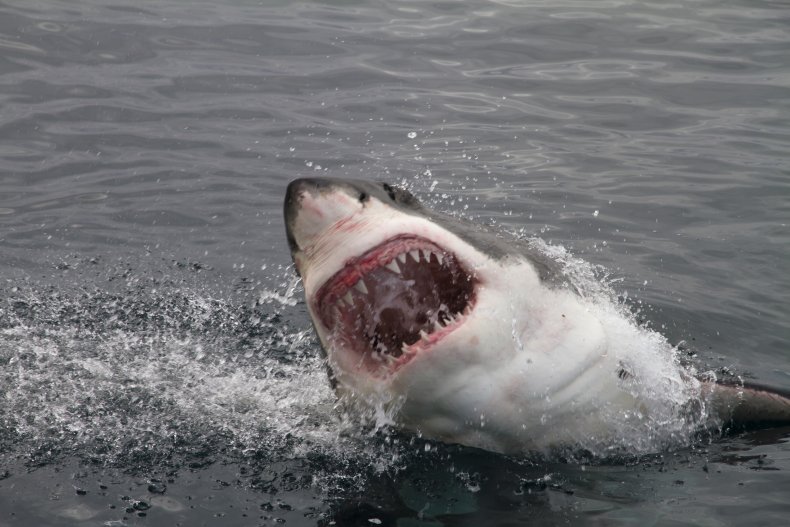 Scientists believe this is due to hunting techniques. One theory is that seals usually remain close to shore during the day, meaning sharks venture through the shallows in search of a meal.
During the summer months, there are sometimes so many sharks in the area that some beaches issue shark warnings to tourists, who may be swimming in the water. However, attacks are relatively rare, despite the sharks being near to the shore.
Great white sharks have attacked humans five times in the area since 2012. One attack in 2018 was fatal. The 26-year-old victim had been at Newcomb Hollow Beach when a great white shark pounced.
The bloody seal attack was later confirmed by the Atlantic White Shark Conservancy's Sharktivity app.