Great White Shark Snatches Fish From Young Boy in Terrifying Video
A Massachusetts man caught the incredible moment a great white shark leaped from the sea to snatch a fish of a young boy's line. The shark flipped its body so close to the boat and with so much force it sent another young boy fleeing.
Doug Nelson from Franklin told CNN he was angling with his son on Cape Cod Bay when he spotted another boy hook a "good-sized" fish. He started filming as the boy raced to reel in his prize. Little did they know the shark was also trailing the prey.
The Atlantic White Shark Conservancy non-profit shared Nelson's footage on Twitter, where it quickly racked up tens of thousands of views. As of 7 a.m. ET Twitter users have viewed the clip more than 80,000 times.
Charter boat company Columbia Sport Fishing also shared the clip to Instagram, where it racked up another 5,500 views.
Captain Marc Costa told The Cape Cod Times the shark actually made contact with the boat when it leapt for the fish. "It just left everyone in awe," he said.
Local Shark researchers tweeting under the handle @MA_Sharks said: "Good reminder that [white sharks] don't just eat seals and always be cautious when retrieving your catch."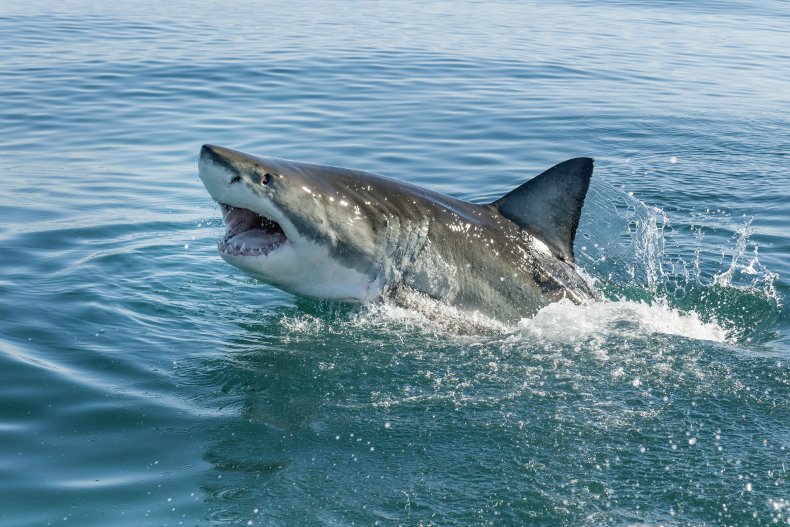 Sharks have been making headlines in the Cape Cod region in recent weeks. More than 100 sharks have already been spotted this summer, leading to the temporary closure of numerous beaches, NBC10 reported.
Although the sharks can be an inconvenience—and even a serious danger—to beachgoers, the high numbers can benefit researchers. Greg Skomal, a shark biologist at the Massachusetts Division of Marine Fisheries, told the outlet it had been a "banner year" for shark tagging.
Researchers are particularly keen to study the creatures' feeding habits in the wake of two shark attacks on humans last year. In August 2018, one man was mauled by a shark.
Exactly a month later, on September 15, boogie boarder Arthur Medici died after he was bitten by a shark in Massachusetts' first fatal attack since 1936.
A doctor who was present at the scene said Medici died before reaching the beach, The Cape Cod Times previously noted. At the time, reports indicated he quickly bled out after being bitten in the leg.
Barnstable County Commissioners heard residents' suggestions on improving beach safety at a meeting last week. Local campaigners and businesses proposed ideas including new audio alert systems and the removal of protections for seals—a prey whose population is booming.