'Huge' 13-foot Hammerhead Shark Spotted Swimming a Few Feet from Florida Beach: 'No, Just No'
Beachgoers near Pensacola, Florida, were in for a shock Tuesday when a hammerhead shark was spotted swimming just a few feet from the shore.
The Navarre Beach Fire Rescue department posted pictures of the shark to Facebook earlier this week, before sharing a video of the shark Thursday. The department estimated the shark was 13 feet long.
The video, originally posted by Facebook user Christina Reinhold, had been viewed more than 27,000 times as of 6.30 a.m. ET Friday. The shark can be seen emerging from the surface of the water near the shore about 13 seconds into the video.
The shark is seen flapping its fins and tail for a few more seconds, before a wave carries it even closer to the beach.
Someone off-screen was recorded saying: "This thing is huge. I was literally swimming right there too."
After disappearing for a few seconds, the shark is seen further out to sea. "Oh my god look how bloody that thing is," the off-screen observer said, after noticing red liquid in the water around the shark.
Apparently spotting a second sea creature, the individual exclaimed: "Oh my god it's a shark. It's another shark."
Although the hammerhead would have seemed large to observers, the creatures can actually grow up to about 20 feet in length, according to National Geographic.
"No just no," commented Gabi Anderson.
"A little close for me, but love the beach," said user Rosemary McNabb.
User Cindy Chipman added: "That would have been cool to see."
Other social media users dismissed the images. "They are in the water all the time," said Carlos Faught.
"What!?!? A shark in the ocean?!? I cant believe it!!!" added Stephen Williamson.
Navarre Beach Fire Rescue fire chief Danny Fureigh told Newsweek that hammerheads migrate from the local fishing pier to one at Pensacola Beach. They typically stay beyond the sand bar. In this case, officials think, a recent storm shifted that bar.
"This hammerhead was feeding on what we believe to be a tarpon," Fureigh said. "Hammerhead attacks on humans are extremely rare and our lifeguards removed people due to the amount of blood from its feeding, fearing other sharks may be attracted to the blood."
Sharks usually stay a few hundred feet from shore, so swimming is safe at Navarre Beach, Fureigh continued. "Lifeguards are on constant patrol looking for any hazards."
Locals, he added, have nicknamed the hammerhead "Herman."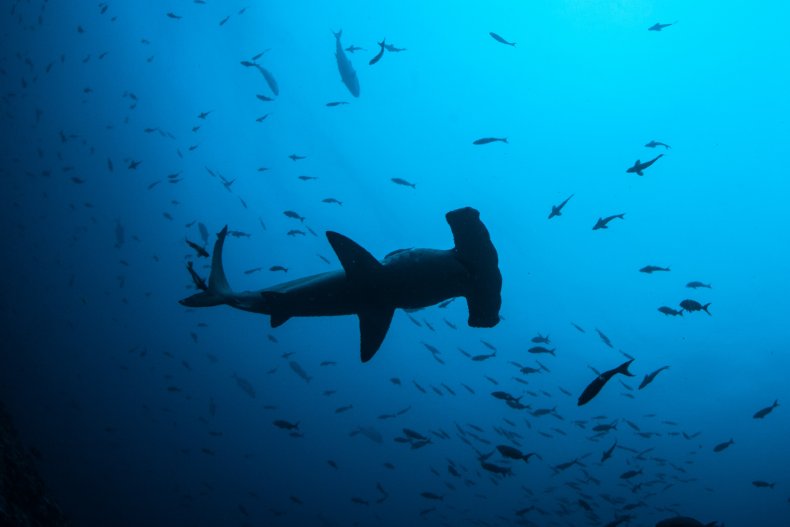 Back in May, a woman enjoying a swim off Panama City Beach, Florida was shocked to discover a shark had been trailing her for more than a minute.
An onlooker, who watched the events from a nearby hotel balcony, said people nearby didn't realize the shark at first. "It was just kind of crazy," Stan Battles told The Panama City News Herald. "Everyone on the beach, in the water, they had no clue."
But soon, fellow vacationers were shouting "Shark!" to get the woman's attention. Eventually she heard the cries and quickly headed for the shore. Luckily the shark appeared to lose interest and swim back towards the open water.
This article has been updated with comment from Navarre Beach Fire Rescue fire chief Danny Fureigh.