Watch: 500-Pound Grouper Swallows Reef Shark in Florida
A Florida fishing boat captain caught a surprise encounter on video when he witnessed a 500-pound goliath grouper swallow and spit out a reef shark last week.
Everglades Fishing Company founder and tour guide Jimmy Wheeler was aboard a 26-foot Pathfinder with a family in the Gulf of Mexico when he saw a three-pound reef shark swallowed and spit out by the massive fish. Wheeler caught the whole thing on camera from aboard his boat, he told Newsweek on Thursday.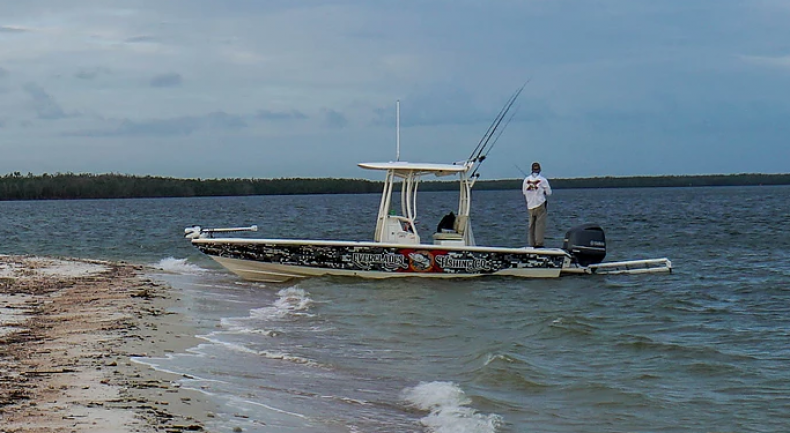 An Everglades City native with extensive fishing experience, Wheeler said he started the job as a tour guide a few months ago.
Wheeler said he was approximately 20 miles offshore when he saw a grouper glide up and attempt to swallow the reef shark. In the video, the grouper was seen taking the shark under the boat, bending the fishing line, while people could be heard saying "Oh, my God" in the background. Wheeler said the grouper spit the shark back out, and both swam away.
"[The grouper] spit it out five to 10 minutes after holding it. They look for any kind of easy food source, so if they think they can swallow a big fish they'll eat it," said Wheeler.
"Seeing other people get excited makes me more excited," said Wheeler. He said tarpon, redfish, permit and snapper are among the fish most likely to be seen and caught throughout the day.
Wheeler also said he saw three 500-pound goliath groupers fight over an even larger reef shark on Wednesday.
"My camera wasn't on, and I thought it was," Wheeler told Newsweek. "The three groupers won."
Groupers, which can weigh up to 800 pounds, became a federally protected species in 1990. The ban on killing groupers angered fisherman and divers who accused the fish of snatching other fish off their lines and eating large quantities of prey.