Shark Lunges at Boy, 8, Biting His Chest As He Climbs on Boat: Video
A shark has been filmed lunging at and biting an 8-year-old boy who was climbing onto a boat in Australia.
The video, posted to the TikTok page Huntmaster.io, was taken by Radwan Alam who had been out on a boat with his son, Manni, near Lady Musgrave Island, news.com.au reported.
"Beautiful day on the water," the dad can be heard saying in the video.
"Show me what you've got," he then says to the boy.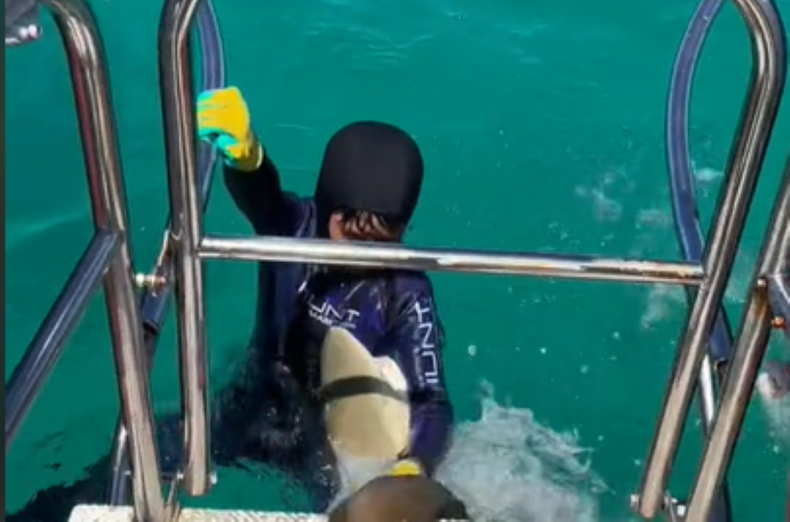 Alam's son can be seen emerging from the water in a wet suit. He then presents a fish to his dad and starts talking.
A blacktip reef shark then suddenly leaps out of the water and lunges at the boy. The shark can be seen biting the boy's chest before the video abruptly ends.
Reef sharks are some of the most abundant species living in the Indian and Pacific Oceans.
The sharks mainly feed on fish found in reefs, which is likely what attracted it to the boy, who had been holding a large fish in the video. The sharks are not particularly large, growing up to 6 feet long.
Manni escaped the incident with no more than a small bite mark, 10 News First reported.
"It hurt a little bit on the chest but that's it," the boy told Today.
"Anyone that's dived, knows that it's a very common thing when you're diving," his dad said. "Sharks are a very, very common occurrence."
Blacktip reef sharks have been known to bite people, usually when they are swimming or wading in shallow waters, the Florida Museum reports. But they do not pose a threat to humans.
In 2020, the International Shark Attack File had only recorded 11 unprovoked blacktip reef shark bites since 1959.
The TikTok video has been viewed 15.1 million times on the social media platform. Many viewers took to the comment section.
"Lucky that was only a little reef shark," one TikTok user said.
"If his hand was still in the water for like another 5 seconds it probs would have
been eaten lmao," another user said.
"I'll just save this for the next time someone asks me to swim in ocean…" commented another.
The dad responded to comments shortly after the video was posted to reassure people that his son was fine. He has since posted other videos of his son catching more fish.
Huntmaster, which sells spearfishing equipment, often shares footage of fish catches to its social media channels.
Do you have an animal or nature story to share with Newsweek? Do you have a question about sharks? Let us know via nature@newsweek.com.