Wild Video Shows Sharks Near Myrtle Beach Enjoying a Feeding Frenzy in North Carolina Waters
What was supposed to be just a regular relaxing day at the beach turned into a thrilling—yet scary—sight for one family when they spotted a group of sharks feasting on fish near the Myrtle Beach shoreline. Tara Savedge, a Richmond resident vacationing in the beach town with her family, shared a video of nearly a half-a-dozen sharks enjoying a feeding frenzy in North Carolina ocean waters.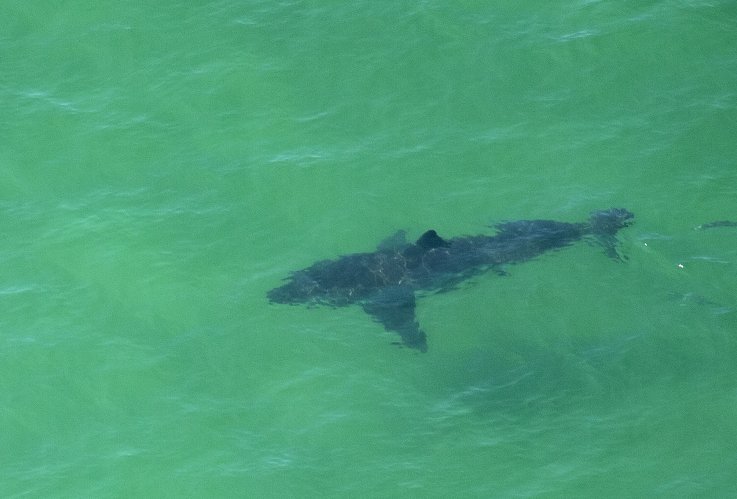 Savedge shared a Facebook video of five sharks jumping out of the water, chomping on fish on Monday. "Who wants to see some sharks this morning?" she wrote.
Speaking with a local CBS News affiliate, Savedge explained her son and nephew were out skimboarding in the water when they saw a school of fish frantically jumping around in the water nearby. "My husband said 'something's chasing them, maybe there's a shark in the water," Savedge said, noting they could see a few of the sharks jumping out of the water catching fish.
"I've never seen sharks jump out of the water like that," she added.
Patrol teams evacuated the beach following the shark sighting and people weren't allowed to get in the water for about an hour. Authorities were unable to determine the species of sharks, but after viewing Savedge's video, lifeguards predicted the fish to be between four and six feet long.
North Carolina's coast has become a popular hub for sharks, and—more recently—shark attacks. East Coast waters have long been a pit-stop for traveling Great Whites and Sand Tiger Sharks, however, during the summer of 2019 North Carolina swimmers have encountered Bull Sharks and Blacktip Sharks.
The month of June saw an influx of shark attacks after three people were bitten off the coast of North Carolina.
Seventeen-year-old Paige Winter was pulled underwater by a shark at Fort Macon State Park on June 2. The attack resulted in Winter losing most of her left leg as well as two fingers. Eight days later, 19-year-old Austin Reed was bitten on his right foot by a shark while surfing the waters off Ocean Isle Beach. Barely a week after Reed's encounter, a shark grabbed an 8-year-old boy by the leg in the ocean near Bald Head Island on June 17.
Gavin Naylor, director of the Florida Program for Shark Research, suggested to Business Insider the boys' shark experience likely involved Blacktip sharks—a smaller species of shark not known for aggressive behavior. "[They] are as shocked at biting people as people are at being bitten," Naylor said in a June interview.
As for Winter's attack, Naylor predicted she encountered a Bull shark—a species with a large appetite and reputation for aggression.
Wild Video Shows Sharks Near Myrtle Beach Enjoying a Feeding Frenzy in North Carolina Waters | Culture