Shark Partially Amputates Fisherman's Leg After He Falls Overboard, Flown to Hospital
A fisherman had to be flown to the hospital on Friday morning after he was attacked by a shark off the coast of Louisiana and suffered a severe leg injury.
The Moon Glow, a fishing vessel, called the Coast Guard early Friday morning to report a crew member had fallen overboard and was attacked by a shark. The victim was identified as a 64-year-old man who had been untangling fishnets from the vessel's propeller when he fell into the water.
The man's leg had been "partially amputated" in the attack and crew members applied a tourniquet to help stop the bleeding. The Coast Guard's duty flight surgeon recommended a medevac for the fisherman, prompting a helicopter crew to arrive on the scene. They transported the victim to the University Medical Center in New Orleans. Video showed the Coast Guard hoisting the man into the helicopter.
At the time of his arrival at the hospital, the man was in critical condition. Newsweek reached out to the Coast Guard for an update on the man's condition but did not receive a response in time for publication.
The Coast Guard said the species and size of the shark that attacked the fisherman was unknown. The attack occurred about 35 miles southeast of Grand Isle, Louisiana, located on the Gulf of Mexico.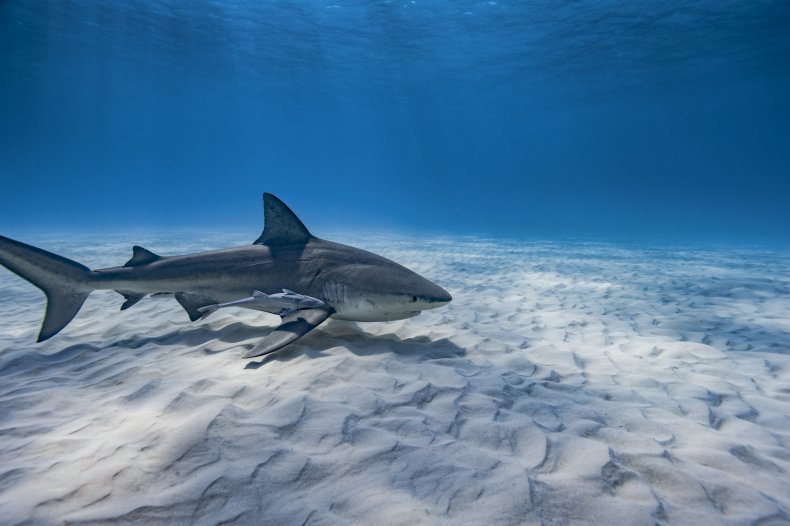 At least 24 species of sharks are found in the Gulf of Mexico, according to the University of Florida. Nurse sharks can be found in the northern area of the gulf and it's not uncommon to find various species of hammerhead sharks in the water. Other species of sharks common to the Gulf of Mexico include bull sharks, tiger sharks, and the blacktip shark.
Although there are records of great white sharks in the Gulf of Mexico, the University of Florida noted that it's rare to see them, as they prefer cooler waters.
This year, there have only been two other shark attacks on the Gulf of Mexico, according to the Global Shark Attack File, which is maintained by the Shark Research Institute. In an August 28 attack at Galveston Island, Texas, an 11-year-old boy was bitten on the ankle by what appeared to be a small shark.
On July 17, a 14-year-old boy was bitten by a shark near Grayton Beach State Park in Florida. The Walton County Sheriff's Office categorized the attack as a "superficial bite" and the wounds were not life threatening.
"This post is NOT to create fear or wreak havoc. Sharks live in the water. That is their home. We're making the public aware so that they may use caution when swimming in the water... where sharks live... near the site," the sheriff's office wrote in a Facebook post.