Shark Takes Bite Out of Man's Paddleboard and Chases Him Ashore: 'You Got to Respect the Sea'
A paddle boarder had a close encounter with a tiger shark near Kihei, Hawaii, Tuesday morning.
A 57-year-old man was 200 feet from the shoreline when a 10 to 12-foot shark decided to take a bite from his stand-up inflatable paddleboard, knocking him off, Hawaii News Now reports. The board immediately deflated.
"When I caught a glimpse of the shark I was like 'damn this thing is bigger than my board,'" Larry Oberto told Maui Now.
"I was like in awe and at the same time, I don't know if I want to be here and I decided 'you know, I think I'm going to get out of here' because you know it's a shark."
Oberto was able to swim over to another man's board, before the shark turned on the men and aggressively pursued the pair towards the beach.
"If AJ wasn't out there, basically I would have had to have swim for it," Oberto, who did not know AJ Gaston before the incident, told reporters at Hawaii News Now. "There would have been nothing I could do but swim."
Both men, Oberto and Gaston, escaped the incident unscathed but swimmers and surfers have been asked to stay out of the ocean between Cove Park and Waipuilani Park.
The Department for Land and Natural Resources (DLNR) Division of Conservation and Resources Enforcement (DOCARE) was alerted to what had happened at around 10:15 am, and put in place standard shark protocols. These includes warning signs one mile in each direction to let beachgoers know that there may be a shark in the vicinity.
As per the usual protocol, these signs were removed before noon the following day (in this case, Wednesday), a DLNR spokesperson told Newsweek.
"Our standard protocol is for warning signs to come down by at least noon, the day after an incident, which is what happened in this instance."
Despite the close call, Oberto has said it will not stop him from paddleboarding in the future.
"You got to respect the sea and the creatures in it because it's not my world," Oberto told Maui Now.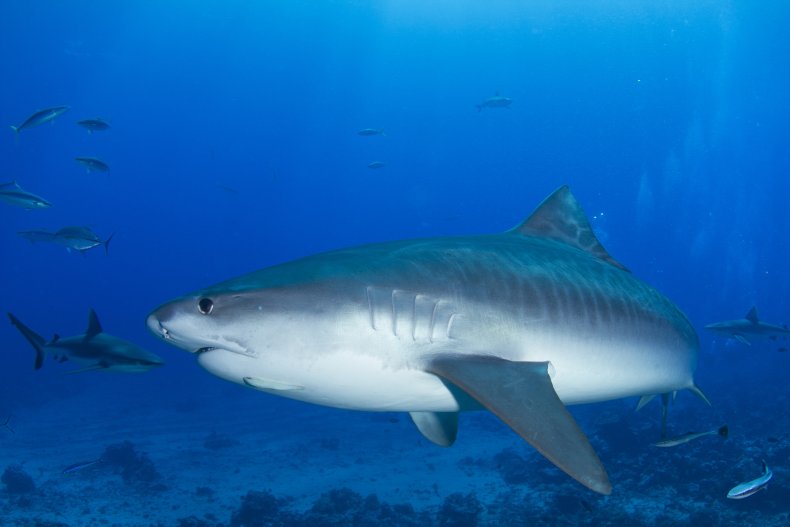 There are around 40 species of shark that live in the waters around Hawaii, including the great white shark. However, attacks are extremely rare—according to the DLNR, there are approximately three or four incidents of a shark biting a person in Hawaiian waters in any given year.
The most commonly spotted sharks around Hawaii are the whitetip reef, sandbar, scalloped hammerhead and, sometimes, the tiger shark. The latter, identifiable from its blunt snout and stripes, is considered to be the most dangerous shark, the DLNR says.
"It's not known why tiger sharks sometimes bite humans. The idea that they mistake a person for a natural prey item, such as a turtle, is not supported by any evidence," the DLNR explains.
"The shark may be trying to determine if a person is a potential prey item, it may come across a person while in a feeding "mode," or perhaps there is some other explanation."
A month ago, Hawaii closed several beaches following a spate of shark sightings within a period of two days.
The graph below, provided by Statista, shows the number of reported shark attacks by country, as of June 2019.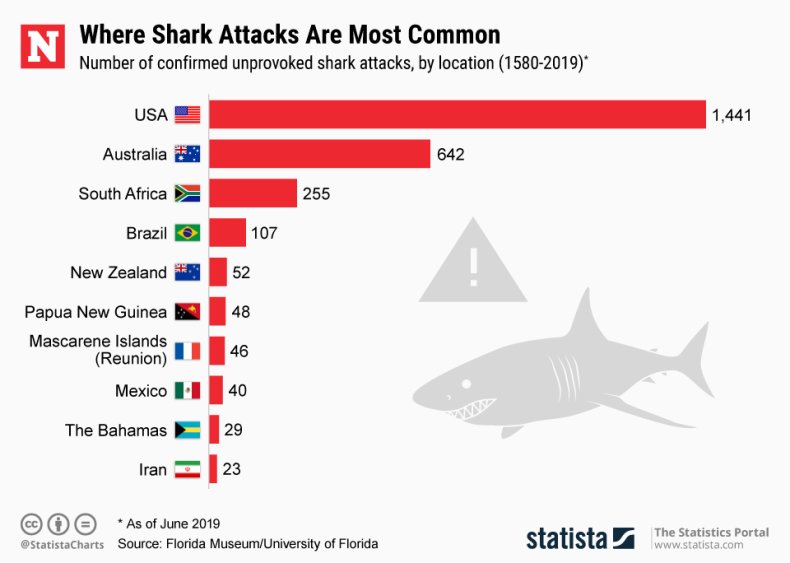 The article has been updated to include comments from DLNR.