When Does 'Shark Week' Start in 2018? Complete TV Schedule of Discovery Channel Programs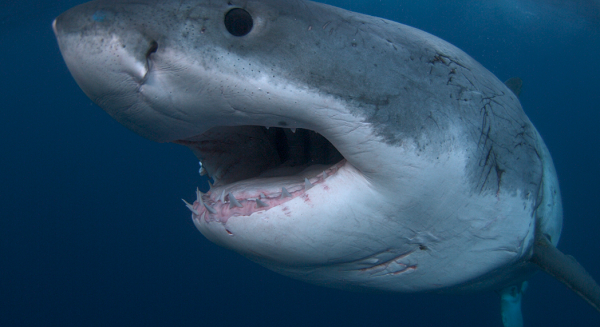 Shark Week returns to the Discovery Channel with a week full of TV specials starting on Sunday. The network celebrates 30 years of their annual Shark Week event this year and will air several new shows catered to the most feared fish in the sea.
Find out all the shows airing during Discovery Channel's Shark Week below.
Sunday
Alien Sharks Greatest Hits, 7 p.m. ET: Explorers dive into the waters of the Arctic and the piping hot cauldrons of the Pacific to investigate a few of the world's strangest creatures living in the deepest areas of the sea.
Bear VS Shark, 8 p.m. ET: Man vs. Wild host Michael Grylls survived some of nature's harshest conditions, but how will he fare when plunged into the depths of the ocean to survive among the sharks? Discover channel will put the adventurer's survival skills to the test when he takes a dive with the ocean's number one predator in this hour-long spot.
Shaq Does Shark Week, 9 p.m. ET: Ex-Marine and Navy vet Rob Riggle sets out to help Basketball legend Shaquille O'Neal overcome his fear of sharks before he takes his first deep dive.
Ronda Rousey Uncaged, 10 p.m. ET: The UFC Hall of Famer claimed victories over plenty of fighters, but she'll face off with perhaps her biggest opponent yet when she goes swimming—uncaged—with Mako sharks. Luckily she'll have expert Navy diver and shark attack survivor Paul De Gelder on hand to coach her through the match.
Shark After Dark Live, 11 p.m. ET: The live late-night series will feature celebrity guests and experts to discuss all things sharks.
Monday
Monster Tag, 8 p.m. ET: Aaron Rogers, Lindsey Vonn and Robert Gronkowski team up with marine biologists to learn about shark populations and how to preserve them.
Great White Abyss, 9 p.m. ET: Dr. Mauricio Hoyos and shark experts Partington and Brandon McMillan take a journey to the sea floor off Guadalupe Island to find the famed 20-foot-long great white shark, Deep Blue. Their trip marks the first manned expedition to the deepest parts of Guadalupe's sea in search of the notorious shark.
Cuba's Secret Shark Lair, 10 p.m. ET: Researchers set out to explore the waters of Cuba in hopes of finding a giant hammerhead dubbed The Queen and a great white shark said to be as big as El Monstruo, a great white discovered in 1945 that was the largest to ever be recorded in Cuban waters.
Shark After Dark Live, 11 p.m. ET: A few shark experts and celebrity guests are slated to discuss the shark shows and most impressing facts of the night during the late-night talk show.
Tuesday
Guy Fieri's Feeding Frenzy, 8 p.m. ET: The Diners, Drive-Ins and Dives host travels to the Bahamas with his son Hunter Fieri to check out the favorite local cuisine made with a variety of shark species.
Laws of Jaws, 9 p.m. ET: Deep sea divers Liz Parkinson, Mike Dornellas and Nick LeBeouf team up with oceanic filmographer Andy Casagrande to study shark behavior and determine why shark attacks are suddenly on the rise.
Air Jaws: The Hunted, 10 p.m. ET: Shark expert Alison Towner travels to South Africa to investigate the 2017 deaths of five great white sharks that washed up on shore, likely eaten alive.
Shark After Dark Live, 11 p.m. ET: A roundtable of celebrity guests and shark experts weigh in on the night's shark coverage.
Wednesday
Air Jaws: Back From the Dead, 8 p.m. ET: After visiting the shores of South Africa to watch great white sharks preying on seals 17 years ago, Jeff Kurr and Chris Fallows are back together again to discover how the great whites in New Zealand go after their kills.
Shark Tank Meets Shark Week, 9 p.m. ET: The renowned sharks of ABC's popular series will join in on the Shark Week fun for the first time ever while deciding whose shark conversation project is worth a $50,000 donation.
Sharkcam Steakout, 10 p.m. ET: Dr. Greg Skomal and the Woods Hole team join forces with Doc Gruber and Dr. Tristan Gutteridge to study the hunting and feeding habits of bulls and hammerhead sharks living in the Bahamian waters.
Shark After Dark Live, 11 p.m. ET: A panel of shark experts and celebrity guests rehash the shark shows of the night during the live talk show.
Thursday
Sharkcam Strikes Back, 8 p.m. ET: The Woods Hole team remembers all the fascinating shark discoveries they've made over the last six years.
Sharkwrecked, 9 p.m. ET: Watch as Paul de Gelder and James Glancy spend 48 hours shipwrecked in shark-infested waters with no food.
Tiger Shark Invasion, 10 p.m. ET: Dr. Neil Hammerschlag and Joe Romeiro visit the Galapagos to study tiger sharks and learn how the fish helped repopulate the islands' surrounding waters.
Shark After Dark Live, 11 p.m. ET: Celebrity guests and shark enthusiasts mull over all the shark facts revealed during the night's programming.
Friday
Cash Cab Shark Week Edition, 7 p.m. ET: Cash Cab host Ben puts a few sailors and nautical experts in the hot seat as they answer shark and sea-related questions in pursuit of winning a cash prize.
Megalodon: Fact Vs. Fiction, 8 p.m. ET: Scientists and experts share their thoughts on how Megalodon, the big-tooth prehistoric shark that lived some 26 million years ago, would have existed in today's waters.
Bloodline: Spawn of Jaws, 9 p.m. ET: Dr. Craige O'Connell investigates the sharks off the coast to Long Island in effort to determine if any of the great whites are related to the natural born killers that inspired the blockbuster hit Jaws.
Great White Shark Babies, 10 p.m. ET: Dr. Mauricio Hoyos and researched Michelle Jewell and Toby Daly-Engel take a trip to Guadalupe to determine the birthing habitats of pregnant great whites.