Photo Appears to Show Shark Swimming Right Past Man's Backyard After Major Floods
You may expect to see a deer, raccoon or even a turkey somewhere in your backyard, but a large shark isn't usually in the mix of standard backyard wildlife, even in Australia. A Queensland man shared a post on Facebook about a bull shark that was able to swim up to his backyard after a large flood.
Posted to the Gold Coast Community Facebook page, Timothee Morrison Dufour shared the picture which shows the shark's fin just outside a metal black fence in his backyard.
"Another wild day on the Gold Coast! Bull Shark in the backyard at Burleigh Waters," he wrote.
The post has received over 1,000 comments and over 2,500 shares on Facebook.
People commented making jokes about the unexpected aquatic visitor. One person warned Dufour not to get "tempted to go for a dip." Another person remarked that were likely a "few snakes in there as well."
The Queensland Bureau of Meteorology tweeted a thunderstorm warning on Thursday. It said the heavy rain could produce flash floods. It also said there had been (190mm [7 inches] rain since 9am."
Burleigh Waters, where Dufour had reportedly taken the photo had received about 104mm (about 4 inches) of rain in the past day, according to News.com.au.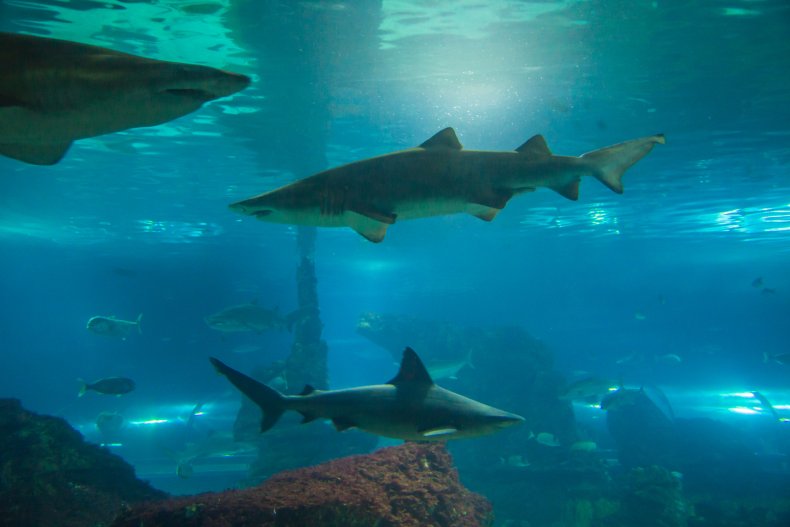 Despite Dufour sharing the photo and people believing that it is entirely possible that the flooding created enough water that a shark could mosey up close to the photographer's backyard, some people were more skeptical, thinking it was fake.
"That's actually the worst photoshop how people fell for this is beyond me," one person commented.
Another commenter pointed out issues he took with the picture, indicating that it was fake, but said that a video would prove him wrong.
"The shadows aren't matching up right and there's a a bit of pixelation around the fin," he wrote.
While it does appear possible that the photographer lives near a body of water, and a shark could have made its way over with flooding, the details of the amount of rain and the average size of a bull shark also raise a few red flags. According to National Geographic, bull sharks usually are between 7 and 11.5 feet long and weigh between 200 and 500 pounds, which makes it seem like much more than just the fin would be sticking out in a maximum of about 7 inches of water.
While flooding may have gotten particularly high near where Dufour snapped the picture, it's also entirely plausible that the picture is just a well-designed hoax, and he's having a laugh at all of us.
Newsweek reached out to Dufour via Facebook message for comment.