Drone Captures Great White Sharks Circling Oblivious Surfers in California
A photographer's drone filmed a group of great white sharks circling seemingly oblivious surfers in Orange County, California.
Matt Larmand was using the remote flier on Wednesday to film a group of hydrofoilers zipping through the water at Capistrano Beach in Dana Point, outside of San Clemente. Larmand says he was about a quarter-mile away from the action, with no way to warn the surfers. He was hoping to capture some great whites with his drone, but didn't expect them to be threatening humans on boards being towed around by a Jet Ski.
At one point, a surfer seems to ride right above a shark. When another rider fell into the water just feet from one of the killer fish, Larmand was terrified.
"I was freaking out. I was like, 'He has no idea there's a shark right next to them," he told the O.C. Register. "He was just sitting there, he had no clue. I would be freaking out if I was him, it was just insane to watch."
Fortunately the unnamed man got back on the board uninjured and the shark swam away.
Larmand estimates one of the three great whites he filmed Wednesday was at least eight feet long, suggesting it may have been a juvenile. Experts say its the juveniles, more curious than younger sharks, who can be the most dangerous. Though they typical dine on fish, dolphins, seals and sea lions, great whites are among the few species of sharks that have fatally attacked humans unprovoked.
But this group seemed more curious than ravenous.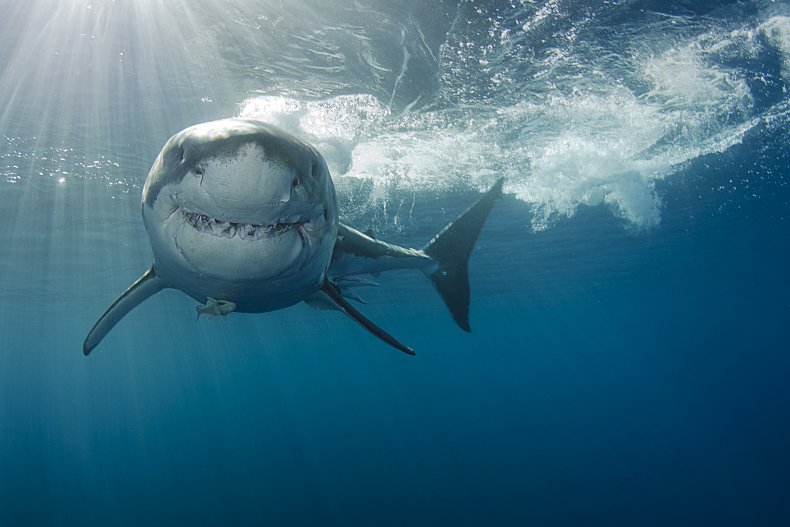 "It was almost like they could care less they were there," Larmand told the Register. "One of the clips I have, the guy being towed by the Jet Ski, they were going by and went past by six to seven feet away, and the shark could care less if they went right past him. The sharks were being really mellow."
Great white sharks measure about 3.9 feet at birth, growing nine inches every year. Adult males measure between 11 and 13 feet, with females being larger, between 15 to 16 feet. The largest great white on record was 20-foot-long female that weighed approximately 4,200 pounds.
Larmand, who works for Dana Wharf Whale Watching, has said the beach is a hot spot for shark activity. This year has been more sporadic, though, than seasons affected by El Niño.
In July, his camera captured about a dozen orcas surfacing and attacking a group of dolphins near a boatful of whale watchers.
"That's something you see in National Geographic... not something you expect to go out on an evening whale watch and see," Larmand told KCAL 9 at the time. "I'm just rolling and trying to follow it as best as possible and all of a sudden they separate, there was a mom and a baby they separated from the pack, just doing circles around it just trying to separate baby from mom."