Five Facts About Bong Joon Ho's Interpreter Sharon Choi
Bong Joon Ho wrapped up awards season by winning four awards during the Oscars on Sunday. The filmmaker's interpreter Sharon Choi was by his side as he collected awards for Best Picture, Director, International Film Feature and Original Screenplay for the film Parasite.
The 25-year-old has been spotted with the filmmaker on every press stop, interview and awards stages. Now that award season is over, though, Choi will turn her attention back to her own personal endeavors, like creating her own cinematic features.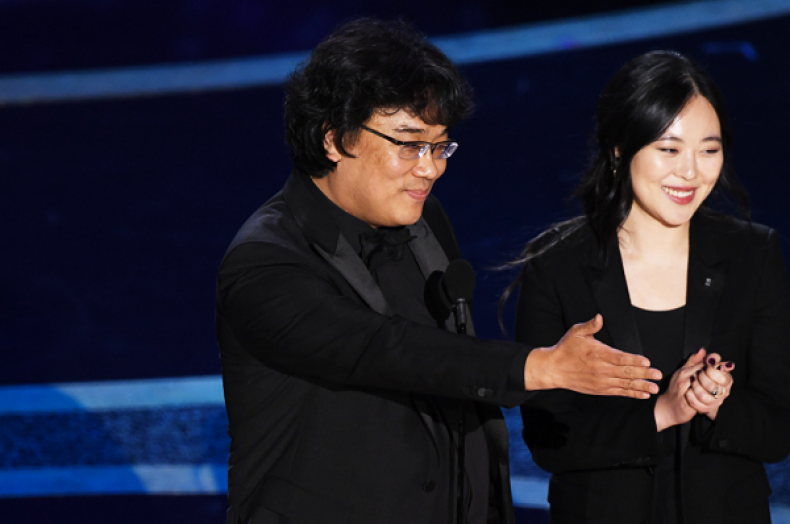 Read on for more about Bong's interpreter Choi below.
Choi began working with Bong at the Cannes Film Festival
Choi made her red carpet debut alongside Bong at the lavish film festival in May.
Choi is a filmmaker herself
Despite spending nearly a year working and traveling with a director and filmmaker, Choi is hoping to eventually write and direct movies of her own. The Korean-American, who currently lives in Seoul, studied film in college and is already working on her first feature screenplay. Following his award wins, Bong told reporters backstage at the Oscars he was interested in reading Choi's script.
"You already know she's a filmmaker," he said. "And she studied film in the university, yea, so I'm so curious about her script. Actually, she's writing some-feature-length script. I'm so serious about it."
Choi's first project may be set during award season
Details on Choi's screenplay are being kept under wraps. However, she did share a little insight on what the film is about, according to The Wrap reporter Steve Pond.
"Bong Joon Jo's translator, Sharon, Choi, is a director. When awards season ends (i.e., tomorrow), she says she wants to start making a movie ... about awards season," Pond revealed on Twitter on Sunday.
Choi is already becoming a star in her own right
After spending months interpreting for the director with the most buzz, it's not all that surprising that Choi is becoming something of a household name all on her own. Even Bong has noticed the following Choi has gain since becoming his interpreter. "She has a big fandom," Bong said of Choi while speaking to The Hollywood Reporter at the 2020 Golden Globe Awards.
Although Choi admitted all the attention she's received during Parasite's press run made her "super anxious," she said working with Bong was overall an amazing experience. "I'm just a huge fan of this film and all the filmmakers. So it's been great. This is so embarrassing, but yes, it's been great," Choi said in the same interview.
Choi won fans over after appearing on Jimmy Fallon
In December, Choi accompanied Bong during his visit to The Tonight Show with Jimmy Fallon. Viewers were highly impressed with Choi's seamless ability to interpret words with such quick efficiency and many of them took to Twitter to share their praise of her work.