Sharon Van Etten Powers Through With Her Latest Record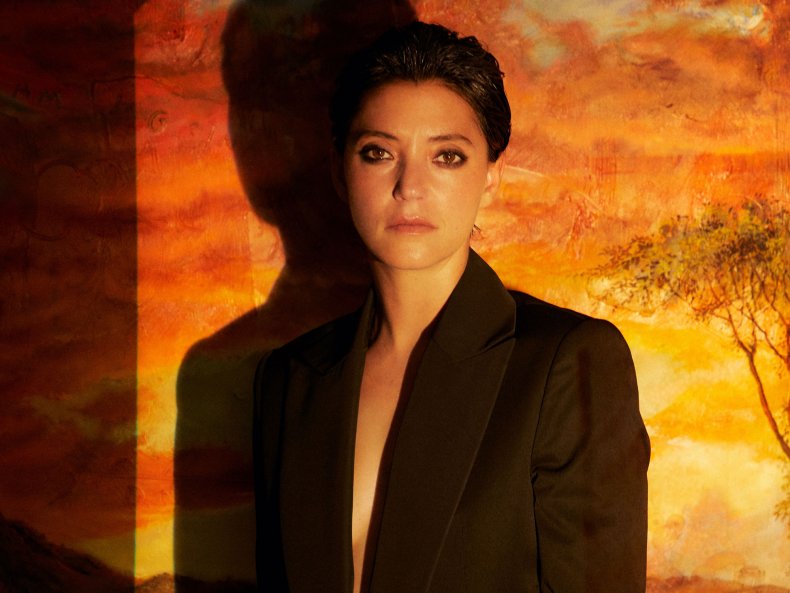 At the height of the lockdown in 2020, singer-songwriter Sharon Van Etten and her family in Los Angeles found comfort in watching old movies, One that particularly resonated was the 1993 coming-of-age comedy The Sandlot. When a plan by a baseball-loving gang of neighborhood kids to retrieve a treasured ball from a huge English mastiff fails disastrously, one kid deadpans, "We've been going about this all wrong."
"That made me laugh and tear up immediately," Van Etten tells Newsweek. "It was something so simple, but also that feeling of every time we got over a hump during the last couple of years, something else happens. It's like everyone's waiting for the other shoe to drop. No matter what we do, no matter how much we can power through."
Last month, Van Etten released her sixth studio album We've Been Going About This All Wrong (Jagjaguwar)to rave reviews. Starting July 21, she's going on tour in the U.S. with fellow indie artists Angel Olsen and Julien Baker. Sonically, the album is similar to 2019's Remind Me Tomorrow, using electronic textures (like on the danceable "Mistakes") but also recalling her folk roots. Lyrically, the songs, all written in the last two years, convey uncertainty, vulnerability, longing and hope. Most of the material she says was "definitely inspired by the ups and downs of the pandemic and my internal workings and introspection, while also managing anxiety and depression, and trying to be a parent and trying to make sense of how to manage those feelings in relation to what was going on around me."
In the opening track, the gentle and cinematic "Darkness Fades," the narrator longs for connection in bleak circumstances. "We had just relocated to the West Coast," Van Etten recalls, "and I'm thinking about all the people that I love and miss ... I remember wanting to hug people so badly [and] trying to coach myself to be more positive about it. I was in a dark place while wanting to reach out. I was defiantly singing about how things were gonna get better, even though I wasn't sure."
The soulful "Home to Me" references Van Etten's young son and the challenges of juggling a busy career and parenthood: "I need my job/Please don't hold that against me." The singer says, "I'm kind of throwing these secret messages to my son that maybe one day he'll look back and have an awareness that I knew that it was hard. He's at an age where I don't think he fully knows yet. I'm working so that he can grow up watching both his mom and dad work and know that it's with passion, but it doesn't mean that it's easy."
The nuances of relationships are a constant in Van Etten's catalog, such as We've Been Going About This All Wrong's moody and atmospheric "Born." She says, "I remember I was starting to play on my piano and thinking very specifically about my personal relationships, as we all did during this time. I think we all started reflecting on what our friendships mean. You're analyzing your regret and things you could have done better. Whenever I get anxious, it tends to spiral. And I was documenting that spiral in a song–feeling helpless while also trying to convey the sense of understanding, anger, forgiveness–-more about the process of acknowledgment."
Meanwhile, the anthemic "Come Back," appears destined to become a staple of Van Etten's live repertoire. "I was reflecting on how things change and those moments of weakness where you're wondering if you're wrong or if you were the wrong person they chose, but basically documenting a moment of weakness that we power through. I think everyone goes through that in a relationship. And I love that melody. It was always a classic melody to me as I keep trying to challenge myself to write complicated melodies that any singer hopefully will appreciate singing along to. It's so cathartic to sing."
According to the musician, We've Been Going About This All Wrong is meant to be heard from beginning to end, which explains why no singles were released in advance. "As a listener of music and a fan of what an album means," she explains, "I'm not a single-driven person... I want to super-serve my fans who still buy albums and don't want to be spoonfed what other people think the singles are; they can listen to the album how it was intended...The sequence is a journey, and I put a lot of thought into it."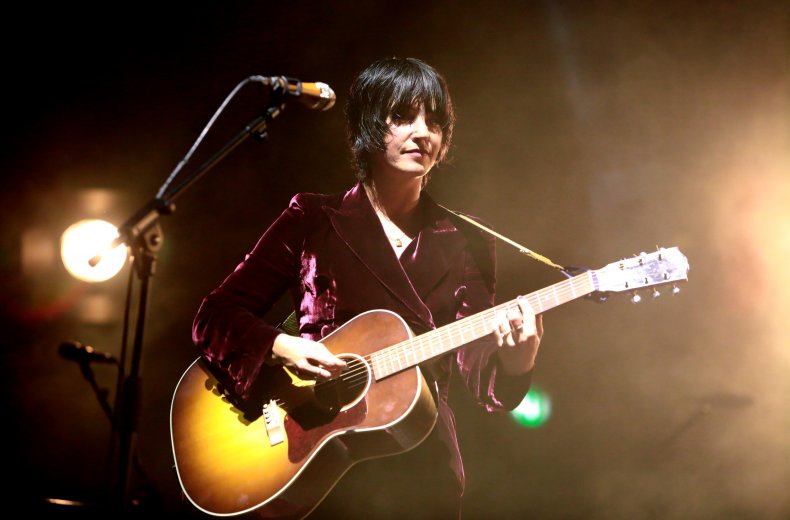 In a recording career now approaching almost 15 years, Van Etten, who originally hails from New Jersey, has seen her sound evolve from the personal and intimate acoustic folk-rock that brought her to the attention of music critics and fans. Along with receiving press accolades that have followed each album release as well as headlining major venues across the world, Van Etten has collaborated with such artists as Angel Olsen, The National and Norah Jones–and appeared on the TV programs The OA and Twin Peaks: The Return. As her career has grown, she and her partner moved from New York City to Los Angeles a few years ago to raise their son.
"It's just a different thing," she says of the vibe on the West Coast. "I will never deny that I'm still an East Coast girl, and sometimes I feel like a fish out of water in California. But I have found a beautiful group of supportive people and musicians and creatives and families and a neighborhood that I love deeply. Having space and a [recording] studio at home, it's definitely not something that I would be able to find in New York. It was an adult decision to move to L.A. in order to make the best of things for my family and my career. Every time I go to New York, I still love it and I miss it. But I think L.A. is exactly where we need to be right now."
She will be playing a number of the songs from the new record on her Wild Hearts summer tour with Olsen and Baker, all three of them kindred musical spirits. "I got to see one of Julien's first shows in New York in 2016," says Van Etten of Baker. "She was so bright-eyed, bushy-tailed, like all the love in the world, so grateful for everything that's come to her. She very much has stayed true to herself and her DIY ethics. I love seeing how much she's grown.
"And Angel," she continues, "I knew her music before we met. Darius Van Arman, the head of Jagjaguwar, was driving me to the video shoot of "Magic Chords" [from my album Tramp]. He played me a song and said that they were thinking of signing this young artist named Angel Olsen. I remember getting really teary-eyed. I thought it was the most beautiful music I've heard in a really long time. Our friendship is definitely blossoming, and she's one of the most genuinely cool people I know."
As for where We've Been Going About This All Wrong stands among her previous albums, Van Etten says it acknowledges more of the world beyond her personal relationships, "about what's going on right now and what's to come, more so than I ever have talked about before, as well as more openly talking about my anxiety and depression, and trying to relate to other people in that way. [I'm] still trying to find the positivity like every other record, but I feel more so that this is collectively a moment in time that we've all shared together as a world. Yes, everyone's had a break-up, and everyone has experienced sadness. But this is a deeper sadness and hopefully a deeper optimistic point of view that we can get through this together. It's definitely on a larger scale than my past records."
FURTHER LISTENING

Epic
(Ba Da Bing! 2010, reissued 2020)
Sharon Van Etten's folkish debut 2009's Because I Was In Love consisted of ruminations about relationships featuring just her voice and guitar. For her follow-up album Epic, she amped up her sound with a full band; standouts include "One Day," "Love More" and "Peace Signs." On its 10th anniversary, Epic was reissued with covers of its songs by Courtney Barnett, Vagabon, Lucinda Williams, IDLES, Fiona Apple and others. Van Etten, who once described Epic as marking a sense of closure in her personal life after her debut record, says of the reissue: "I felt honored that the people that I reached out to, who definitely represent a wide range of musicians that I admire, wanted to cover my songs. I tried to [have] a diverse range of artists that I feel like represent not only the music that I make but the kind of music that I love. It helps me reflect that these songs can live on in these other ways beyond how I made them."
Tramp
(Jagjaguwar, 2012)
An electrifying and emotionally charged work, highlighted by such songs as "Serpents" and "Give Out," Tramp found the singer working with The National's Aaron Dessner, who served as the album's producer. "It was a combination of his circle of friends and my circle of friends enhancing songs beyond the basic Americana-country-folk corner that I kind of got put in as an acoustic female songwriter. He kept nudging me like the older brother, trying to get the rock song out of me."
Are We There
(Jagjaguwar, 2014)
"[Dessner] gave me the confidence to speak on my own terms about what the songs meant to me and what I wanted. So moving on to Are We There, I had been touring with a band that learned the songs from Tramp, and I was comfortable enough in the studio to be able to tell them what it was that I wanted. But they also knew intuitively what I already liked because we had created these songs live. And that was me getting into the producer's chair for the first time with Stewart Lerman."