Sharp Dressed Man: Bespoke Tailor's Sixth Sense for Client Needs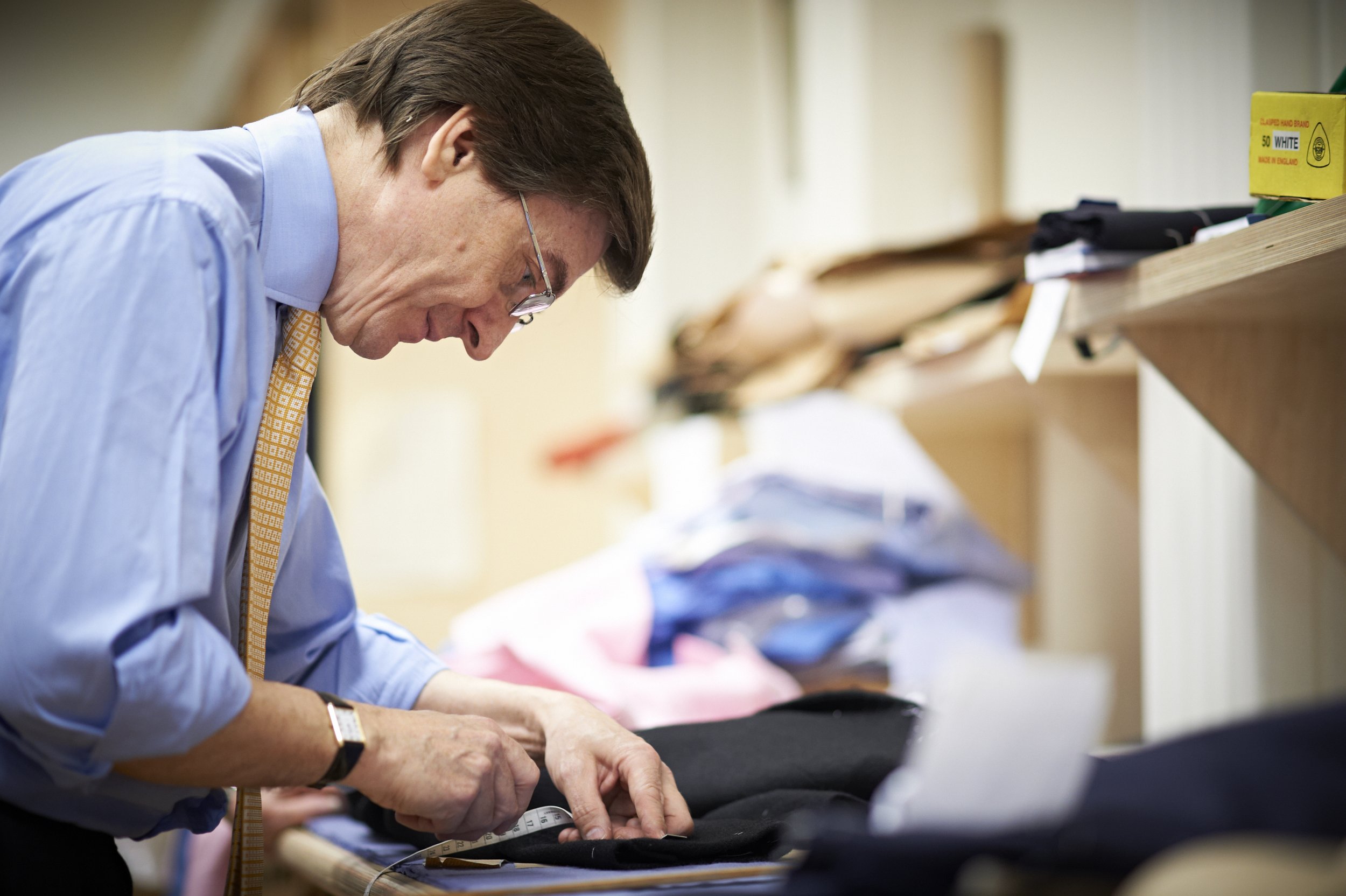 Having clothes made is a powerful experience. I have been visiting a tailor for 30 years, and the magic of a well-made coat or pair of trousers continues to cast its spell over me. I am not alone; the power of good clothes has been documented by far loftier minds than mine.
Ralph Waldo Emerson is often credited with the observation that "the sense of being perfectly well-dressed gives a feeling of inward tranquility which religion is powerless to bestow." While those words do appear in his 1875 collection of essays, Letters and Social Aims, they appear in quotation, attributed to a "lady" to whom he listened "with admiring submission." (And whatever that is, I suspect it is ironic.) His own thoughts on the subject were rather different. "If a man have manners and talent he may dress roughly and carelessly," he wrote. "If the intellect were always awake, and every noble sentiment, the man might go in huckaback or mats, and his dress would be admired and imitated." Clothes are, he suggested, a crutch for the man who lacks "firm nerves and has keen sensibility" and who needs the confidence-enhancing power of good clothes to endure the Sisyphean trials of daily life and "dismiss all care from his mind."
Alas, I am not a man of firm nerves. I also happen to have a keen sensibility. It would have been little surprise to Emerson, then, that I am not overly inclined to go about in huckaback, which is a coarse cotton used in tea towels. I prefer to visit a good tailor—and I am lucky to have encountered one as talented as Terry Haste. A good tailor is a gifted craftsman, but a great tailor is a reader of character and psychology, as well. Haste is both. By that, I do not mean he is constantly dipping into his Freud and Jung, but he is aware that what his customers desire and what their bodies permit are often two very different things; his job is to dress the mind as much as the body of the customer.
"It doesn't matter how good the suit is," he says. "If it does not match the picture of themselves in their mind, then you can forget it."
At the age of just 15, Haste started work at bespoke tailor Anderson & Sheppard, when Savile Row was still mired in almost Edwardian formality. "They said to me that once I made it as a cutter, I would be able to wear a bowler hat to work. They were serious—that shows how long ago it was," he says. Haste did have an interview at Huntsman, one of the great Savile Row tailors, but he says they wanted him to take elocution lessons—and he'd had enough of school by then. Somehow, he managed to get along without having to wear a bowler hat or speak like Noël Coward. He then moved to Hawes & Curtis and Savoy Taylors Guild before he settled in at Tommy Nutter, making clothes for Mick Jagger, Elton John, George Harrison and Jack Nicholson, who wore Haste-cut clothes in Batman.
I was introduced to Haste in 1992 by British designer Jeremy Hackett, who had hired him to set up Hackett London's bespoke tailoring department. It is a testament to Haste's skills that even though he left Hackett almost 20 years ago, many of his customers from that time—including the Goodwood motor sport impresario Charles Gordon-Lennox, Earl of March and Kinrara—have remained loyal to him. They first followed him to Huntsman, where he was head cutter and managing director. Haste then went into private practice and a few years ago joined forces with John Kent and Stephen Lachter as part of the tailoring and shirt-making triumvirate Kent Haste & Lachter, which counts the Duke of Edinburgh as a customer.
Rapport is essential
To get the best out of bespoke tailoring, you need time and patience to develop a good relationship between client and cutter. Being a good bespoke customer requires almost as much experience as being a cutter—the first piece is always going to take some time. A rapport must develop. Having known Haste for almost a quarter of a century, I feel that sometimes I can be almost telepathic in expressing what I want. He knows how I like things to look. He is prepared to make some truly exotic garments for me: the pink houndstooth tweed sports jacket with a belted back or the heavier lovat green tweed with Bordeaux over check and a suede gun patch that grew into a sort of country-and-western-style yoke.
Most of his customers adopt the Haste cut: slim chest, shape through the body and a structured shoulder. But like an Oscar-winning actor, he can assume any character convincingly: He is capable of tailoring for people like me, who prefer a lot of drape and hate feeling constricted by clothes, as well as those who favor the look of contemporary British television presenters, which, to my eye, gives the impression of a suit that shrunk in the wash.
Technical ability aside, however, I suppose what I and many customers appreciate about Haste is his lack of pretension; there is no branded pomp or marketing-led circumstance about what he does. He mixes an informal approach with an expert eye; his shop on Sackville Street in central London looks as haphazard as the clothes he makes are considered.
Dressing carefully, I would argue, is a sign of respect to others—and I can't help thinking that had Emerson been lucky enough to have a suit made for him by someone as talented as Haste, he would have entertained slightly less sanctimonious views about bespoke tailoring.