Sharp Shooter Frees Buck From Net With Single Bullet to the Antler
A buck tangled up in a net in Berks County, Pennsylvania, was set free thanks to a single skilled shot by a game warden with the Pennsylvania Game Commission.
In a post published to the agency's Facebook page on Monday, State Game Warden Ryan Zawada responded to the call made by "a concerned citizen," which resulted in the buck shedding its antler in a less than typical way from its fellow bucks.
"Given the deer's state of distress upon arrival, SGW Zawada was nervous that chemical immobilization was not a safe option to remove the deer from the net," the post stated. "He decided the best option was to shoot the caught antler off."
It took just one shot for Zawada to free the buck, and once the buck was out of the net, he ran off unharmed.
The time in which a buck sheds its antlers may vary.
According to a piece published by the University of Missouri, antlers begin to fall off following mating season.
"Timing on antler-drop may vary, but in an average season, some males shed their antlers in late December and most have shed them by early March," the piece stated. "Once a deer sheds its antlers, new growth starts immediately, though visible growth is sometimes not apparent for several weeks."
Several photos accompanied the Facebook post published by the Pennsylvania Game Commission.
One picture shows the moment that Zawada fires his shot, a second photo shows the buck running away and the third image shows the antler that was tangled in the net.
Many Facebook users applauded Zawada for his skill and care to help the buck escape uninjured.
"So happy all went well," one person wrote. "Great shot by the officer and camera person. A once in a lifetime experience."
"I'm happy to hear they were able to help the animal and that it was unharmed," another commented. "That person must be a really great shot, thankfully."
Newsweek reached out to the Pennsylvania Game Commission for additional information but did not hear back from a representative by the time of publication.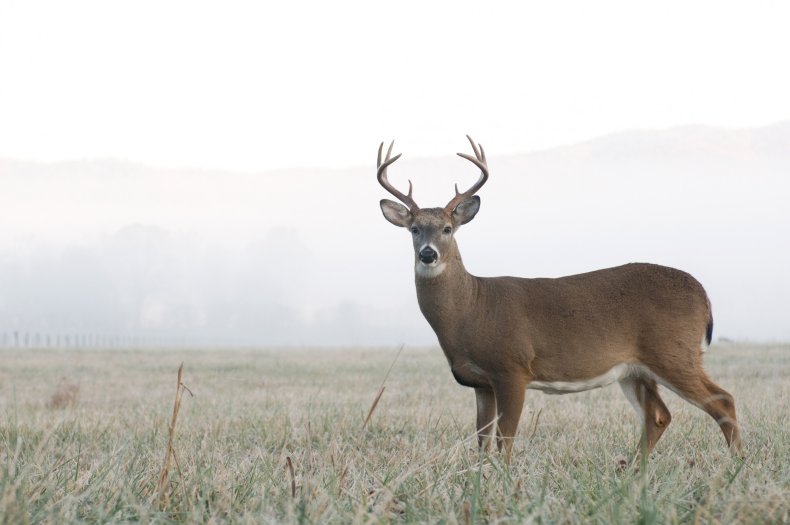 Another deer needed help when it became stranded on a frozen lake.
Newsweek previously reported that fishermen in Vermont were out fishing when they noticed something in the distance.
They decided to investigate after one had a gut feeling that they saw a deer. After calling the Vermont Fish and Wildlife Department for advice, they decided to help the deer off the ice and back into the woods.