After #Sharpiegate, Donald Trump is Selling 'Fine Point Markers' For $15 to 'Set the Record Straight'
Despite Sharpie-gate and a report that President Donald Trump himself altered a Hurricane Dorian forecast map to support his claim that the storm would hit Alabama, the president and his campaign have decided to sell official Trump markers — for a whopping $15.
"Buy the official Trump marker, which is different than every other marker on the market, because this one has the special ability to drive @CNN and the rest of the fake news crazy!" Trump campaign manager Brad Pascale tweeted on Friday morning along with the hashtag #KeepMarkersGreat.
Pascale included a link to the product on the Trump campaign website. The page states it is a set of five "Official Donald Trump Fine Point Markers" for $15, with Trump's signature printed in gold on the outside of the permanent ink fine-tip marker. The markers are "non-toxic" and "Proudly Made in the USA," according to the website.
"Set the record straight!" the product description states. "Get your set of Official Donald Trump fine point markers today!"
A couple of hours later, Pascale tweeted, "Hundreds of sets already sold!" along with #KeepMarkersGreat, a reference to the campaign slogans Keep America Great and Make America Great Again.
Trump on Sunday tweeted that Alabama would likely be hit by Hurricane Dorian, which was erroneous because the National Oceanic and Atmospheric Administration (NOAA) by that time indicated the storm was not projected to hit the state.
#Sharpiegate began trending on Twitter Wednesday after Trump discussed Hurricane Dorian in the Oval Office with a NOAA forecast map that had an added black line that shifted Dorian's predicted track so it reached Alabama.
Janice Dean, a senior meteorologist for the Fox News Channel, tweeted that the map was "inaccurate, misleading and fake" and that "the sharpie-bubble was drawn by someone else."
A White House official told Fox News that the sharpie line was made by "someone in the room when Trump was meeting with his emergency team" and declined to reveal the person. But an anonymous White House official told The Washington Post that "no one else writes like that on a map with a black Sharpie," indicating it was Trump.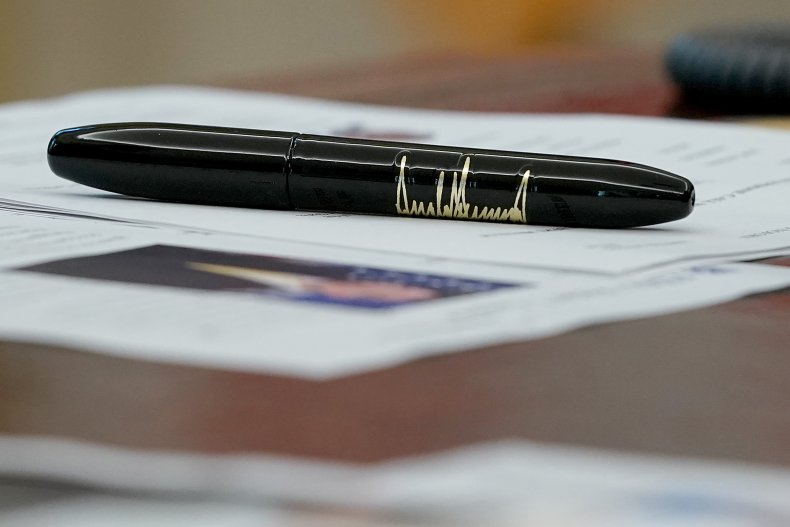 Many Twitter users mocked the Trump markers after they went on sale.
"Does this marker also change entire courses of hurricanes?" a Twitter user replied to Pascale.
American actress Mary McGlynn got props from some Twitter users for predicting the Trump markers sale.
"Trump will be selling Sharpies on his campaign website within a week," McGlynn tweeted on Thursday.