Sharron Angle Joins Calls for Armed Revolution in America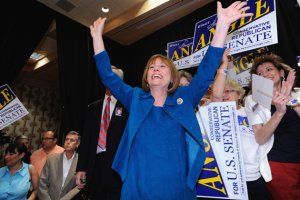 Sharron Angle, the Republican nominee for Harry Reid's Nevada Senate seat, has called for armed revolt against the government. Glenn Beck's new novel, The Overton Window, encourages concerned citizens to pick up a weapon, too. And they're not the only public figures calling for violent insurrection.
In January right-wing radio host Lars Larson asked Tea Party favorite Angle where she stood on Second Amendment issues. She replied:
"You know, our Founding Fathers, they put that Second Amendment in there for a good reason, and that was for the people to protect themselves against a tyrannical government. And in fact Thomas Jefferson said it's good for a country to have a revolution every 20 years.
"I hope that's not where we're going, but, you know, if this Congress keeps going the way it is, people are really looking toward those Second Amendment remedies and saying, My goodness, what can we do to turn this country around? I'll tell you the first thing we need to do is take Harry Reid out."
We presume she means "take Harry Reid out" by means of the ballot box. Or even more charitably, perhaps for dinner to discuss the bizarre and extreme direction American politics has taken since Barack Obama's election in 2008. Because Angle is not the only prominent figure, or even the only politician who has recently called for armed revolution.
Rick Barber, a candidate in the Republican primary for Alabama's Second Congressional District, released an ad which ends with an actor dressed as George Washington declaring "Gather your armies." Presumably to storm the same Congress that Barber is hoping to join.
The Overton Window, Beck's new novel, is also out today. According to a Washington Post review, it is a parable on worthy insurrection in which earnest, plucky American patriots arm to fight an evil plot by elites bent on a government takeover. Beck calls it 'faction'—which is a melding of 'fact,' and 'fiction,' apparently. "If the book is found tucked into the ammo boxes of self-proclaimed patriots," writes the reviewer Steven Levingston, "…Beck will have achieved his goal."
"The Overton Window," Levingston concludes, "risks falling into the tradition of other anti-government novels such as The Turner Diaries, by William L. Pierce, which became a handbook of extremists and inspired Timothy McVeigh to blow up the Alfred P. Murrah Federal Building in Oklahoma City in 1995."
Meanwhile, in Oklahoma City in April 2010, Tea Party leaders and conservative members of the state legislature decided to try to create an armed state militia "to help defend against what they believe are improper federal infringements on state sovereignty," according to the Associated Press. The group hopes to get legislation to recognize the new force by next year.
At around the same time as that plan was announced, Congresswoman Michelle Bachmann of Minnesota told WWTC 1280 AM that she too wanted people "armed and dangerous," on the issue of Obama's energy bill, "because we need to fight back. Thomas Jefferson," she said, her words becoming eerily familiar, "told us, 'Having a revolution every now and then is a good thing,' and the people—we the people—are going to have to fight back hard if we're not going to lose our country."
Violent revolt is a regular theme of Rush Limbaugh's too. And Sarah Palin made what some considered to be her own coded call to arms when she aired a new catchphrase—"Don't retreat, reload"—for her followers. She later said, during a speech in Nevada, that she was telling people, "Their arms are their votes. It's not inciting violence. It's telling people, Don't ever let anybody tell you to sit down and shut up, Americans."
Will the deniable words and twisted justifications for violence reach critical mass and push one unstable person over the edge? Hopefully we'll never have to find out. (Or at least find out again.)
We reached out to Glenn Beck for his view, and we'll update with any response.