Shattering a Record, It was 90 Degrees in Anchorage, Alaska, on July 4th
On the Fourth of July, temperatures in Anchorage, Alaska, reached 90 degrees for the first time ever, according to the National Weather Service (NWS).
That relatively sweltering high temperature shattered a record for the city by 5 degrees. Temperatures in the Alaskan city located more than 1,000 miles north of Seattle had not reach that level since June 14, 1969, when the thermometer hit 85 degrees.
The average high for Anchorage on Independence Day has been 65 degrees, according to the NWS, whose records go back as far as 1954.
The state's most populous city, which boasts a population of roughly 300,000 people, Anchorage also had its hottest June ever, with an average temperature for the month of 60.5 degrees (5.3 degrees above normal).
Newsweek subscription offers >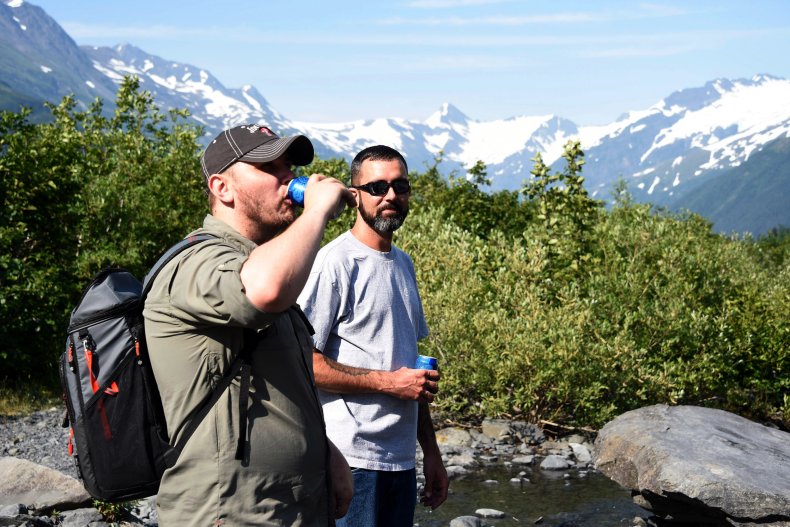 It was the sixteenth consecutive month with above-average temperatures.
"All 30 days in June had above average temperatures," the Service noted.
June was also the driest on record for the city, with the area receiving only 0.06 inches of rain. Normal monthly precipitation in June is 0.97 inches, so June received just 6% of its normal precipitation.
Newsweek subscription offers >
The combination of hot and dry weather is a recipe for wildfires, causing the Alaska State Fire Marshal's Office to ban the sale and use of fireworks in certain areas,.
As of Independence Day, the Alaska Interagency Coordination Center estimated that wildfire had burned 634,000 Alaskan acres, which was significantly — but not dramatically — more than was typical for this point in the season, Rich Thoman, an Alaska climate specialist with the Alaska Center for Climate Assessment and Policy, shared in a tweet.
Anchorage "will continue to set daily record highs into early next week," said AccuWeather Meteorologist Ryan Adamson. The heatwave was being attributed to "a giant ridge of high pressure sitting right over us," said meteorologist Bill Ludwig with the NWS in Anchorage. This ridge pulls in warm air the south and prevents cool ocean air from entering inland.
But many Alaskans were heading outdoors and taking advantage of the balmy temps.
"No, this is not average, this is wonderful. This is over average. We don't have temperatures like this," Anchorage resident Myrtle McLaughlin told Alaska Public Media. "I've been here since 1978 and this is probably the best."
Shattering a Record, It was 90 Degrees in Anchorage, Alaska, on July 4th | U.S.