'She Has Nothing': Father Asks Why Daughter Charged After Deaths of Her 5 Children in Fire
A father is asking for answers after his daughter was charged with the August deaths of her five children who died in an apartment fire.
East St. Louis resident Sabrina Dunigan has been charged with five felony counts of child endangerment months after an Aug. 6 fire claimed the lives of her children. Authorities said that she had briefly left the apartment to pick up her boyfriend, leaving her children alone. She and her boyfriend reported the fire when they arrived back, with Dunigan sustaining injuries trying to save her children.
"Why are they trying to do this to her?" her father Greg Dunigan said to the St. Louis Post-Dispatch. "She done lost all she can lose already. Why they want to take the rest away, meaning herself? She don't have nothing left."
Dunigan also lived in a separate part of the apartment along with his wife. However, he said that he was unable to reach the children in the fire and had to jump out the second-story window to escape.
Documents have listed Dunigan's children being left without supervision as a possible cause of the fire. However, no other potential causes of the fire have been identified.
For more reporting from the Associated Press, see below.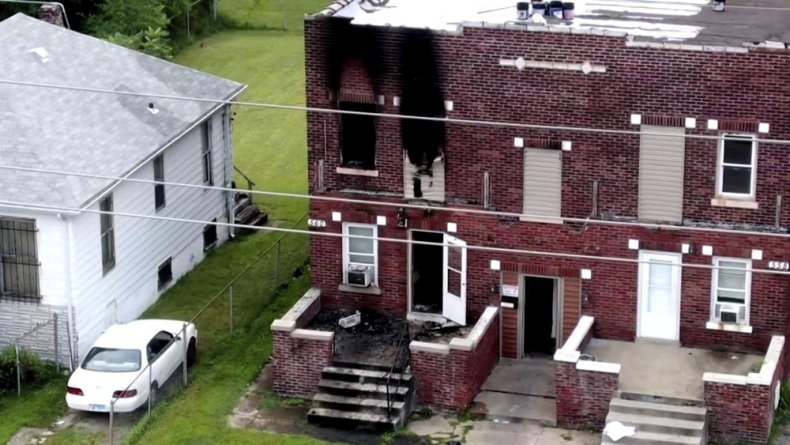 Online court records indicated there are pending grand jury actions in the case, the St. Louis Post-Dispatch reported.
Deontae Davis Jr., 9; 8-year-old twins Neveah Dunigan and Heaven Dunigan; Jabari Johnson, 4; and Loy'el Dunigan, 2, were killed. Four of them died at the scene and the fifth died at a local hospital.
Dunigan had not surrendered to police or been served with an arrest warrant as of Thursday afternoon, said Chris Allen, a spokesman for the St. Clair County State's Attorney office.
Dunigan's father told the St. Louis Post-Dispatch on Thursday that he cannot believe authorities would charge her with a crime after everything she lost.
Assistant Fire Chief George McClellan of the East St. Louis Fire Department said shortly after the August fire that the children were home alone on the second floor of a two-story, brick building.
The St. Louis Post-Dispatch reported that Dunigan's bond is set at $75,000 and that she could not be reached for comment. Her father also said that she does not currently have a lawyer. Dunigan said that he and his wife were meant to be watching the children, but the two fell asleep.