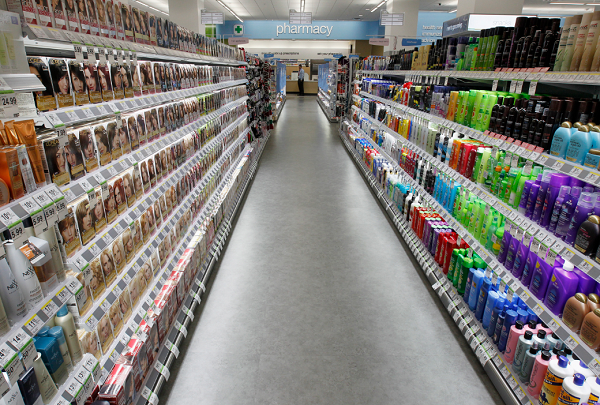 Back in April 2016, Shea Moisture launched their #BreakTheWalls campaign aimed at bringing more ethnic inclusion and empowerment to the beauty aisle. The commercial, a first for the black family-owned hair and skin care line, cast a range of brown-skinned, curly-haired women who were considered social influencers in the black beauty and skin care blogosphere.
The ad depicted the outcast-experience many of the ladies faced when trying to find their go-to hair products in the small "ethnic" section of their local pharmacy while mass produced products were fully stocked on shelves in what's labeled the "beauty" aisle—all the while questioning if the distinctively separate areas were an indicator of ethnicity not being beautiful.
The commercial ends with the "beauty" aisle products falling from the shelves and suddenly being replaced with an array of Shea Moisture products while a narrator informs customers that Shea Moisture, a brand whose hair products have traditionally targeted women of color with naturally curly or kinky hair, can now "be found in the beauty aisle where we all belong."
Flash forward a year later and Shea Moisture has now apparently changed its direction. In an attempt to expand its customer base, the company released a new commercial Sunday with the message, "Break free from hair hate," which barely featured any representation of the brand's original and loyal customer base: Curly and kinky-haired brown girls.
The spot instead shows a racially ambiguous woman expressing the difficulties of dealing with her mounds of curls, and then suddenly transitions to two white women: a blonde-haired woman who didn't "know what to do" with her long, straight hair and a redhead who once dyed her hair in shame of her gingerly-colored locks.
The backlash was immediate as women took to social media to accuse the company of white-washing the brand and excluding the very people it advocated inclusion for in a commercial released just one year ago. Not to mention, the subset of women who had been shelling out $11.99 and higher for Shea Moisture's Coconut & Hisbiscus Curl & Shine Conditioner and other hair concoctions specifically marketed for people with "Thick, Wavy & Curly Hair."
Not long after the mob of women bashed the company for falling in line with the same old beauty brands standards that have rarely produced products catered to women of color, Shea Moisture released a statement explaining the company would remove the commercials and issued an apology to customers on its Facebook page, stating they "really f-ed this one up" and that the "intention was not—and would never be—to disrespect our community."
"We have always stood for inclusion in beauty and have always fought for our community and given them credit for not just building our business but for shifting the beauty landscape. So, the feedback we are seeing here brings to light a very important point. While this campaign included several different videos showing different ethnicities and hair types to demonstrate the breadth and depth of each individual's hair journey, we must absolutely ensure moving forward that our community is well-represented in each one so that the women who have led this movement never feel that their hair journey is minimized in any way," the statement read.
Some customers aren't buying it, however, and their dissatisfaction with the company's new broadened target audience could come with some real losses. Black women spend a reported 80 percent more on all beauty products—about $7.5 billion overall—compared to non-black women, according to a WWD report. The black hair-care market alone brought in an estimated $2.5 billion in 2016, according to Mintel, a market analysis and consumer trends company.
Liberian businessman Richeliu Dennis, the creator of Shea Moisture and CEO of Sundial Brands, assured CNNMoney Monday that women of color continue to be Shea Moisture's focus and the company had launched over 30 new products designed for thick and curly natural hair within the last 18 months. But he also said Sundial along with Bain Capital, a financial group that acquired a minority stake in the company in 2015, were developing more products for people with all types of hair.
"There are other consumers that are also wanting natural products, and we're creating products for every type of hair," he said, adding that the latest round of commercials were merely a part of a bigger campaign aimed at demonstrating "the challenges that women have and continue to have with the societal norms of beauty."
Sundial Brands, which also owns Nubian Heritage and exclusive Sephora brand Madam C.J. Walker Beauty Culture, raked in an estimated $200 million in revenue in 2015. After Bain bought into the company, Sundial was valued at about $700 million in 2016, according to Fast Company magazine.
Despite the acquisition, which Dennis said was intended to help bring Shea Moisture and other Sundial brands to the masses outside of the ethnic section, the corporation continues to insist its main goal is to "address skin and hair care issues traditionally ignored by mass market companies," according to its website.
Shea Moisture—a brand Dennis was inspired to launch in honor of his grandmother who sold raw shea products in Sierra Leone starting in 1912—is still one of the leading brands commonly used by women who wear their natural hair, along with brands such as DevaCurl, Miss Jessies and Oyin Handmade, mostly because of the natural and organic ingredients used in their products.
But the company has recently come under fire for changing the formula used to create its products, particularly it's Nourishing skin care line, which ranked among the worst-scoring products in Environmental Working Group's Skin Deep review in December. Shea Moisture wasn't alone. The report, which analyzed the ingredients used in 1,177 beauty and personal care products marketed to black women, found one in every 12 products marketed toward women of color had highly hazardous levels of chemicals that put women in risk of cancer, developmental and reproductive damage, hormone disruption, allergies and other adverse health effects.