Sheba the Lion Dies From Overheating in North Carolina Heatwave: 'The Epitome of What It Means to Be a Lion'
A beloved lion has died after overheating at a North Carolina sanctuary. Staff said they battled for more than 24 hours to save the 17-year-old creature.
Sheba led a pride of three lions that came to Carolina Tiger Rescue in Pittsboro from Texas, according to a social media post written by sanctuary staff.
Staff intervened when Sheba began to display signs of overheating. They gave her intravenous fluids and other therapies, but her liver and kidneys started to experience serious problems. The team wrote on Facebook: "After working for so long to try to bring her back, we had to make the heartbreaking decision to let her go."
"Strong, confident, and smart" Sheba, who kept fellow lions Sebastian and Tarzan "in line," was "the epitome of what it means to be a lion," staff said. "Her confidence and leadership was seen the moment she stepped into Quarantine on her first day."
When she arrived at the center, the curious and confident lion investigated her new home with anticipation: sniffing at each corner and stretching on her hind legs to get a look at the roof.
"Her presence will be greatly missed in the sanctuary," the post read.
Carolina Tiger Rescue did not immediately respond to Newsweek's request for comment.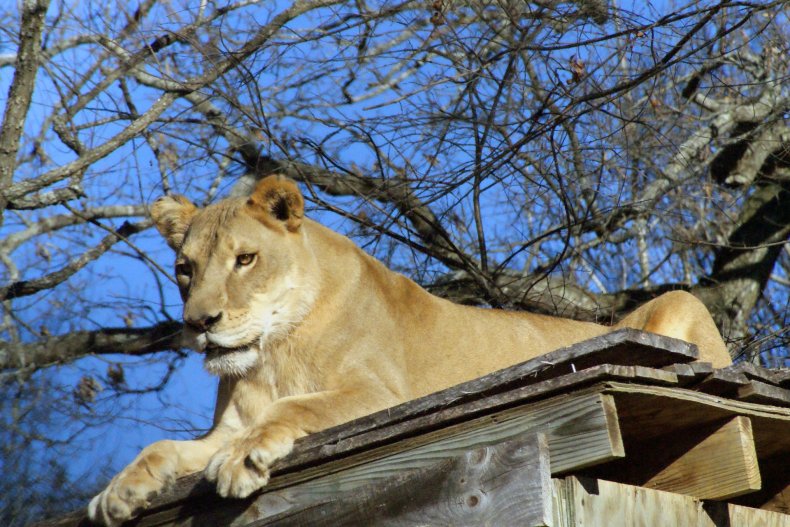 Officials in North Carolina, along with those in states like Alabama, Arkansas, Iowa, Minnesota and New Mexico, issued a heat advisory last week ahead of a scorching weekend.
To stay cool during hot weather, the Centers for Disease Control and Prevention (CDC) recommends individuals dress in lightweight clothing, wear sunscreen and stay hydrated. You should schedule outdoor activities outside the hottest parts of the day and pace yourself during exercise.
Vulnerable groups, like children and the elderly, are at particular risk of developing heat-related illness during periods of extreme heat, and so may need extra attention. It's important to never leave children or pets in parked cars, even when the window is open.
Extreme heat can lead to serious health issues such as heat stroke, heat exhaustion, heat cramps, heat rash and sunburn. According to the CDC, heat kills approximately 618 people in the U.S. every year.
Last week, former New York Giants offensive lineman Mitch Petrus died of suspected heatstroke at the age of 32. Pulaski County Coroner Gerone Hobbs said Petrus had spent the day working outside at his family shop in Lonoke, Arkansas before his death.
The Arkansas Razorbacks paid tribute to their former colleague on Twitter, calling him an "outstanding competitor, incredible teammate and a true Hog" who will be "greatly missed by many."