World's Most Expensive Sheep Sold for a Record $485,000
The world's most expensive sheep has been sold for a record £365,000 ($485,000).
The ram lamb called "Double Diamond" was the subject of an intense bidding war at the Scottish National Texel sale, with an opening bid of £10,500 ($14,000).
The average lamb sells for £100 ($133) in the U.K. but Double Diamond is a Texel, named after the island of Texel in the Netherlands.
Jeff Aitken farm manager of the Proctors flock, one of the farms that bought the sheep, told BBC Today programme that the price was reflective of the quality.
He said: "Obviously it was split between the three of us, don't get me wrong it is an obscene amount of money to pay for a sheep, it's definitely shouldn't be a reflection on the farming community.
"There's only a small percentage of farmers that can afford to pay this kind of money and in that percentage even a lot of those guys do have other businesses behind them."
According to Aitken, the lamb's gigot was particularly good, a word for "his backside, his bum".
Texels are incredibly popular in the U.K. because of their lean meat. The first Texels were imported to the U.S. in 1985 by the Meat Animal Research Center at Clay Center, Nebraska. Only in 1990 following a five-year quarantine, were some Texel sheep released for purchase by private individuals.
Double Diamond was one of 19 lambs to be sold for over £10,500 ($14,000) at the auction. The world's most expensive sheep was bought as part of a three-way partnership between three farms, later being confirmed by the Texel Sheep society's website as setting a "new U.K. and world record price for a sheep".
He said the farming community should be congratulated for working through the pandemic and providing food on the table.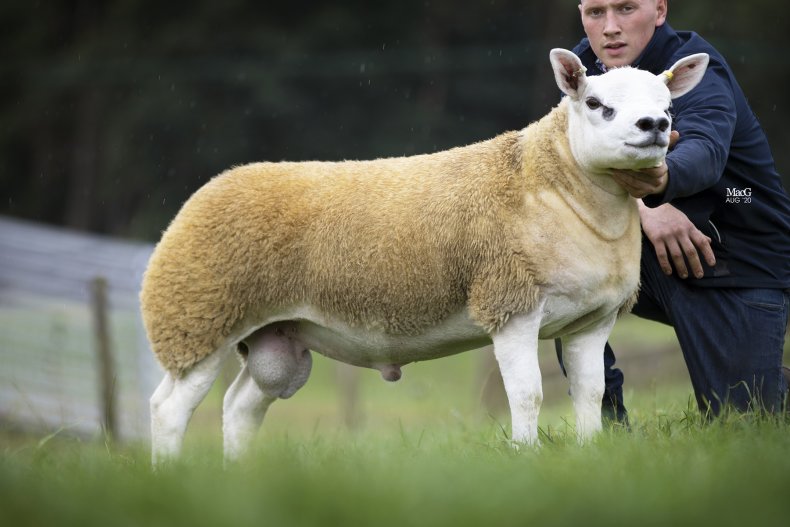 Commenting on how the sheep will be shared between three farms, Jeff said: "What happens is that semen can be collected off the top, before he goes out to do natural work and the females can be programmed and artificially inseminated with the semen so everybody gets a fair share."
The sheep had been the subject of much speculation before the auction opened.
Sheep auctions are still conducted in guineas, abbreviated to Gns, which was a coin of approximately one-quarter ounce of gold that was minted in Great Britain between 1663 and 1814. A guinea is worth £1.05 ($1.33) in modern money.
A statement on the Texel Sheep society's website read: "A flying trade at the Scottish National Texel Sale, Lanark, saw a new U.K. and world record price for a sheep at 350,000gns, when Charlie Boden and family sold Sportsmans Double Diamond from their Sportsman's flock, Stockport, Cheshire.
"This lamb, one of 19 to make 10,000gns ($13,300) or more, is sired by the 65,000gns ($85,000) Lanark champion from last year when judged by Charlie Boden, Garngour Craftsman, and is an embryo-bred lamb from a ewe lamb flushed last year and sired by the 32,000gns ($43,000) Plasucha Big Gun."
The previous record price paid for a sheep was £231,000 ($306,000). Named Deveronvale Perfection, it too was sold in Lanark, Scotland.
At the time, seller Graham Morrison described the high price as "beyond his wildest dreams".
Deveronvale Perfection was also a Texel and owner Jimmy Douglas described it as good a sheep as he has seen.
Meanwhile, sheep farmers in the U.K. have said they have been left with no choice but to burn wool after COVID-19 caused a price crash, rendering their stock worthless.
Dairy farmers were particularly impacted as a nationwide lockdown was put in place, leading them to pour millions of liters of milk down the drain as demand from factories plummeted.