Sheepdog Puppy 'In Training' Melts Hearts Online Trying to Boss Around Flock
A plucky sheepdog puppy has won the hearts of Reddit users after being filmed trying to boss around a large flock.
The adorable video was posted in the 30 million-subscriber-strong r/aww subreddit, a group dedicated to all things cute, with the title "Anatolian Shepherd dog puppy in training."
In the 33-second clip, uploaded by u/simplemantr, a tiny sheepdog can be seen walking alongside a flock, of which all the sheep tower above the precious pooch.
As the video continued, several sheep wandered up to the puppy—no doubt curious to learn more about their new boss.
Perhaps giving a hint into his future management style, the puppy welcomed the attention of his new colleagues and gave them a friendly sniff.
It is unclear where the video was filmed, although it was a large enough place to accommodate hundreds of sheep.
Since being uploaded earlier on Tuesday, the post has gone on to be upvoted on more than 35,100 occasions and has attracted some 565 comments.
Hardly able to contain themselves any longer, dozens of Reddit users flooded the comment section keen to share their views on what they had just seen.
One user said, from the point of view of the sheep: "We protec [protect] you now, you potec us later. Beautiful."
Another commenter, seemingly overwhelmed with a cuteness overload, said: "The lil herder doing his first day of job (sic)."
A third commenter said: "OMG [Oh my God]. The sheep checking in on the pup: 'You're doing such a wonderful job Billy. Keep it up. We're so proud of you.'"
But the young puppy won't be small for long, as they quickly grow into big and hard-working dogs.
According to the American Kennel Club, the Anatolian shepherd dog is considered to be "a rugged, imposing flock guardian of ancient lineage."
It added the breed can grow to 27 and 29 inches at the shoulder and can weigh as much as 150 pounds.
This is far from the first time the internet has had its collective heart melted after watching an adorable video featuring cute puppies.
Back in December, a video of a small puppy exercising impressive levels of restraint had gone viral on TikTok with millions of views.
The footage showed a hand reaching into the shot and poured a line of dog treats out in front of the pup, who looked at his owner perplexed.
But the well-trained pup showed remarkable restraint and refused to move an inch.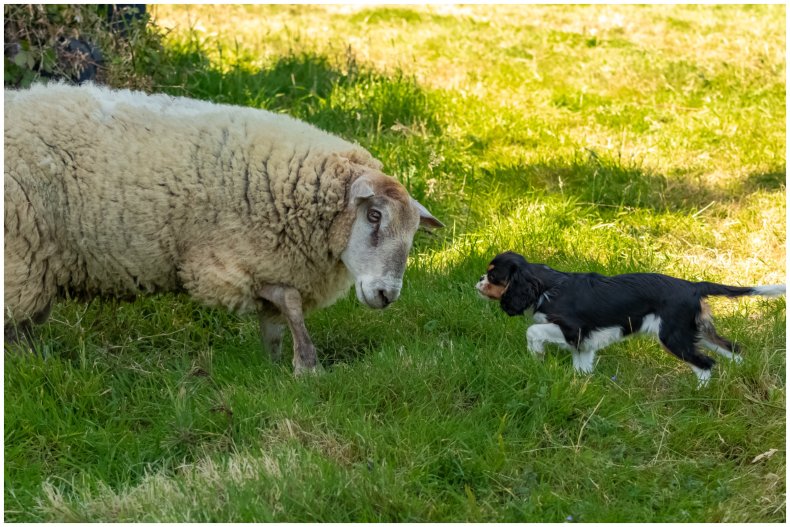 UPDATE 01/12/22 4:29 a.m. ET: This article was updated to include a new picture.