The Sheer, Despicable Hypocrisy of Saudi Arabia | Opinion
In typical fashion, Saudi Arabia's response to this week's UN report claiming it may be responsible for war crimes in Yemen is full of bluster.
How dare the human rights experts make 'false allegations' that the Riyadh-led coalition has targeted civilians, restricted humanitarian aid and carried out arbitrary detentions, it says.
This despite all evidence to the contrary.
Whether it's air strikes on school buses killing dozens of children or the bombing of ships carrying humanitarian aid as they wait at a harbour entrance, the truth is plain to see.
This is not to say that Iran-backed Houthi rebels which the coalition is fighting are not guilty of heinous crimes as well. That they are also responsible for atrocities is made clear by the report, which says that both sides are guilty of arbitrary detentions, torture, enforced disappearances and recruiting children.
With 6660 civilians killed, 10,563 injured, 1.1 million hit by cholera and 22 million in need of aid, the war in Yemen is the world's biggest humanitarian crisis.
But when you consider these stark facts it is hard not get riled by one thing which stands out from the Saudi rebuttal just for its sheer audacity.
The statement expresses "surprise for the report's disregard of the great humanitarian role played by the coalition states in Yemen, and the huge humanitarian assistance it has provided in order to alleviate the suffering of the Yemeni people."
Hang on, if you hadn't spent the past three years bombing the country back to the Dark Ages, there would be no need for any of the humanitarian aid which you are so proud of.
It's a bit like a reckless motorist who wilfully causes carnage on a motorway expecting a pat on the back for picking up the medical bill afterwards.
The UN report found that coalition air strikes—armed with British and American firepower—have hit residential areas, markets, funerals, weddings, detention facilities, civilian boats and medical facilities.
Not only this but the UN's Group of Experts "have reasonable grounds to believe that individuals in the government of Yemen and the coalition may have conducted attacks in violation of the principles of distinction, proportionality and precaution that may amount to war crimes."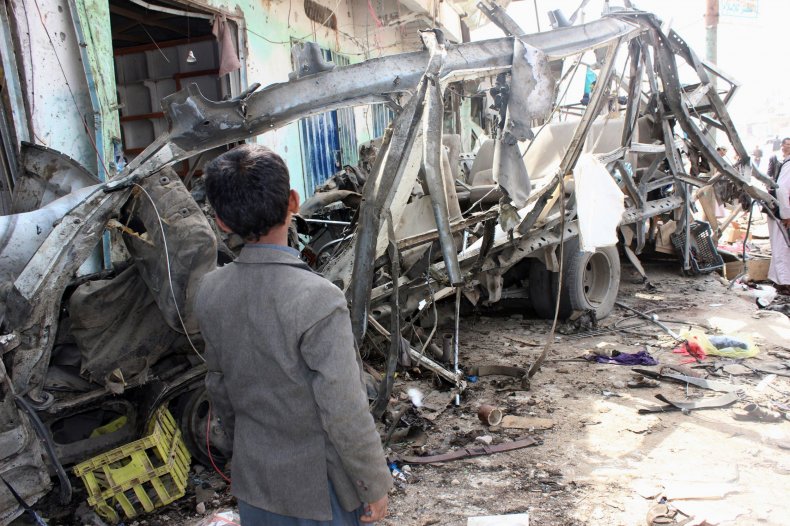 Time after time the Saudi authorities—who profess to uphold international law and human rights—throw their toys out of the pram when they are accused of flouting it.
You can see it in their over-the-top response to criticism from Canada about their continued incarceration of women's rights activists.
You can see it in their brass neck claims not to be pirating transmissions of the World Cup, Champions League, Premier League, Formula One or any other passing sporting event whose broadcast rights are owned by rival Qatar—despite all evidence to the contrary.
But this month's prize for sheer hypocrisy must surely go to both Saudi Arabia and the United Arab Emirates, who for a year have been blockading Qatar, accusing the tiny Gulf state of supporting terrorism, which Doha denies.
For there is new evidence from an Associated Press investigation that the Saudi-led coalition in Yemen has actually been negotiating, paying and helping Al-Qaeda, the terror group behind the 9/11 attacks.
So, a months-long offensive, Operation Swift Sword, was portrayed as a victory in the mountainous province of Shabwa for Emirati and Yemeni fighters over Al-Qaeda forces which had dominated the region for three years.
The UAE ambassador to Washington, Yousef al-Otaiba, said the triumph would "disrupt the terrorist organisation's network and degrade its ability to conduct future attacks."
What wasn't revealed was how weeks earlier the two sides had reportedly negotiated for trucks full of masked Al-Qaeda militants to quietly leave the area. About 200 Al-Qaeda fighters received payment, with one getting £20,000 ($26,000). Some have even joined the coalition side.
This is the same Yousef al-Otaiba who repeatedly accuses Qatar of funding terrorism.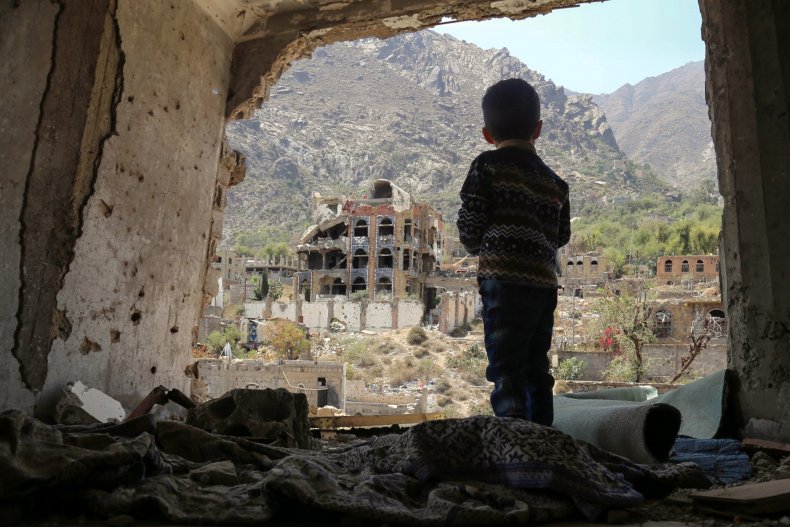 It led to Doha's ambassador to the U.S., Sheikh Meshal bin Hamad Al-Thani, saying: "For now, we must pose urgent questions to the UAE and Saudi Arabia: How can they in good faith give arms, safe passage and financing to terrorists? What are the terrorist groups doing with all of these funds and weapons?"
For now, a list of people who may be responsible for war crimes in Yemen has been passed to the UN high commissioner for human rights.
The UN report also urged the international community to "refrain from providing arms that could be used in a conflict"—a reference to America and Britain, who have been arming the Saudi-led coalition, and to Iran, who are supplying the Houthi rebels.
The plane that flew for an hour over the market in Dahyan, northern Saada, before launching its deadly payload killing 40 children on the school bus was armed with a U.S.–made 500lb laser-guided MK82 bomb.
For the perpetrators to say the Saada attack was a "legitimate military operation carried out in accordance with international humanitarian law" is despicable, and the UN is right to call out those responsible.
And as long as the U.S. continues arming the coalition with the types of Lockheed Martin weapons used on that school bus, and the U.K. rolls out the red carpet at every opportunity for Saudi Arabia, we too will be complicit in the carnage they cause.
Anthony Harwood is a former foreign editor of the Daily Mail.
The views expressed in this article are the author's own.​​​​