Why Sheldon Adelson's Support of Donald Trump Won't Mean a Windfall of Donors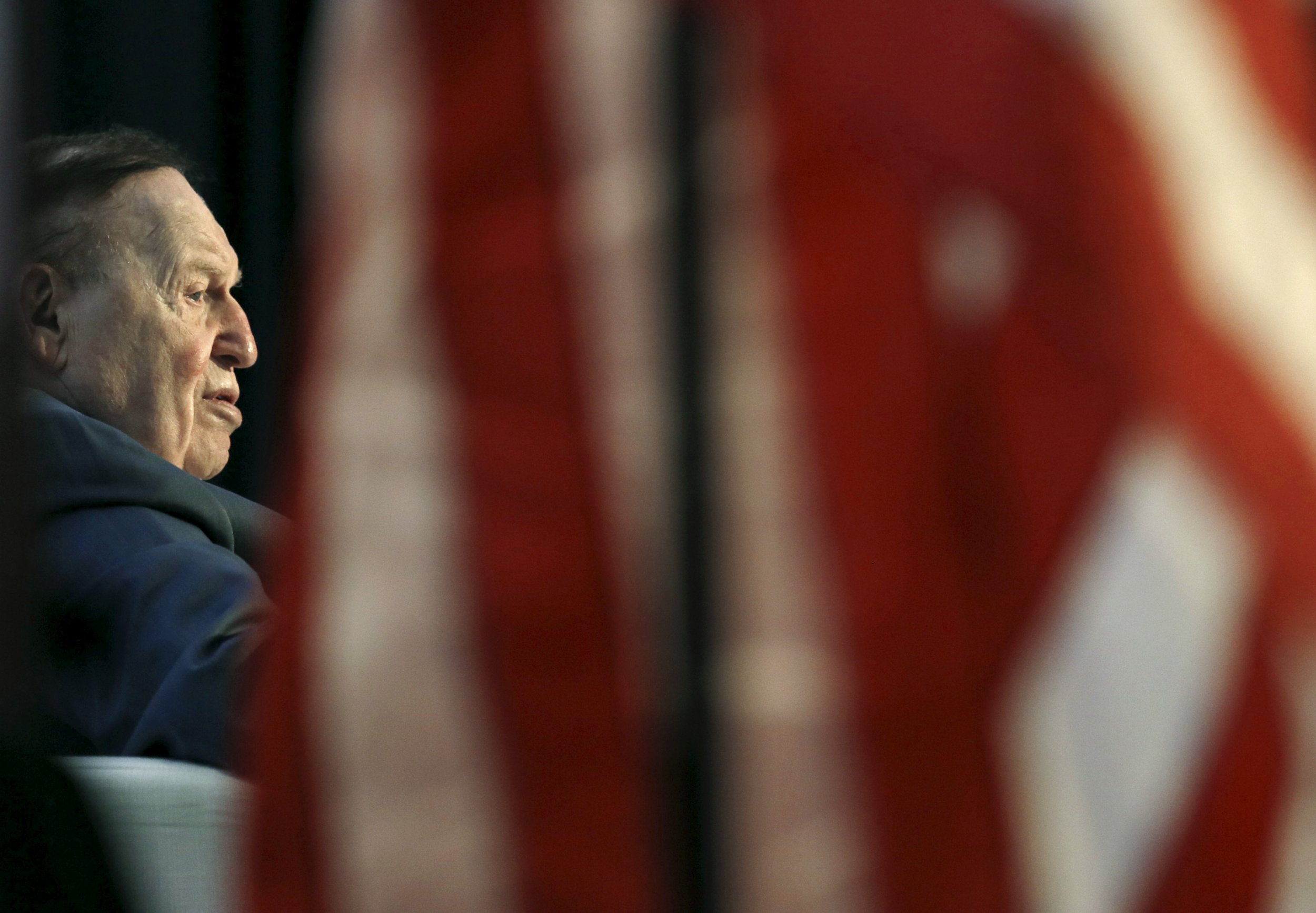 In a sign that the billionaire class might now be ready to get behind Donald Trump, who spent most of the primary disparaging their influence, Sheldon Adelson—the second most important GOP financier after the Koch brothers—has announced he will pour $100 million into the formerly self-funded Trump campaign.
Adelson, whose net worth is $26 billion, is chairman and chief executive of Las Vegas Sands Corp. But, as befits a donor to such a populist campaign, the billionaire described himself as "the grandson of a Welsh coal miner and the son of a Boston cab driver" when announcing his support for the New York real estate magnate last week.
Adelson is a two-issue donor. First and foremost, he is concerned about Israel's security. Personally close to Israeli Prime Minister Benjamin Netanyahu, his support is contingent on candidates promising unconditional support for an extremely conservative Zionism, nuking Iran and ignoring the rights of Palestinians. He also supports politicians who will aid his casino business, such as Newt Gingrich, whose 2012 presidential ambitions he kept alive with infusions of cash since the men had bonded over their shared antipathy for labor unions in the 1990s.
The 82-year-old has become an ever bigger player in Republican politics in the past several presidential campaigns, beginning in the aughts by throwing his support and money behind George W. Bush, who famously called him "this crazy Jewish billionaire, yelling at me." Since, he and his wife Miriam donated millions to senatorial and congressional campaigns, in addition to the Bushes and Mitt Romney. He forked over at least $92 million in 2012 to outside spending groups. So in 2015, most of the Republican presidential hopefuls had made pilgrimages to Vegas hoping to win his favor. And for a while there, it looked like the money was Marco Rubio's to lose. Trump in October ridiculed Adelson in a tweet for even considering supporting Rubio. "Sheldon Adelson is looking to give big dollars to Rubio because he feels he can mold him into his perfect little puppet. I agree!" he tweeted.
While meeting with the billionaire, most GOP primary contenders were promising to move the American embassy to Jerusalem and ring up Netanyahu on their first day in the Oval Office—two moves guaranteed to warm the old man's heart—and open his wallet.
In 2013, Adelson controversially promoted nuking Iran, telling an audience at New York's Yeshiva University that the United States should drop a nuclear bomb somewhere in the Iranian desert. "Then you say, 'See! The next one is in the middle of Tehran. So, we mean business,'" he told the crowd. "'You want to be wiped out? Go ahead and take a tough position and continue with your nuclear development.'"
Besides a propensity for shocking diplomats, Trump and Adelson have much in common. Both made fortunes in the murky world of legalized gambling—though Adelson's success in Vegas and Macau trump Trump's now lost success in Atlantic City. Both are masterful media manipulators—Trump as showman who has managed to gain hours of free airtime for his presidential bid, and Adelson as the Oz behind two newspapers: one recently acquired in Vegas and the other, Israel Hayom, a free daily in Israel that is the nation's most widely read.
Both men are pushing for the building of massive political walls—Trump's got one planned for Mexico and Adelson's suggested building "a big wall," larger than the one that already exists, to keep Palestinians out of Israel. And both are embroiled in litigation over alleged shady business practices: Trump is fighting lawsuits in California and New York involving claims that his Trump University was a sham that took money from people gulled by advertising into believing they would gain a modicum of the mogul's business acumen. Adelson is being sued for $5 billion by ex-Taiwanese businessman Shi Sheng Hao and his company Asian American Entertainment over a split in their joint bid for a casino concession in Macau 13 years ago. Meanwhile, Steve Jacobs, a former Sands employee, is suing him in a wrongful termination case that alleges corruption in his dealings in Macau. That case goes to trial in Vegas on June 27.
A Mutual Admiration Society
Adelson's decision to back Trump for the presidency doesn't exactly come as a surprise. Back in December, the two men were already forming a mutual admiration society. Adelson called Trump "very charming," and Trump effused: "Sheldon and I have been friends for a long time. He is an amazing man. I am the only one who doesn't need his money. But I would love his support." He added: "Sheldon knows that nobody will be more loyal to Israel than Donald Trump."
But it was just two weeks before being called "charming" that Trump drew boos at a meeting of the Republican Jewish Coalition (an Adelsohn-Funded outfit) in Washington, for waffling about whether to make Jerusalem the undivided capital of Israel. Israel named Jerusalem its capital in 1950, but the U.N. doesn't recognize that, and most countries, including the U.S., maintain their embassies in Tel Aviv. The U.S. Supreme Court last year ruled 6-3 against allowing people born in Jerusalem to claim birth in Israel on their passports.
For Trump, ties to Judaism do go beyond politics. His daughter, Ivanka, converted to Orthodox Judaism after marrying real estate scion Jared Kushner. Her three children are Jewish. "I have tremendous love for Israel,"he said shortly before Ivanka gave birth to her third child in March. "I happen to have a son-in-law and a daughter that are Jewish, OK? And two grandchildren that are Jewish."
While Trump has hooked a whale in Adelson, the octogenarian's support might not quite herald a stampede of big donors. The elder casino mogul's interests are very specific. Although they courted him, he didn't join forces with the Koch brothers and their broad, hard-right agenda until January 2012, when he attended one of their conservative donor summits. But the Kochs have been publicly disdainful of Trump, and Charles Koch has even suggested he prefers Hillary Clinton.
In his op-ed endorsing Trump, Adelson urged others in the GOP to get on board. "But some Republicans are sitting on the sidelines, threatening to stay home on Election Day or, worse, suggesting they will vote for Clinton. They must realize the stakes are too high for an outcome that will have a damaging impact on our country," he wrote.
Anti-Trump GOP consultant Rick Wilson told Newsweek he doesn't think the Adelson endorsement portends a gusher of fresh donor cash. On the contrary, he says corporate donors are backing away from supporting the Republican convention, out of fear that their brands will be tarnished by association with Trump.
"I look at Sheldon's support as meaningful but not necessarily decisive," Wilson said. "A lot of these guys have different sets of interests and outlooks, and so they are not saying 'a trade war with China is great news for me.' And I think a lot of folks will look at him and say, 'Eh, maybe not.'"
Wilson says rich donors sneer privately at Trump's claims about his own wealth, and resent his disparagement of them earlier in the campaign. "These guys would say, 'He is not a billionaire. I'm a billionaire!' And for months he bashes them, calls them assholes, and now he's like, 'Oh I need your money after all.'"
Wilson called Trump's promise last week to raise a billion dollars for the Republican Party "so risible it's absurd," because he has neither the time nor the apparatus to do that kind of fund-raising.
"There is no functional way to round up a billion [dollars] for the party on the force of Donald Trump," Wilson said. "You would have to accomplish things that are almost physically impossible. Trump doesn't get an exception, when you pitch a major donors, you pitch. Rings and other parts have to be kissed. There is no time for him to do that. And a lot of them are saying well, you said you are self-funded, hope that works for you!"
But a New York businessman who knows GOP donors here says some are coming around. ""They started with comments like, 'Some things he says are true,' and when I bring up the outrageous things he says or the claims he makes, they now say, 'He is not really going to do any of that. That's what he had to say to get nominated.' This is the first time I ever heard people saying they are ready to support someone who is not going to do what he says he is going to do."