Adelson Mum on Presidential Pick as He Moves to End College Anti-Semitism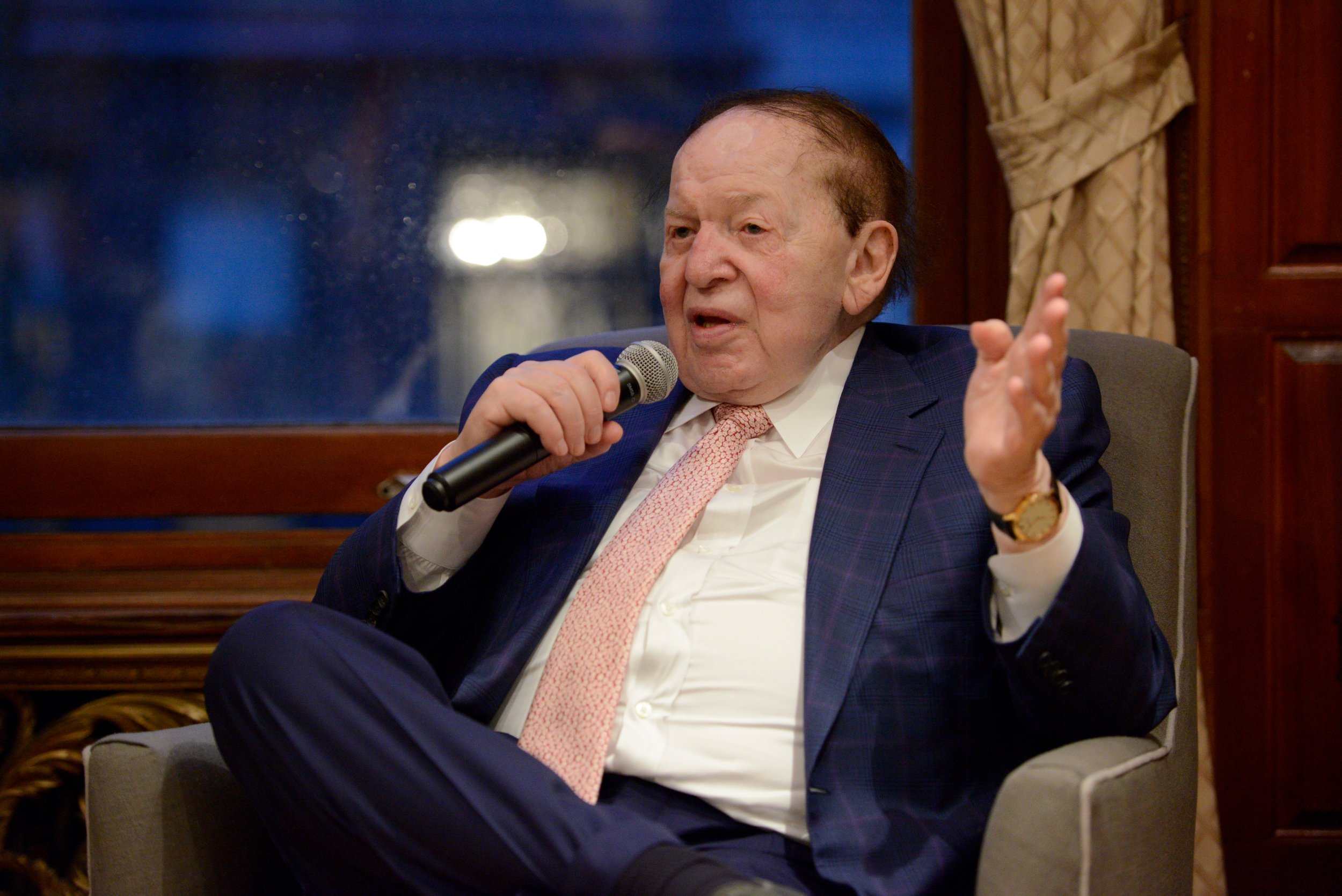 So far, Sheldon Adelson has been quiet about whom he will support in the 2016 presidential election—at least publicly. But the casino magnate and influential Republican Party donor is now speaking more openly about another cause that he says is important to him: fighting anti-Semitism and the Boycott, Divestment and Sanctions (BDS) movement on American college campuses.
Adelson and his wife hosted a private event in New York City on Monday for the World Values Network, a pro-Israel group led by Rabbi Shmuley Boteach. When an attendee asked the 82-year-old businessman which of his "big ideas" he is most excited about, Adelson brought up the issue of colleges and BDS—a movement aimed at building economic and political pressure on Israel to return to pre-1967 borders, recognize the rights of its Arab-Palestinian citizens and allow Palestinian refugees the right to return.
Adelson's initiative is called the Maccabee Task Force. "We're going through an eight-college-campus experiment to see what works to get rid of BDS and anti-Semitism," he said at the Monday event. "So at the end of this semester, I think we'll have some better ideas."
The media first reported that Adelson was confronting BDS and anti-Israel sentiment on college campuses last June, when he hosted the first Campus Maccabees Summit at Las Vegas's Venetian hotel, which he owns. Some 50 groups attended the summit, says David Brog, executive director of the Maccabee Task Force, which was originally called Campus Maccabees.
The Jewish-American newspaper the Forward reported that around 20 donors attended the summit and each pledged at least $1 million to the cause. The Jewish Week said in December that the initiative has a budget of at least $50 million. Brog declined to confirm those figures.
On Monday, Adelson said he named the initiative after the ancient Jewish army believed to have rescued the Jewish religion. "The Maccabees are the fighters and the saviors of ancient times. So we want modern-day Maccabees to fight against the BDS and anti-Semitism on campus," he said.
He added that the Maccabee Task Force is working with entities including Alpha Epsilon Pi, a traditionally Jewish fraternity; StandWithUs, an international pro-Israel nonprofit; and the Committee for Accuracy in Middle East Reporting in America, or CAMERA. All three entities confirmed their involvement to Newsweek.
"Before we throw a ton of money at this problem, we want to make [a] modest investment to identify the most effective initiatives," Brog tells Newsweek by email. "Once we have a tried and tested strategy, we will fund this strategy at a much higher level."
Expanding on Adelson's comments about the eight-college "experiment," Brog says the ongoing pilot program entails "building a broad pro-Israel coalition from the major student activists and pro-Israel organizations on campus" and "empowering this coalition to pursue a series of events/efforts to promote Israel in general and defeat BDS in particular." He says the task force will announce the results of the pilot program after it ends and then determine "what works and what to fund."
He declined to name the eight schools involved, which he says could "subject our partners to attack."
While the initiative started with a focus on colleges and universities, according to Brog, "The problem clearly extends beyond campus, and we know that we'll ultimately have to expand our operations accordingly."
Boteach, who moderated Monday's event, tells Newsweek that he helped Adelson launch the initiative last summer, though he now focuses more on his own campus efforts through the World Values Network.
"We in the Jewish community have been thus far ineffective at telling the truth about Israel," Boteach says. "These students don't have the information, and that's why things like Campus Maccabees…are so important in responding so that we get the real information out.
"We're all aware of the incredible peer pressure on campuses," he adds, "and being opposed to Israel has become politically expedient."
The Anti-Defamation League has said that the number of reported anti-Israel and anti-Semitic campus incidents increased 38 percent between the 2013-2014 and 2014-2015 school years. The Board of Regents for the University of California system, where reports of anti-Semitic incidents have made headlines, plans to vote on the adoption of "Principles Against Intolerance" next week.
"Boycott, divestment and sanctions (BDS) are tactics used by a growing and diverse movement for Palestinian human rights that seeks to hold the state of Israel accountable for its harmful policies towards Palestinians," Naomi Dann, a spokeswoman for Jewish Voice for Peace, which supports BDS, says by email. "There are growing numbers of Jewish students involved in BDS campaigns who see nonviolent pressure on Israel as a compelling [way] to move towards a just peace in the absence of the peace process."
Adelson, whom Forbes lists at No. 22 on its list of world billionaires, has an estimated fortune of $25.2 billion. He is a major benefactor to Israel-related causes; he said at the Monday event that he and his wife give up to $50 million per year to Birthright Israel, which provides free trips to Israel for young Jewish people. In 2013, Birthright said Adelson and his wife had given it $180 million over the years.
Widely known for his Republican Party contributions and the influence he wields—he reportedly spent at least $98 million in the 2012 election, which ProPublica says was "more money than anyone else in American history"—Adelson chose not to speak about this year's election on Monday. He also did not address the recent attention—and criticism—he received for purchasing the Las Vegas Review-Journal, Nevada's largest newspaper.
"I'm confident that if we're wise, patient and persistent, we will prevail," Brog says. "But even if we could outlaw the tactic of BDS tomorrow, the effort to delegitimize and demonize Israel would continue. So we need to recognize that there will be no total victory and popping of champagne. We need to have the persistence to meet each new obstacle and overcome it."