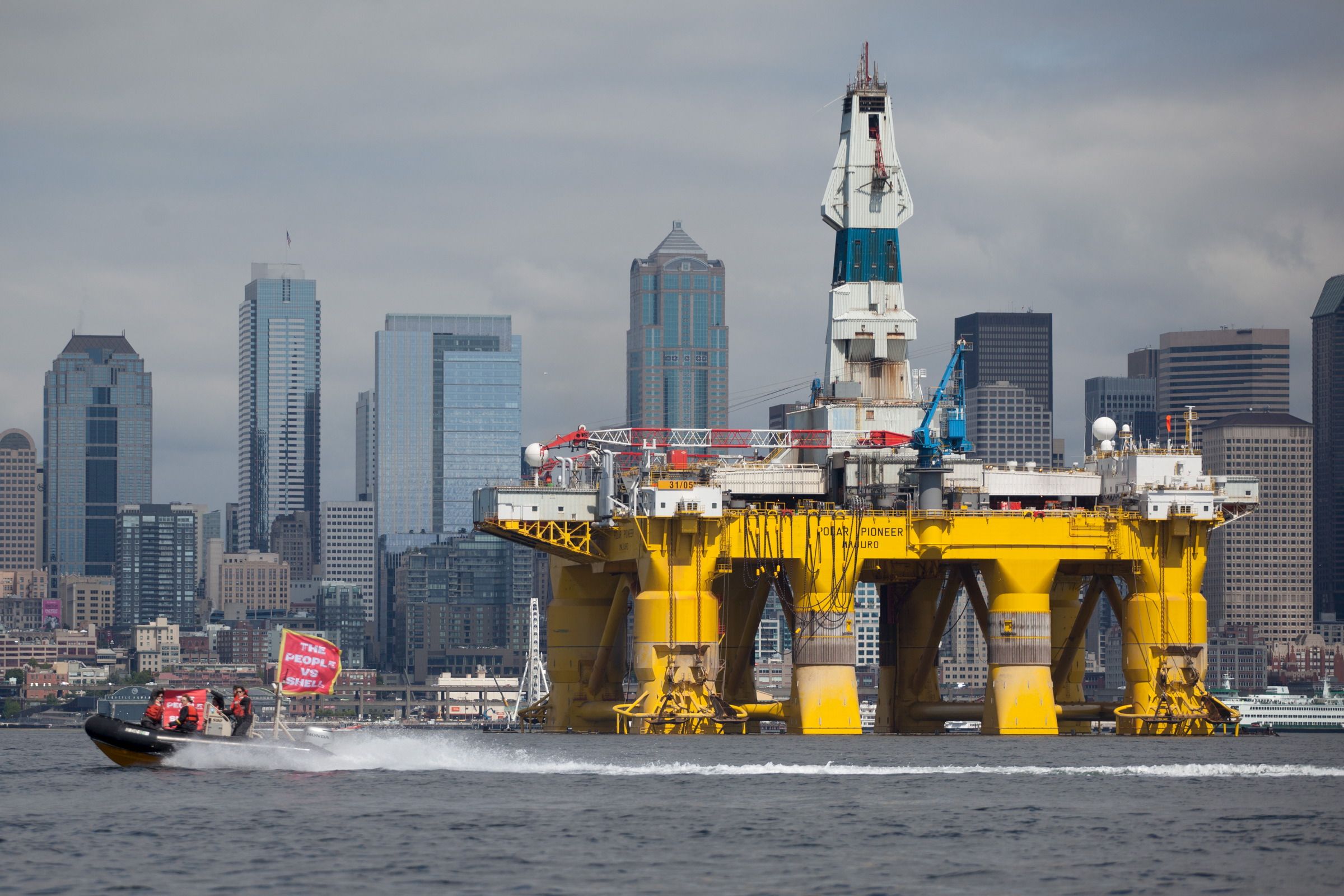 After a season spent drilling an exploratory oil well in one of the harshest environments on Earth, Royal Dutch Shell announced Monday morning it was abandoning its attempt to develop the Alaskan Arctic "for the foreseeable future."
The exploratory well 150 miles offshore in the Chukchi Sea did not turn up enough oil to warrant the expensive and "unpredictable" enterprise, Shell said in a statement. It will be sealed and abandoned "in accordance with U.S. regulations," the company said.
"Shell continues to see important exploration potential in the basin, and the area is likely to ultimately be of strategic importance to Alaska and the US. However, this is a clearly disappointing exploration outcome for this part of the basin," Marvin Odum, Shell's director for the region, said in the statement.
Monday's announcement comes after Shell had spent years in regulatory limbo, had botched an earlier attempt to begin exploratory drilling in the region and had faced public outcry for more than a year in the form of headline-grabbing protests in cities where it docked its drilling vessels. The decision to pull out comes with financial consequences: Shell says the project's "balance sheet carrying value" is about $3 billion and future contractual commitments total about $1.1 billion. The company's share price dropped as much as 1.4 percent following the announcement, Bloomberg reported.
Opposition to Arctic drilling exploration focused on what researchers determined was a significant risk of oil spills in a region especially unsuitable for cleanup operations. The Bureau of Ocean Energy Management, part of the U.S. Department of the Interior, estimated earlier this year that drilling in the Arctic's Chukchi Sea could come with a 75 percent chance of a major spill in the next 77 years, based on a model of projected long-term development. A federally funded study from Nuka Research last year found that for 78 percent of the year, cleaning up a spill like that with skimmers and booms would be impossible because of ice cover.
"While this is a victory for everyone who hoped to avoid a catastrophic spill—or catastrophic climate change—from Shell's plans, it's also proof positive that drilling in the Arctic is too costly to be effective and a bad bet for other energy companies," said Annie Leonard, the executive director of Greenpeace USA, in an emailed statement Monday. "It's time to start making the shift to renewable energy instead of pursuing extreme fossil fuels."