Thief Allegedly Shot By Gas Station Owner: 'Nobody Deserves to Be Gunned Down for Beer'
A gas station clerk is accused of drawing a pistol and firing two shots at a man strutting out of his convenience store with three cases of cheap beer without paying.
Mehedeun Hasan, 24, was counting cash in the mart's office while his father was manning the register at the front of the Shell station they just purchased on June 29, in Lakeland, Florida, according to a Polk County Sheriff's Office report reviewed by Newsweek.
At around 11:30 p.m. on Tuesday, Hasan and his 61-year-old gray-bearded father, Q M Monsur Rahman, stood aghast while watching a "big guy" brazenly drive up onto sidewalk of the station, enter and head to the cooler to grab and walk out with three 18-pack cases of Natural Ice Beer.
The beer booster was identified by Polk County Sheriffs as 43-year-old Rennie Defoe, Jr.
Hasan allegedly told Defoe: "Money, money, money," to inform the customer that he had forgotten to pay for the drinks.
As Defoe is seen on the video marching out of the mart with $36 worth of beer, Rahman follows. Hasan, seen on surveillance video wearing a red polo and khakis, retreated back to the office and popped into the frame again, now gripping a loaded DECO 9mm Luger pistol, the report details.
He then stalks the nonpaying Defoe, who had already dumped the illicit cases of beer into his car and was behind the wheel of the white Toyota Camry with tinted windows, the report and video confirm.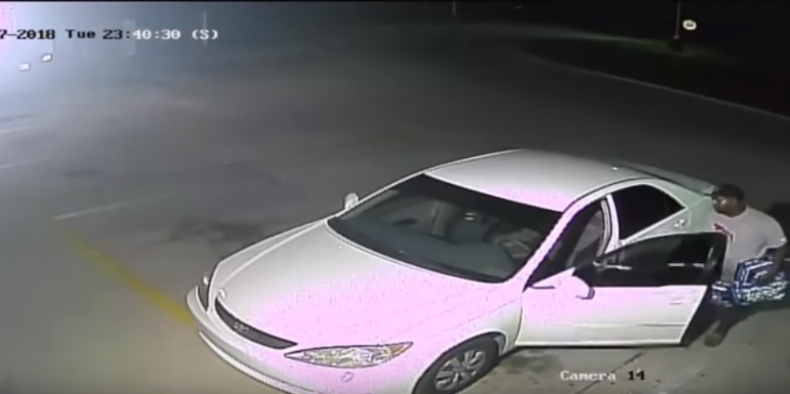 The armed gas station owner suggested that he heard Defoe allegedly bark menacing words to his father saying, "If you follow me I'll kill you," the report states.
Hasan can be seen in the video raising his black handgun at the front car window. He told sheriff's deputies that while Defoe's hands were shielded by the tinted windows, Hasan "could tell [Defoe's hand] was near the center console," the report details. The gas station owner contends that he "feared Defoe was reaching for a weapon," and claims he "was yelling" at the beer thief to stop, it states.
No other weapon besides Hasan's fired pistol was found, authorities told Newsweek.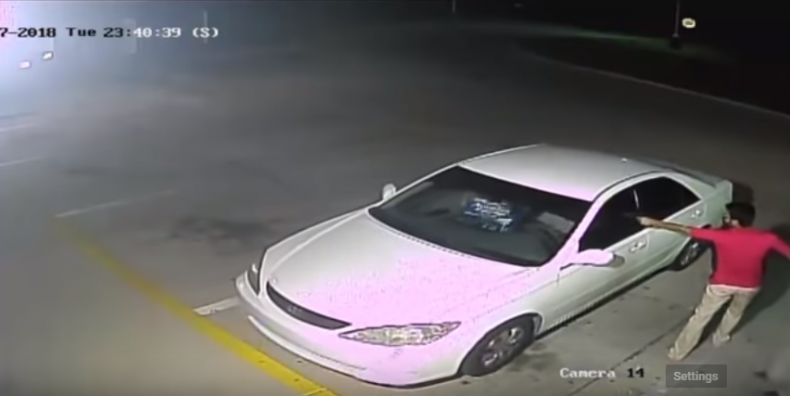 As Defoe peels off in reverse, Hasan is seen squeezing the trigger of his gun and getting off one shot. Hasan kept trailing the Camry on foot and told authorities that he was trying to "get the tag number" when the gun in his hand "accidentally went off" again, according to the report. One of the fired bullets struck Defoe in the left arm and pierced his heart.
According to the report, Hasan himself rang 911 after the incident.
A female driver, whose burgundy Chevy Suburban grazed Defoe's Camry, also called 911 and alerted authorities of the shot man whose car had veered into a ditch.
"He's in the ditch, sideways," the caller can be heard telling the 911 dispatcher in a released recording. "He's in the passenger seat now; unresponsive."
Defoe was rushed to Lakeland Regional Health Medical Center and remains in critical condition, authorities confirmed.
"They just got the bleeding to stop this morning," Defoe's sister-in-law, who asked to remain anonymous, told Newsweek of Defoe's upgraded prognosis. "They spent most of the time in surgery yesterday trying to find the bullet."
She said that Defoe, a recently released felon from Plant City, Florida, was on his way to work after feuding with his girlfriend.
"I know him and his girlfriend were arguing that night," she said.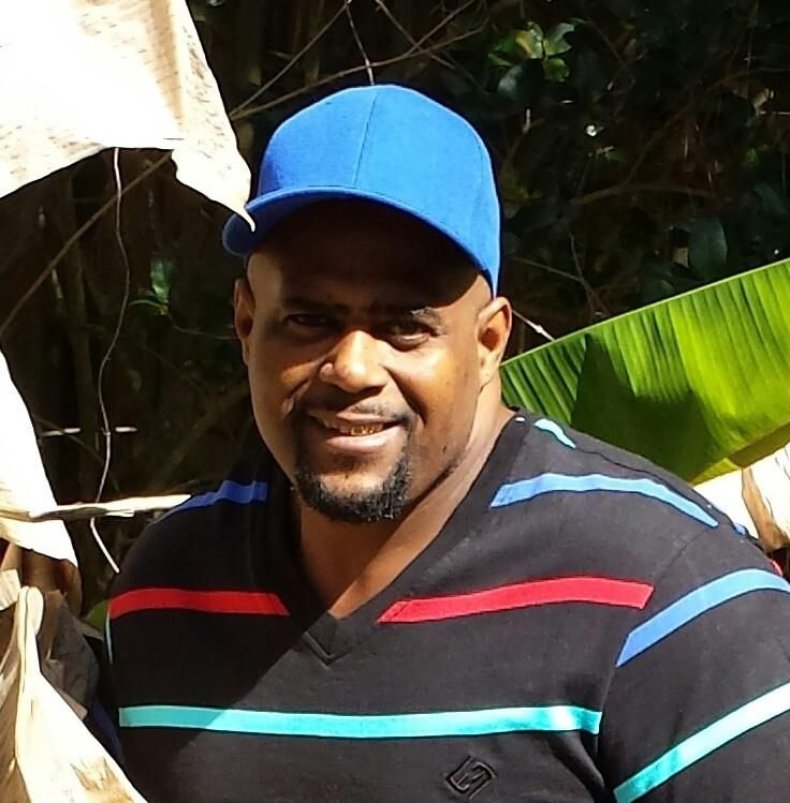 She said Defoe may have been wrong in attempting to make off with the liquor, but shouldn't have to die because of it.
"Nobody deserves to be gunned down for beer," she said.
What's more, Defoe had more than enough money to pay for it.
"Nobody understands why he did what he did," the relative said. "He didn't need to. He has a job."
Despite being released from his fourth stint in a Florida State Prison on June 12, and having a long rap sheet, filled with a dozen prior felonies, including robbery, firing a missile into a dwelling, domestic battery and drug charges, the relative said Defoe "is a good father who takes care of his kids when he gets off work every day," she said.
"He doesn't make good personal decisions," she added. "But he's really a half-decent guy."
She described Defoe as a superior, self-taught cook.
"He used to make ice sculptures for the local country club," she boasted. "If he touches it, it's going to taste good."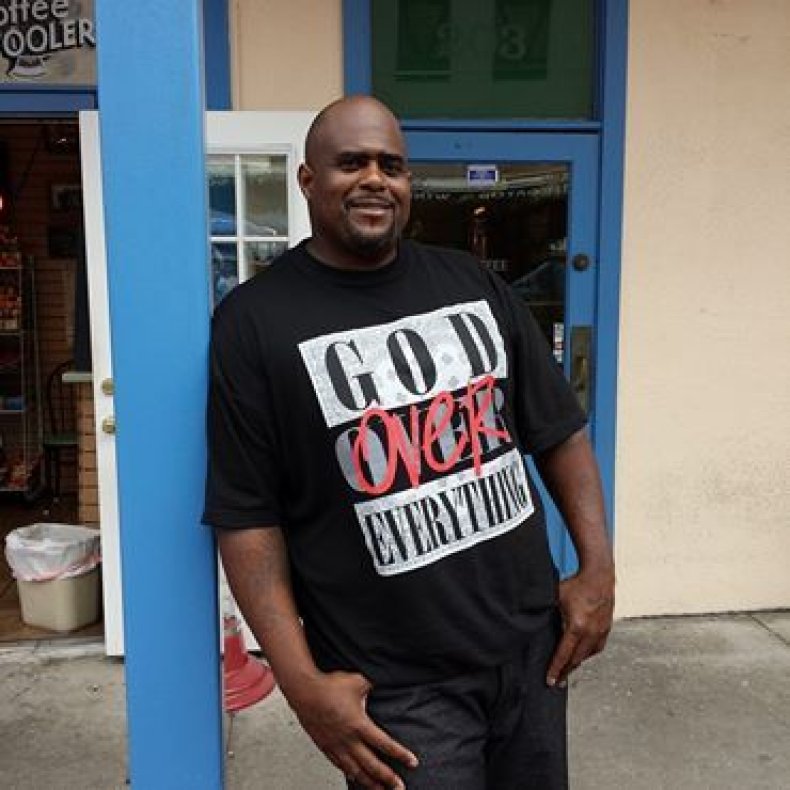 If he pulls through, a spokesman for the Polk County Sheriff's Office confirmed to Newsweek that Defoe will be charged with felony petty theft.
Meanwhile, Hasan was charged with second-degree murder and shooting into an occupied vehicle, police records show. He remains incarcerated, jail records show.
On Thursday, a Shell station attendant who gave only her first name Hanna, told Newsweek that the crime scene tape has come down and that the business remains open.
But she was still in the dark to Tuesday night's bloodshed saying only, "I want to know why this happened."