'No Yelling, Shouting, Protesting': Shell Workers Captive Audience During Trump Visit
Union workers at Shell's petrochemical plant in Beaver County, Pennsylvania, were required to attend President Donald Trump's speech at the facility on Tuesday, lest they not be paid, according to a report from the Pittsburgh Post-Gazette.
The paper reported that workers at Royal Dutch Shell's ethylene cracker plant—which is still unfinished and is currently the largest construction project in Pennsylvania—were told that they had to arrive at 7 a.m., scan their ID cards and wait for hours to hear the president speak in order to be paid.
Those who chose not to attend, according to the Post-Gazette, would be permitted an excused, unpaid absence.
"Your attendance is not mandatory," a contractor is said to have relayed to union employees.
A supervisor for that contractor reportedly made the terms of Tuesday's engagement more explicit, writing: "NO SCAN, NO PAY."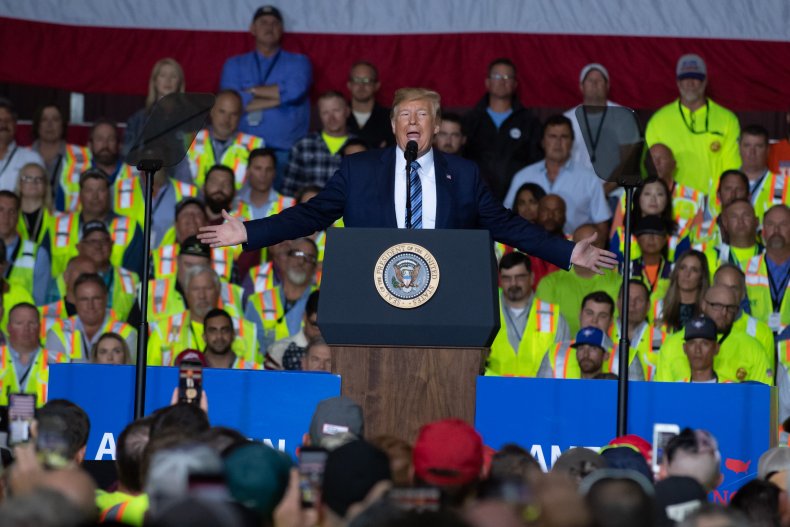 When reached for comment, Shell spokesman Curtis Smith pushed back on some of the assertions in the report, namely that workers who chose not to attend the speech would be allowed a "non-paid absence."
Those not in attendance would "take paid time off (PTO), instead," Smith wrote.
Smith also claimed that the event "was treated as a training (work day)," the only notable departure from traditional training sessions being that Tuesday's program included "a guest speaker who happened to be the President."
"We do these several times a year with various speakers," he said in a written statement. "The morning session (7-10 a.m.) included safety training and other work-related activities."
Tuesday's audience is said to have numbered around 5,000 workers.
Ethylene cracking is a process which transforms natural gas inputs into ethylene, a precursor to many plastics and industrial chemicals, by heating a gaseous mixture of hydrocarbons at high temperatures and pressures.
Royal Dutch Shell earned nearly $90 billion in revenue from their U.S. operations in 2018, according to Statista.
Paid time off is not counted towards overtime, meaning that, though speech attendees did not do work at the site on Tuesday either, those who opted for paid time off were only given their regular rate of pay for those hours.
In response to several follow-up questions about the Post-Gazette's reporting on compensation for Tuesday, which Shell disputed, Smith said that the paper got this detail wrong.
"The Post ran with their first version of the story without talking to us," he said. "They have since fortified the original story but unfortunately, the initial version has made the rounds."
But the paper's reporting nevertheless suggests that the apparently warm reception received by the president was a factor of somewhat coercive forces.
"No yelling, shouting, protesting or anything viewed as resistance will be tolerated at the event," instructions to workers read, according to the Post-Gazette. "An underlying theme of the event is to promote good will from the unions. Your building trades leaders and jobs stewards have agreed to this."