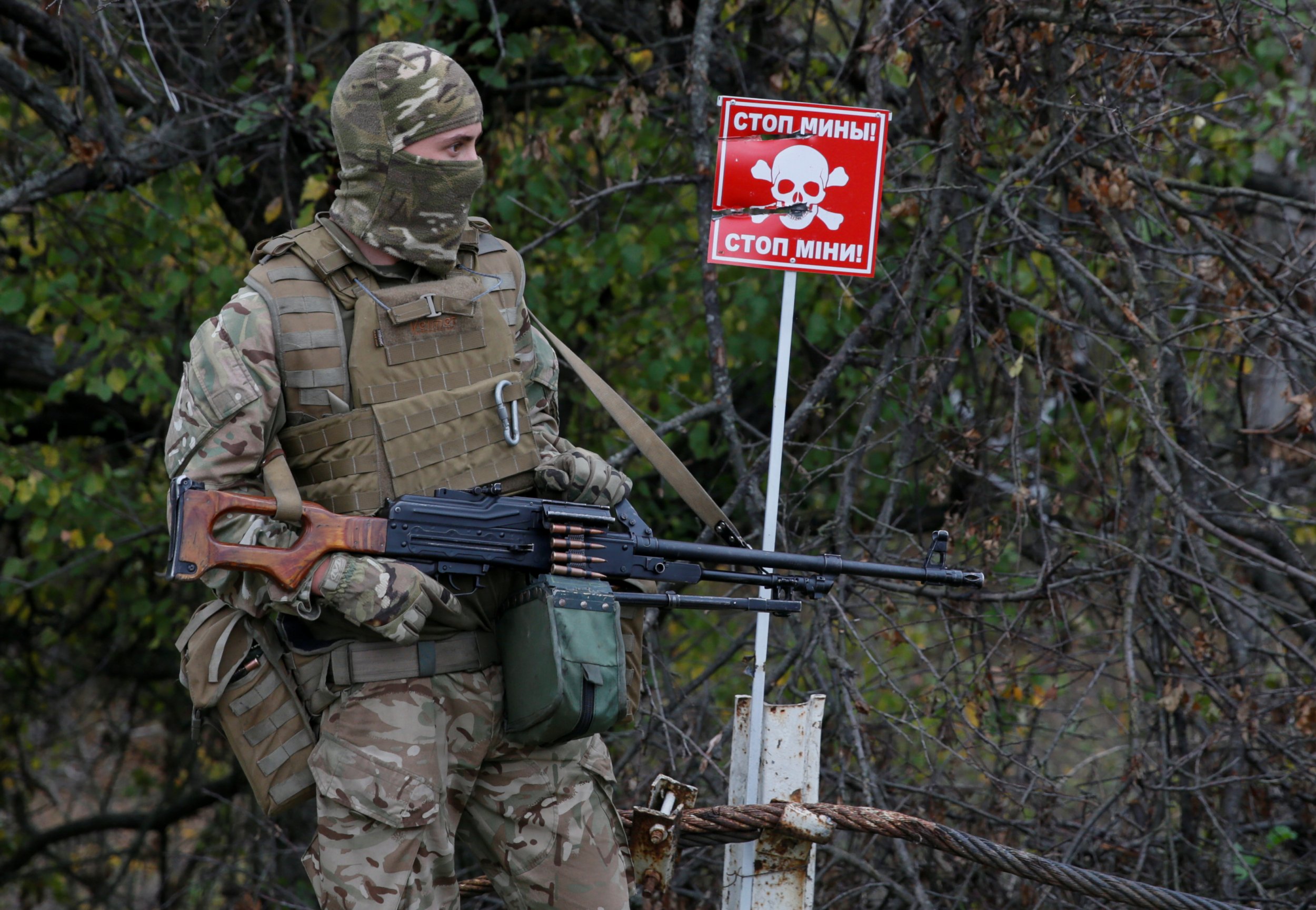 This article first appeared on The Daily Signal.
Marinka, Ukraine—As the war in Ukraine nears its third calendar year, Ukrainian troops remain entrenched along a static front line in eastern Ukraine where they exchange small arms and artillery fire with combined Russian-separatist forces every day.
More than 21 months after it was signed, the cease-fire is a charade. The war may be at a lower intensity due to the cease-fire's loosely adhered-to rules—but there is still very much a war in eastern Ukraine.
Combat is ongoing and intense throughout the Donbas—Ukraine's embattled southeastern territory on the border with Russia. And civilian and military casualties still occur daily.
For many Ukrainian soldiers, war has become a way of life.
"I am at home now. This is my family," said Andriy, a 30-year-old soldier in the Ukrainian army's 92nd Mechanized Brigade from a front-line position in the embattled town of Marinka.
Andriy has continuously served in combat since the war began in spring 2014. He asked that his last name not be used due to security concerns.
The Ukrainian troops believe in the justice of their cause, yet there is a pervasive sense of disappointment, bordering on betrayal, expressed by many front-line soldiers toward their civilian leadership in Kiev.
"We are fighting for our land, to defend every centimeter of our country," Dimitry Karamushka, a 30-year-old soldier in the 92nd Brigade, told The Daily Signal in Marinka. "We are not fighting for our government."
The 92nd Brigade recently rotated to Marinka from a previous combat deployment outside the separatist stronghold of Luhansk. The unit comprises a mix of both draftees and volunteers, with some soldiers having served continuously in combat, with only periodic breaks of a week or two to go home, since spring 2014.
Ukrainian forces are dug in, battle hardened and better equipped and armed than they were a year ago. Conditions have improved, but supply shortages are still common, and the Ukrainian troops are still largely left to fend for themselves to provide many basic necessities—such as electricity.
"More than ammunition, we need to know we're not alone," Andriy said. "We are fighting two wars. One against Russia, and the other against the government in Kiev."
Casus Belli
Ukraine's deployed troops remain committed to their cause and treat the war as an existential fight for the country's independence against what they call a Russian invasion of their homeland.
"We can't leave the war and go to Kiev," Karamushka said. "It would mean surrender to Russia. And what would it mean to all the people who died?"
"We are standing for our territory," said Alexandr Chernov, a chaplain in the 92nd Brigade. "Everyone wants peace. But peace will only come after victory."
Chernov paused, smiled and then added: "And when [Russian President Vladimir] Putin is gone."
Ukraine's military has been locked in a static, frontal war against a combined force of pro-Russian separatists and Russian regulars since the second, current cease-fire—called Minsk II—was signed in February 2015.
Today, at some places in and around Marinka, less than 300 meters (about 1,000 feet) of no-man's-land divides the opposing camps.
"The situation here is stabilized," said Vsevolod Chernetskyi, a 22-year-old soldier and Raven drone operator, in near-perfect English. "We are in the same positions as a year ago, the Russians and us. It's mostly artillery now."
The war has killed about 10,000 Ukrainians and displaced about 1.7 million people, according to various reports from humanitarian organizations.
The conflict began in spring 2014 when Russian-backed separatists formed two breakaway republics in the Donbas.
Despite denials from Moscow, numerous news reports have shown that Russian troops are fighting among the separatists, that Russian military commanders command and control separatist forces, and that Russian weapons and ammunition continue to feed the war effort.
Through binoculars from the roof of the 92nd Brigade's outpost in Marinka, this correspondent observed a Russian flag flying over a building across no-man's-land on the combined Russian-separatist side of the contact lines.
According to Ukrainian military intelligence estimates, there are about 5,000 to 7,500 Russian troops currently deployed in the Donbas. About 55,000 Russian military personnel are also forward deployed to locations within Russia near the Ukraine border.
Combined Russian-separatist forces in eastern Ukraine currently control more tanks than Germany's armed forces, and the Donbas is replete with Russian surface-to-air missile systems.
"I don't feel we are winning," Chernetskyi said. "The Russian forces are much stronger than ours. They can always provide more artillery than us, better tanks, more drones."
During breakfast, this correspondent remarked to Chernetskyi how the shooting had stopped in time for both sides to take their morning meal.
Chernetskyi replied that the combined Russian-separatist forces operate on Moscow time, one hour ahead of Kiev's time zone.
"They eat an hour before us," he said.
He paused a beat and then added: "They're always one step ahead of us."
Differences
The corner of an artillery-blasted apartment building in Marinka is marked by a spray-painted word in Russian. In English, it translates to "for what?"
Approximately 5,000 civilians have fled Marinka since the war began, comprising about half of the town's prewar population of 10,000.
Daytime is usually relatively peaceful here. Civilians mill about outdoors; pedestrians are on the sidewalks. There's an outdoor market where one can buy goods ranging from produce to clothing.
Across town, there is the sound of hammering as workers repair buildings damaged by shelling. They replace shattered windows and reconstruct crumbled walls.
There is a daily rhythm to the war, which conceals the brunt of the fighting from the intergovernmental organization responsible for overseeing the cease-fire.
Monitors from the Organization for Security and Cooperation in Europe, or OSCE, do not travel through the war zone at night due to security restrictions.
At night, consequently, the war begins in earnest.
"There is almost no artillery during the day, because the OSCE is here," Chernetskyi, the 22-year-old Raven operator, said.
Winter sunsets in eastern Ukraine come early, around 4:30 p.m. As darkness falls, there is, at first, only the occasional sound of a mortar explosion or an artillery shot and the every-so-often burst of a machine gun or Kalashnikov.
As the hours pass, the pace and intensity of the shooting slowly builds like the different sections of an orchestra chiming in.
At the nocturnal peak of the fighting, typically around midnight, tracers cut across the night sky, the flashes and booms of mortar and artillery explosions come several times a minute, and there is a nearly constant background din of small arms fire.
This correspondent witnessed such a scene in Marinka on the night of November 21. The Ukrainian soldiers on the scene, as well as several civilians from the area, said the intensity of the fighting on that night was "normal."
While casually smoking a cigarette in the night, one soldier jokingly recommended that this correspondent return "when things really get hot."
Spartan
When U.S. troops go to war, they usually enjoy the support of specialized units—such as the Army Corps of Engineers, the Navy Seabees or the Air Force Civil Engineers—dedicated to building and maintaining base infrastructure, even in the most austere locations.
For deployed Ukrainian troops, however, this task is a collective effort in which the diverse skills each soldier brings to the war are identified and utilized for the common good.
One example: A 92nd Brigade soldier with a university electrical engineering degree illegally tapped into the local power grid to provide electricity for the outpost in Marinka—effectively stealing electricity from the same government that had sent him to war.
The power still frequently goes out, however. Wood-burning furnaces provide heat to stave off the winter cold and cook food.
Soldiers say the military has improved on its deliveries of basic necessities such as water and foodstuff during the past year.
Yet nonessential food items like honey, sugar and coffee are still provided by civilian volunteers. As are other, more vital supplies, including most soldiers' body armor, boots and winter underwear.
Weapons and ammunition are not a problem, although the soldiers complain about the quality of their armaments—some of which date back to World War II, almost all of which are Cold War vintage.
The soldiers in Marinka still lack basic sanitation. They use a wooden outhouse as a toilet—a miserable proposition in eastern Ukraine's frigid winters.
The soldiers' diets mainly comprise traditional Ukrainian foodstuff—including copious amounts of buckwheat, bread, potatoes and salo (cured slabs of pork fat). Sweetened condensed milk is another troop favorite.
At night, the soldiers sometimes enjoy a moonshine popular throughout the front lines called Avatar, a reference to one's facial complexion after overindulging.
Nearly everyone smokes. At night, as the not-too-distant battles rages, the soldiers stand casually outside for as long as they can tolerate the cold to enjoy a cigarette or two. They are desensitized to the war, able to instantly and instinctively tell when the shooting is near enough to pose a real threat.
As at other front-line Ukrainian positions across the war zone, the items hung on the interior walls are a testament to the life stories of these men at war.
Kalashnikovs and body armor hang beside Orthodox religious icons, and posters of soccer stars and beautiful women. Letters from home share tabletops with grenades and bullets.
Outside the few scattered buildings in which the soldiers are holed up, a collection of tanks and armored personnel carriers are scattered under concealment.
At dawn, this correspondent joined a brief patrol into no-man's-land in an armored personnel carrier from the 1970s called a BMP. The foray was cut short when the Ukrainian driver spotted enemy forces.
The ebb and flow of life here is likely not too different than it was for the soldiers who fought for this land in World War II.
Except for the presence of smartphones and a few laptops—and the U.S.-made Raven UAV the unit operates—the war-fighting technology and the circumstances of day-to-day life here would not be out of place seven decades ago.
"We want people to know that this war could happen in other places in Europe," Chernov, the chaplain, said. "We have to stop Russia here."
Red to Blue
The soldiers (the majority of whom are millennials) reject their country's Soviet military heritage in favor of closer ties with the U.S. and NATO.
On Soviet battle maps, red icons (for the Red Army) symbolized friendly forces and enemy forces were blue.
After the current war in the Donbas began, Ukrainian forces flipped the colors of their icons to match NATO maps, in which the colors are reversed.
The move was a practical step in bringing Ukraine's military in line with NATO standards (part of a larger effort to foster closer ties with the Western alliance), but it was also a symbolic pushback against Russia.
The soldiers consider the United States to be an ally, and they want American military support. Many, however, oppose the idea of direct U.S. military intervention.
"American help is OK," Andriy, the 30-year-old soldier from Kharkiv, said. "But we need to learn how to do this on our own. We shouldn't rely on other countries for help. We need to fight this war on our own."
There is a symbolic value to U.S. support that the soldiers exploit to rattle their enemies.
The Punisher skull symbol—a comic-book emblem made popular among soldiers by Navy SEAL Chris Kyle of American Sniper fame—is painted on Ukrainian armored fighting vehicles in Marinka.
As at other locations along the front lines, the Ukrainian soldiers in Marinka did not have encrypted communications. They shared the airwaves with their enemies on off-the-shelf walkie-talkies.
A common Russian propaganda line is that U.S. troops are deployed and fighting alongside the Ukrainians. (There are, in fact, no U.S. troops fighting in the Ukraine conflict.)
Sometimes, as a joke, a Ukrainian soldier fluent in English will speak on the open airwaves, pretending to be a Navy SEAL or a U.S. Marine. The gag usually elicits a flurry of incensed responses from their enemies, the Ukrainian soldiers said.
The Raven
One overt sign of U.S military support for Ukraine is the 92nd Brigade's use of the U.S.-made Raven drone. The small drone is tossed in the air like a giant paper airplane.
The U.S. gave 24 Ravens in all to the Ukrainian military, and the drones are scattered throughout various units.
Chernetskyi trained on the Raven with the U.S. Army for three weeks in Huntsville, Alabama.
The Raven is a non-offensive weapon, but Ukrainian forces use it for artillery spotting.
While not a game-changer on the battlefield, the Raven does afford the Ukrainians some advantages over the modified off-the-shelf drones they also use.
"It's useful mostly because it can fly at night," Chernetskyi said.
The Raven is still susceptible to Russian jamming, however.
"The Russians can jam it, no problem," Chernetskyi said. "It was made for Afghanistan, and the Taliban didn't have jamming."
Defenders of the Motherland
Some soldiers expressed frustration that their commanders were stuck in antiquated habit patterns from the Cold War, making them resistant to commonsense changes implemented from the bottom up, which could streamline the war effort.
Andriy brought out a thick stack of worn paper maps of the Marinka area. Each map was thoroughly marked in pen and marker notations, indicating enemy and friendly positions.
The troops complained that this pile of maps, enough to fill a wheelbarrow, could be condensed into a single app for a tablet or a file on a laptop.
An electronic version could be continuously updated and overlaid with other information, such as weather or locations where civilians are observed, the soldiers said.
Perhaps most frustrating of all for the front-line troops is the disconnect between life on the front lines and that in the rest of the country, where daily life seems to carry on unaffected by the war.
While front-line soldiers shiver in subzero temperatures, enduring artillery and sniper fire, in Kiev—a nine-hour journey from the front lines by car and rail—there were Black Friday sales going on at the city's many shopping malls last weekend.
(Ukraine does not celebrate Thanksgiving, yet Black Friday is a major shopping event.)
Over the weekend, the malls in Kiev were crammed with bargain-hunting patrons in stores like the Gap, Columbia Sportswear and Zara. Christmas lights and trees are going up around town.
Bars and restaurants in Kiev remain busy. At more popular places, you can't get in without a reservation on the weekends. The city's trendy speakeasy-style craft cocktail bars are always packed. One would hardly know this is the capital city of the country home to Europe's only ongoing land war.
"Everyone should know our story," Chernetskyi said.
The soldiers are not generally resentful that life is going on outside the war. In fact, many say that's what they're fighting for, a sign that the Russian threat has been kept at bay.
Yet the head-spinning contrast with life on the front lines sparks feelings of unequally shared sacrifice among the troops and combat veterans.
"It is war here," Evgeniy Varavin, a 27-year-old soldier from Kharkiv, said from Marinka.
"Some civilians look at soldiers and don't understand why we're fighting," Varavin, who was a construction worker before the war, continued. "I don't pay attention to what civilians say. My parents are proud of me, but they're worried. They don't understand why I came back for the second time. But how can I work back home in Kharkiv when there is war, and while my comrades are here? My soul is here."
Nolan Peterson, a former special operations pilot and a combat veteran of Iraq and Afghanistan, is The Daily Signal's foreign correspondent based in Ukraine.
Read more from Newsweek.com: