In Shell-Torn Luhansk, Food and Water Is Scarce: 'Welcome to Hell!'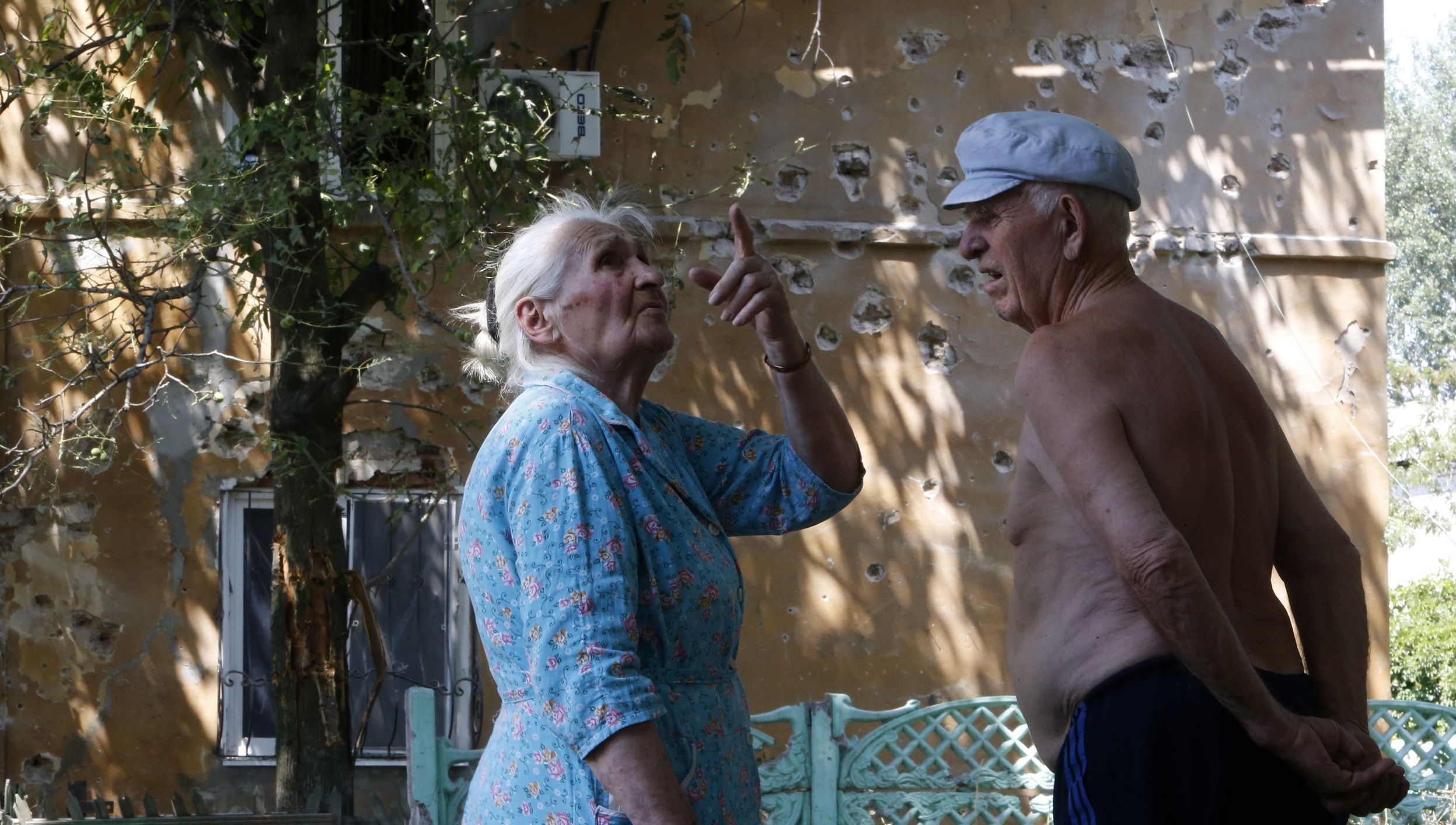 On a hot afternoon in August in Ukraine, in the industrial pro-Russian rebel-held city of Luhansk, the Brooklyn-born war photographer Stanley Greene, on assignment for Newsweek, realized the odor wafting through the apartment of a family he was visiting was the familiar smell of death.
"There was constant shelling," says Greene-- who began covering the Ukraine conflict last winter and who lived through both Chechen wars and the Bosnian war -- as he describes with sounds the terrifying whistle-and-crash of mortars.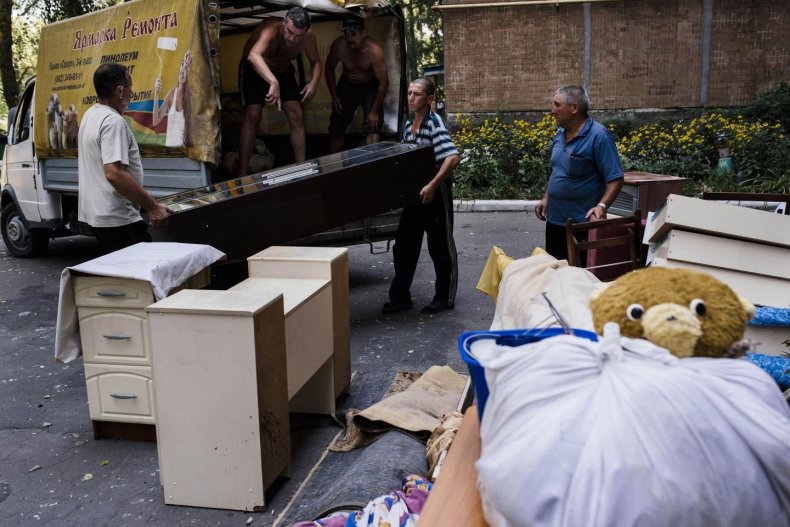 "This family was living right next door to the morgue. They were living in this cave – kind of a bomb shelter," he said. "Like in [the war-torn Syrian city of] Aleppo, people have started to make tunnels through their apartments so they could crawl through to the next apartment without having to go outside and expose themselves to danger. But the apartment next door to them was full of dead bodies."
"There was no electricity, no water, nothing," Greene says, "So the bodies were rotting. And that smell is always terrible. It's a sickening smell. And those people living near it are breathing it day in and day out."
Greene, armed with his camera, spent time in the morgue. The supervisor, named Constantine, greeted him at the door, saying: "Welcome to Hell." He warned the photographer that if he wanted to take pictures of the bodies "which were not refrigerated and were piled up in rows," he would have to get permission from Kiev.
"But then I can show you hell." Constantine promised him.
Constantine talked to Greene about the sparse existence in a city under siege. Both a guitar and saxophone player, the mortuary keeper said he had been reduced to living on "the fat from the back of a pig" and chocolate bars.
Constantine had wrapped bandages around his hands -- to protect himself constantly handling the corpses – and said he still liked to play his sax to forget the sound of the war outside his door. "He kept playing 'Round Midnight'." said Greene.
The city of Luhansk, with a peacetime population of 425,000, has been under siege from Ukrainian government forces for nearly two weeks. "People are forced into cellars. It has become a ghost town," said Greene. In one shelter, he says, he found between 200-600 people living, driven out of their homes by shellling.
"The civilians are not eating much," said Greene. "Food is hard to get. People are standing in line like in the old days of communist Russia when people would wait days to buy an old chicken. Anything left to buy is old and dated. But people are buying it. You don't know what you will find. In one store, there was nothing but chocolate. Another kiosk had pineapples in cans. The other thing is that they are desperate for coffee. Especially in the hospital. They have tea, but no coffee."
Drinking water is also hard to come by. People line up but are afraid they are more of a target for shells when they are in a group. "If you talk to people in Luhansk, they say everything is the fault of the Ukrainian military," says Greene. "They also blame President Obama. That is what they say. 'Obama is bombing us.' 'Obama wants our gas.' It's incredible because they are not stupid, but they refuse to see Vladimir Putin's role in this."
The hospital in Luhansk is in dire need. Green says they are desperately short of basic medication. "They are low on TB medicine, insulin – anything you would imagine is expensive is in low supply," he says. "The medical situation is bad."
"I met an 18-month-old baby called Liza in an incubator connected to a life support machine," he says. "There is no electricity. They need 120 liters of fuel a day to keep the generators operating. Without them, there are no incubators, no life support. There is another baby, five months old, next to Liza. They have been left behind – there was an evacuation and there were no parents around them. They cannot be transported."
Luhansk is beginning to be compared to the Bosnian city of Sarajevo, which underwent the longest running siege in the history of modern warfare (more than three years) between 1992-1995. In Sarajevo, people lived without water, electricity, food and most medicine, and lived under constant bombardment and sniper fire.
Greene left Luhansk and arrived Wednesday in Donetsk, which he says is very different from Luhansk – for the moment. "It's a city poised on the edge of siege. People are in that horrible state of waiting."
"Making the analogy to Sarajevo is pretty close to what is happening in Luhansk," he says. "Especially when you deal with the hatred. The hatred in Eastern Ukraine is so heavy. They are Orthodox [Christians] – but there are so many different types of Orthodox…it starts becoming the ethnic breakdown that you had in Bosnia."
In Donetsk, he says, life is still continuing more or less as normal, although people are frightened of being caught up in the fighting in the outskirts of the city. Most banks are closed, though,"There is one Russian bank -- but huge lines," Greene says. "In Luhansk, which had a pre-war population of about half a million and was most known for the locomotive factory, there are no banks. There is no money changing hands. It has reached that stage."
But Greene is not optimistic about the fate Donetsk, where shelling by Kiev government forces got heavier today, hitting two shopping centers. The BBC reported that one person died in attack. Donetsk has been surrounded for several weeks by Ukrainian forces battling pro-Russian rebels.
"It is beginning to move here," says Greene, a veteran war photographer who covered the war-torn countries Azerbaijan, Georgia, Iraq, Somalia, Croatia, Kashmir, and Lebanon. He senses that a major battle is approaching. "You can feel it, you can sense what is coming. It is that moment when war is beginning."
There are numerous checkpoints on the roads leading into the city and soldiers are dug into positions. Every few miles, the soldiers can change from pro-Russian rebels to Ukrainian National Guard or military, then back again to rebels. "It gives you an indication of how close they are," says Greene.
Overall, he says Donetsk is part of a humanitarian catastrophe. "The situation is dire," he says. "It is very hot. The summer days are full of explosions, and there is the feel of war in the air. Everything is on the move. In the skies, you see the flash of cannons, sometimes flying overhead. There are many burning fields from recent bombings and fighting."
Greene says it is beginning to look all too similar to other brutal wars he has witnessed. "To understand the heartbreak, all you need to do is see the people sitting wrapped up like tramps, holding on to everything they have," he says. "The trembling, the filthy sunken gazes, the hunger in their eyes. One night I spent in the hospital in Luhansk. There were legless men and women…Bosnia springs to mind. All that horror."
In Donetsk, he says, conditions are not as bad in Luhansk. Food and water are still available and cell phones and the Internet are working. "I am staying in the Ramada Inn and they still have cigarettes," he says. "I can get mineral water here, I can get food, there is coffee."
He says that a good indication of how people are holding up as they wait for the Ukrainian forces to advance is how they appear physically. "In Donetsk, women on the streets are dressed well, whereas in Luhansk, you can see that people are giving up. Their skin is bad. Their hair is dirty. Their clothes are old."
"One city is under siege and the other is on the verge of siege. That is the crux of it. Luhansk is an unpalatable humanitarian disaster and the Ukrainian military has a stranglehold. There are people being killed by rockets and shootings."
The end of the waiting appears to be in sight. "In Donetsk, you don't see the Ukrainian military much – but there are a huge number of pro-Russian checkpoints. So it will be, most likely, and very sadly, a huge battle."