Shelley Moore Capito Criticizes Biden's Stimulus Bill for Allocating 'Only 10 Percent' for COVID Vaccines
West Virginia Republican Senator Shelley Moore Capito recently criticized President Joe Biden's $1.9 trillion stimulus proposal for allocating "only 10 percent" for COVID-19 vaccines and vaccine distribution.
While speaking with Politico, Capito said, "It's not a hard no vote when only 10 percent of the dollars go to a vaccine and vaccine distribution," in regard to the president's proposed coronavirus relief package.
According to an outline of Biden's American Rescue Plan, published by the White House, the package includes "$160 billion in funding necessary to save American lives and execute on his plan to mount a national vaccination program, expand testing, mobilize a public health jobs program, and take other necessary steps to build capacity to fight the virus."
The $160 billion proposed in the bill includes $20 billion to fund a national vaccination program "in partnership with states, localities, Tribes and territories," as well as $50 billion, which will be used to expand COVID-19 testing "providing funds for the purchase of rapid tests, investments to expand lab capacity, and support to help schools and local governments implement regular testing protocols."
As Capito noted in her comments to Politico, the $160 billion only accounts for around 8 percent of the package's $1.9 trillion price tag.
In addition to the funds allocated for vaccine distribution and efforts to contain the novel coronavirus, Biden's stimulus package also includes $1,400 checks to eligible Americans, expanded unemployment benefits and funding to states and local governments.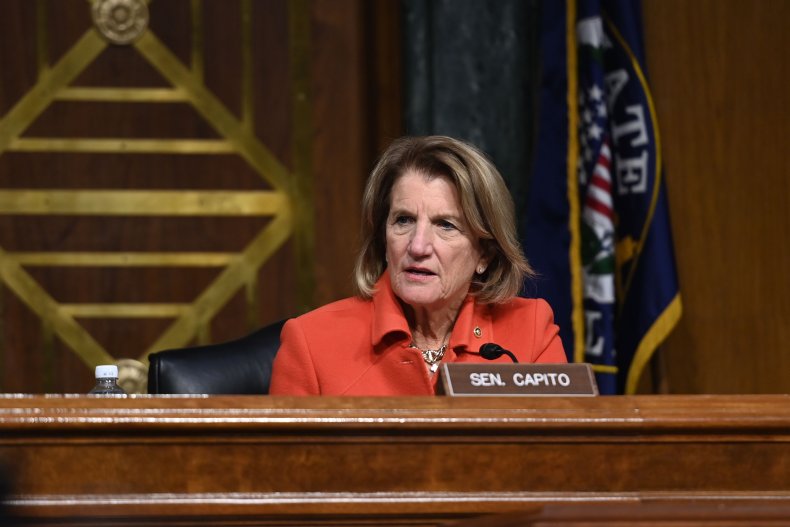 The comments from Capito come as several other Republican lawmakers have also criticized Biden's proposed stimulus package.
"What's in it is not going to be popular," South Carolina Senator Lindsey Graham said, according to Politico. "It's bad politics for them. Because the narrative is that they're liberal, they just spend money like there's no tomorrow, that every time there's a crisis they load it up with spending."
Earlier this month, a group of 10 Republican senators that met with Biden to discuss his proposed stimulus. During the meeting, the senators offered their own $618 billion stimulus proposal, which provided $1,000 direct stimulus checks to eligible Americans, instead of the $1,400 ones included in Biden's.
The Republican proposal also included $160 billion for vaccine distribution, but due to the bill's smaller price tag, this aspect accounted for roughly 25 percent of the bill.
In addition to Capito and Graham, Maine Senator Susan Collins also recently criticized Biden's proposed stimulus and suggested that the bill will be voted along party lines.
"We have indicated a willingness to come up from our $618 billion, but unfortunately the White House seems wedded to a figure that really can't be justified given the hundreds of billions of dollars that are still in the pipeline from the December bill," Collins said while speaking to reporters on Tuesday. "I would be surprised if there was support in the Republican caucus if the bill comes out at $1.9 trillion even if we're able to make some beneficial changes."
Newsweek reached out to the White House and Capito for comment but did not receive a response in time for publication.