Houston's Overcrowded Shelters Pose Health Risks for Those Displaced by Harvey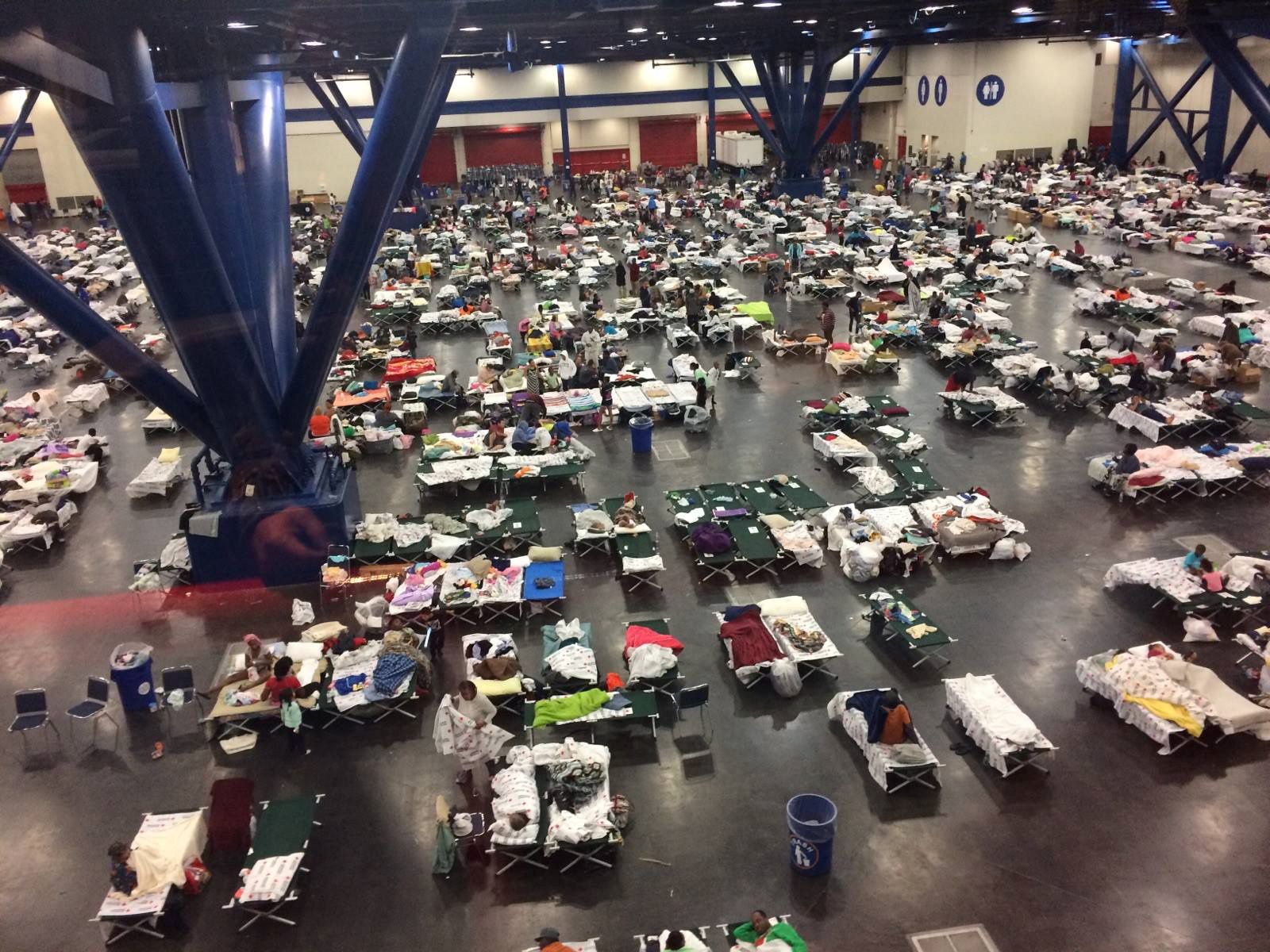 The hundred and thousands of Hurricane Harvey evacuees crowding into Houston's convention centers, churches, mosques and schools serving as temporary shelter have basic needs: sleep, food and clothing. But these shelters are quickly filling up to maximum capacity. That creates a whole new challenge: how to avoid catastrophic public health disasters that come with overcrowding and communal living.
"The primary concern is communicable diseases," Chris Van Deusen, a spokesperson for the Texas Department of State Health Services, tells Newsweek. "When people get in that close proximity that's sort of the right conditions for illness."
Severe flooding and damage to homes and critical infrastructures have forced more than 30,000 residents into shelters run by the city and nonprofit organizations. But even some shelters are no longer safe havens in the city. Photos in news reports show at least one shelter in Port Arthur, east of Houston, became flooded with water, destroying sleeping cots and other necessities.
Health care providers, coordinators and volunteers involved in operating the shelter are on the lookout for any sudden signs of illness. Van Deusen says shelter residents are at risk for developing respiratory illness such as influenza or common colds. Epidemiologists, sanitarians and health department workers are monitoring the situation to ensure these problems remain in their control.Volunteers are taking efforts to remind evacuees to practice basic hygiene such as handwashing and regular use of hand sanitizer.
Shelters aren't only monitoring folks for viral illnesses. They're also concerned with pathogenic bacteria that can come from dirty floodwater and food available at shelter facilities that may be contaminated or not properly prepared. These bacteria have the potential to spread among people sharing restroom facilities.
Officials are already well aware of the public health impact of floodwater. Floodwaters can carry pathogens, including Escherichia coli (E. coli) and Shigella, which can also cause gastrointestinal illness in the form of diarrhea, vomiting, fever, stomach pain and dehydration. Other common risk is the norovirus, mainly from contaminated food, which is highly contagious and causes acute gastroenteritis.
The safety of the city's water supply is also in jeopardy. On Thursday, Van Deusen said the local health department has not issued any warnings about drinking water, and that "local officials report that drinking water in the city of Houston is safe, so there is no reason to avoid drinking the water in the city." However, several of the city's municipal utility districts issued "boil water" notices.
But shelters aren't taking any chances with water and instead providing donated clean bottled water to hurricane victims. Lou Anne McLaughlin, 63 years old, a resident of Katy, a suburb outside of Houston, runs the Primrose School of Kelliwood. She has transformed the school into a temporary facility to distribute essentials and supplies to shelters in the area. McLaughlin told Newsweek she spotted warnings about water safety, recommending people boil water before use.
Shelters are also faced with the daunting task of delivering care to the most vulnerable of populations, such as elderly people and others with medical conditions that compromise the immune system. Some also have existing medical conditions that require routine care, such as dialysis. Van Deusen says people in need of ongoing medical care are being taken to medical shelters in nearby safe zones, such as Austin.
The population's overall health can make the task even more challenging. Texas is known already to have one of the highest rates of obesity in the entire country. More than half of all residents in the state are overweight or obese, according to the U.S. Centers for Disease Control and Prevention. Reports classify Houston as one of the 20 cities with the highest rates of people who are obese or overweight. Obesity is associated with numerous chronic health conditions such as heart disease, hypertension and diabetes. These conditions require regular medication and medical care.
Van Deusen says the health department has partnered with grocery chains with pharmacies, such as H-E-B, Kroger and Brookshire Brothers. These companies are providing prescription services to evacuees staying in shelters. Those with existing insurance can get prescription refill coverage through their health plans, while others will be able to obtain needed drugs free of charge. "People will be able to access medications if they've lost them or run out of them," he says.