'Shenmue I & II' Remasters Get Summer Release Date
Two of the brightest jewels in the Sega Dreamcast crown are coming to a new generation of gamers. The two-game bundle of Shenmue I & II comes to Xbox One, PS4 and PC August 21.
When it first debuted on the Dreamcast in 2000, the original Shenmue was the most expensive game ever made, with a budget estimated at somewhere between 47 and 70 million dollars. In many respects, Shenmue's gameplay was ahead of its time, blending open-world, 3D environments with RPG and life-sim elements. Unfortunately, the collapse of the woefully underappreciate Dreamcast console meant that the series never found a large enough audience to make it a commercial success. Still, it found a devoted following, eventually becoming Sega's most-requested re-release of all time.
So what's it all about? In several respects, Shenmue's kind of like a prototype or ancestor of the Yakuza games, which first debuted on the PS2 in 2005. There's a myriad of minigames, and the tone ranges from soapy-serious to oddball humor. The story follows Ryo Hazuki, determined to avenge his father's death and uncover the secrets of the mysterious Dragon Mirror along the way.
As you'll see in the trailer above, both Shenmue I & II will retain a retro feel, since they aren't full-fledged remakes. Still, in a press release, Sega said the re-release "will contain all-new modernized features including fully scalable screen resolution, choice of modern or classic control schemes, PC graphics options, an updated user interface, and the option to enjoy either the original Japanese or English voiceovers."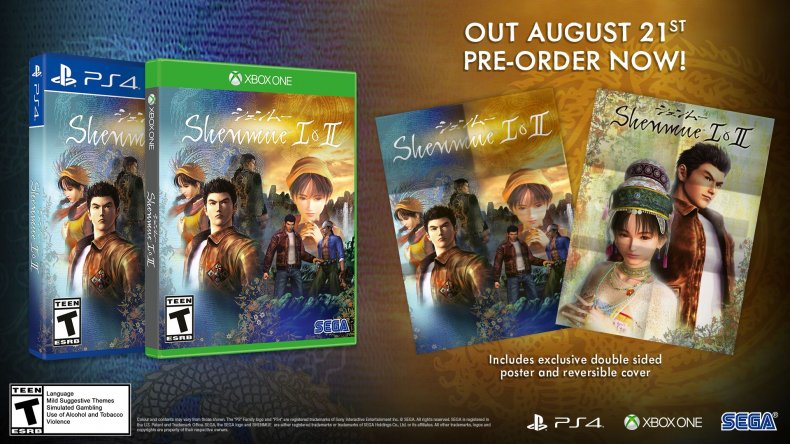 Shenmue I & II is available to pre-order digitally and from retailers. Physical copies of the collection will include a double-sided poster featuring the game's leading characters, as well as reversible cover art featuring original artwork. Shenmue III is currently in development at Sega, with a tentative 2019 release window on the heels of a remarkably successful 2015 Kickstarter campaign.